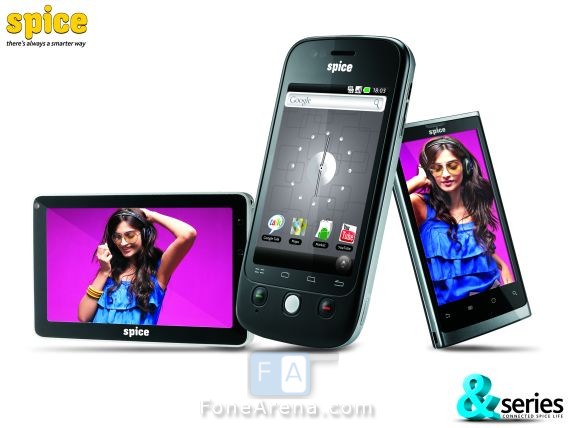 Spice has launched a new & (AND) series of Android devices under the Connected Spice Life range. 3 new devices were unveiled yesterday – Mi-300 Android Phone , Mi-410 Tablet and the Mi-700 Mobile Internet tablet
The Mi-300 is a 3.5G Android phone  which is Android 2.1 Ready.
Features include
3.2" HVGA Capacitive touch screen
320 x 240 pixels resoultion
Office support
GPS & A-GPS for location tracking or turn-by-turn directions
WI-FI
Push E-mail
G-sensor , E-compass ,Proximity Sensor
Metal detector
5MP Camera
powered by the Qualcomm. MSM7227 chipset
The Spice Mi-300 is available at all Spice Hotspot Outlets in India for Rs.9990 as an introductory offer.
The Mi-410 is an Android Tablet with the following features
4.1" HVGA capacitive display
Wi-Fi
3G
Bluetooth 3.0
aGPS
Office support
Powered by Snapdragon MSM8255 chipset
High Definition video record and play capability
The Mi-700 is also a Mobile Internet Tablet similar to the Mi-410
7 inch HVGA touch screen
Accelerometer
Hot swappable memory card slot
USB data interfaces
Dual camera for video calling
Powered by Qualcomm MSM7227 Chipset
The price of the the Mi-410 and Mi-700  will be revealed later and are expected to be available in October / November.
" The launch of the Connected Spice Life devices with the '& Series' (Android) range is in line with our vision and strategic thought of providing customers new age high technology devices that have an interplay on the Mobile Internet Platform readily operable in the 3G and HSPA. Our devices will have pre-embedded content and applications developed by Spice Digital, our VAS business and Spice Labs, our Mobile Internet & Apps business, retailed exclusively through Spice HotSpot stores across India to begin with, so as to offer an integrated mobility experience."We are also very pleased to have the opportunity to once again work with Qualcomm in moving to a new continuum of Mobile Internet, 3G and HSPA technologies and providing Mobility consumers enriched experience."  saidMr. Dilip Modi, Managing Director, Spice Mobility Ltd.
Spice is working with Qualcomm maker of the Snapdragon CPUs to power these devices.
Mr. Kanwalinder Singh, president of Qualcomm India and South Asia and senior vice president of Qualcomm said, "We are pleased to collaborate with Spice for the launch of 3G HSPA smartphones and tablets that leverage our Android leadership and are powered by Qualcomm's SnapdragonTM platform and our MSM7xxx series chipset. 3G devices like these will go a long way in realizing our vision of enabling mobile internet for all Indians. We are committed to 3G success of Indian brands like Spice and causing a fundamental shift in the internet and computing experience for Indian consumers."
We are not sure if these devices will come with Android 2.1 at launch as the press release indicates they are 2.1 ready  which might indicate that the devices come with either 1.6 or 2.0 and will get upgraded to 2.1
But certainly its a brave move to by the company to offer a Android handset at a sub Rs.10000 level.  Only Samsung Galaxy 5 and 3 are availble close to that price point now.