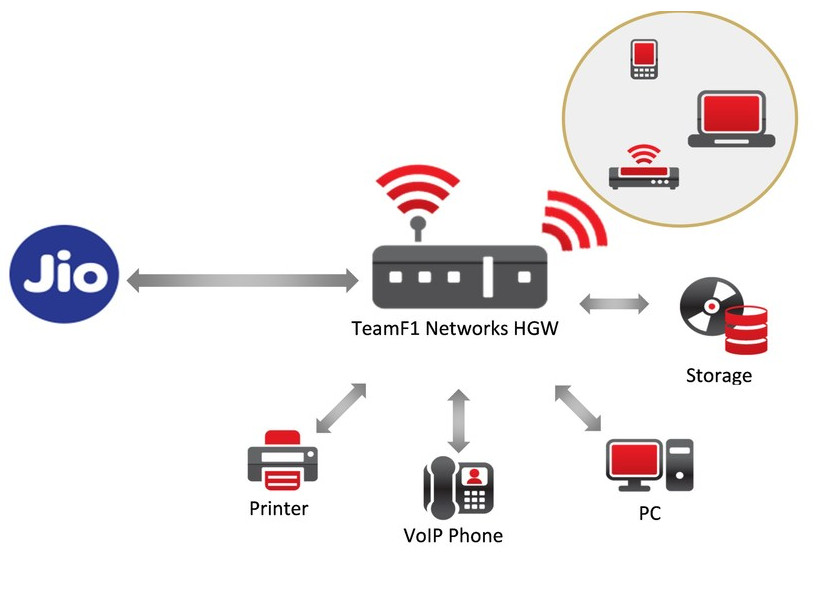 Reliance Jio has partnered with TeamF1, a subsidiary of D-Link to launch fixed-line digital services with the help of a home gateway solution. The partnership will help Jio offer "connected-home" experience for Media, Television (IPTV, STB), Telephone (VoIP), Gaming, and Internet.
TeamF1 solutions help in powering Jio devices across multiple OEMs/ODMs, silicon vendors. The Home Gateway Solution (HGW) is a comprehensive turnkey software package from TeamF1 enabling the next-generation of rich, auto-provisioned residential gateways and CPE routers deployed by Jio. The partnership of Jio and TeamF1 offers HGW with capabilities like media storage / sharing, control of other DLNA and VoIP devices, home automation, security and lighting control. These intelligent HGW devices demand iron-clad security, rock-solid stability, high performance, and smart management of bandwidth through advanced QoS techniques.
Dr. Ted Kuo, CEO and Chairman of TeamF1 said,
We are excited to partner with Jio and help them continue to play an imperative role in the Digital India Initiative for the country and benefit the generations to come. Going forward, our 'connected-home' partnership will explore solutions for home surveillance through IP cameras and video analytics, and for smart home through IoT sensors and actuators, data analytics, and machine learning technologies.