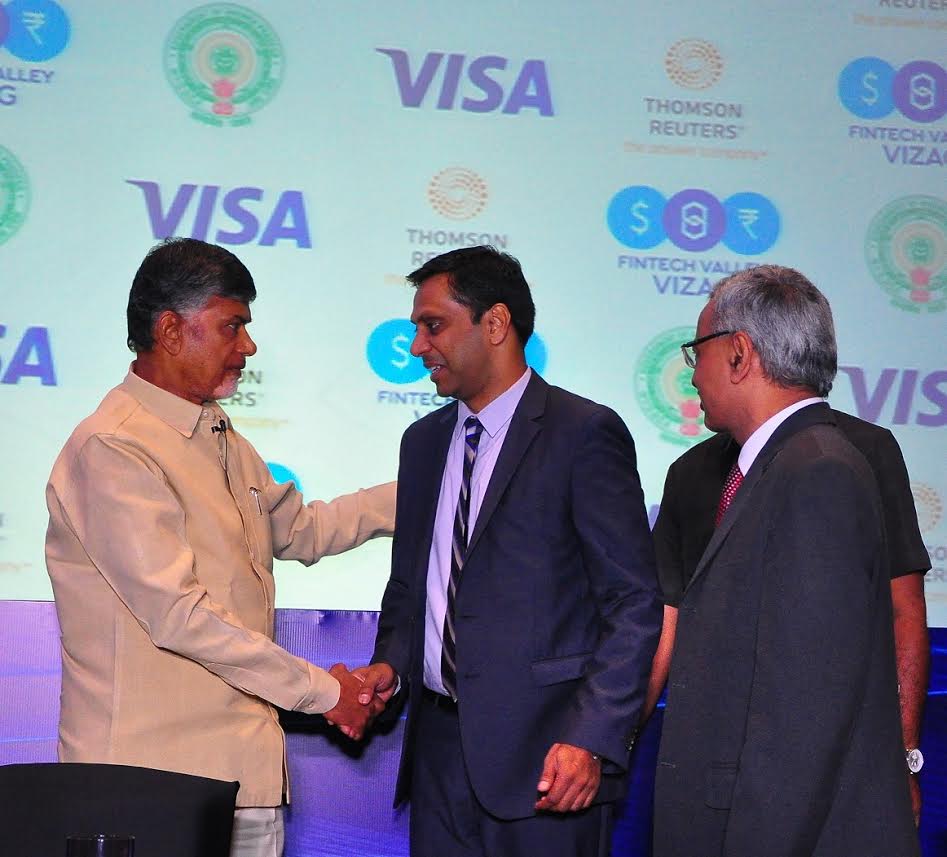 Chief Minister of Andhra Pradesh, Chandrababu Naidu has signed two Memoranda of Understanding (MoU) with fintech multinationals Visa and Thomson Reuters.  Under the agreement, Thomas Reuters will build fintech initiatives using government provided infrastructure and university resources.
On the other hand, Visa will help sustain financial inclusion, increase digital adoption and develop educational circular for financial literacy. Visa will also introduce latest technologies Quick Response (QR) code and NFC to enable digital payments for government and business segments.
As per the MoU between Visa and Government of Andhra Pradesh, the parties intend to collaborate to develop a robust digital payment ecosystem in Vizag through a multi-level approach that targets several stakeholders. Through the promotion of awareness campaigns and educational programmes, the MoU sets out to encourage both merchants and consumers to accept and adopt digital payments.
The Government of Andhra Pradesh is also hosting the first Fintech Valley Vizag Spring Conference 2017 on March 9-10, 2017.
Chief Minister Chandrababu Naidu said,
Our vision is to create 5 lakh jobs in Andhra Pradesh by 2020 through technology-enabled services. Fintech Valley is a playground for start-ups and innovators. Our aim is to turn Fintech Valley into a global hub by enhancing the fintech ecosystem with mutually beneficial cross border collaborations and relationships. This can lead the way in the technological and financial growth of the nation.
TR Ramachandran, Group Country Manager, Visa India & South Asia said,
We propose to undertake this initiative as a part of Visa's global financial inclusion efforts that aim to provide 500 million underserved with a payment account by 2020. We are committed to bringing Visa's global expertise, innovations, and resources to make this endeavour a success. In addition, we hope to implement innovative commercial payment solutions that will accrue significant benefits to the state.
Pradeep Lankapalli, Managing Director, Thomson Reuters South Asia said,
The Andhra Pradesh Government's vision of transforming Visakhapatnam as the next fintech destination is admirable. As world's oldest fintech company, with 150 years of financial innovation history, Thomson Reuters will serve as an accelerator in this journey. Our Open platform technology and access to global best practices, will provide the right enablers and expertise to the Andhra Pradesh government as they pursue the goal of building a global fintech hub.