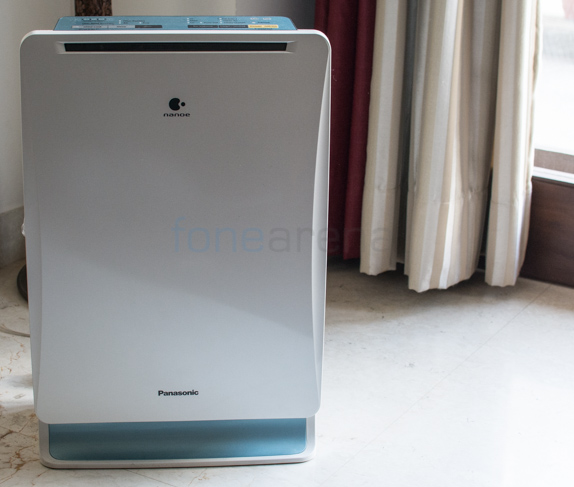 Air purifiers have fast become a fact of life for urban dwellers. Not surprisingly, companies have been quick to catch on to this and we've seen several manufacturers introduce their latest models in India. Panasonic is one such brand that introduced 7 new brands in India just a while back.  The Panasonic F-VXF35MA is one such air purifier that sits towards the upper end of the segment and brings with it additional features that give it an upper hand over many competitors. Here's our review of the Panasonic F-VXF35MA Air Purifier.
Panasonic F-VXF35MA Air Purifier Specifications
| | |
| --- | --- |
| Room Size(sq. ft.) | 283 |
| Weight (Kg) | 7.8 |
| HEPA Filter | No |
| Filter Life (Years) | 3 |
| Filter Replacement Indicator | Yes |
| Humidifying Function | Yes |
| Water Tank Capacity | 2.1 |
| Dust Sensor | No |
| Sleep Mode | Yes |
| Turbo Mode | No |
| Auto Restart | No |
| Remote Control | No |
| Child Lock | Yes |
| Fan Speed | 3 Step |
| Odour Sensor | Yes |
| Dimensions (W*D*H) | 360*200*560 |
First things first, let's talk about the design of the Panasonic F-VXF35MA Air Purifier. For a consumer grade product that is always visible, it is expected to be aesthetically pleasing. While not as minimalistic as the Mi Air Purifier, the Panasonic F-VXF35MA isn't quite the eyesore either. The white front panel is removable and under it lies the air filter.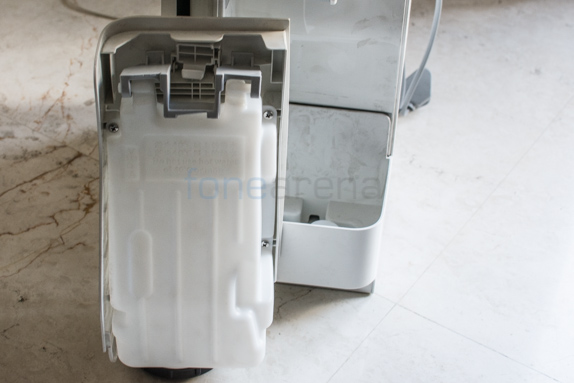 Over on the right hand side lies the water tank with a capacity of 2.1 litres. Now you might be wondering why you need a water tank on an air purifier. That's because the Panasonic F-VXF35MA includes a humidifier function as well. The humidifier function comes in particularly handy during winters when low humidity can cause intense dryness.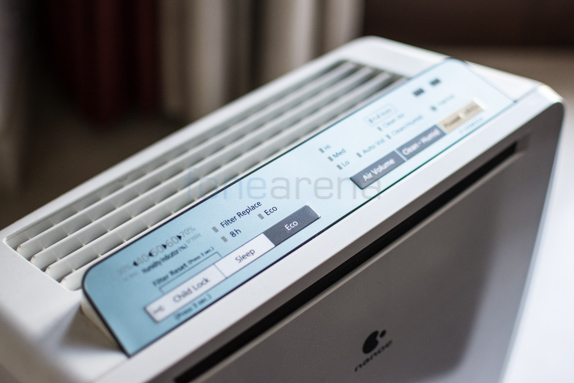 The top panel of the Panasonic F-VXF35MA is rather dense on information and buttons. From the regular speed control functions to controlling the humidifier function, dedicated controls for each allow you to maintain granular control. LEDs also indicate specific air quality levels in the room and you can then adjust air flow accordingly. The F-VXF35MA is rated for a room size of 283 square feet which should be sufficient for rooms in most households. The air is pulled in from the sides of the purifier and passed through the front mounted filter.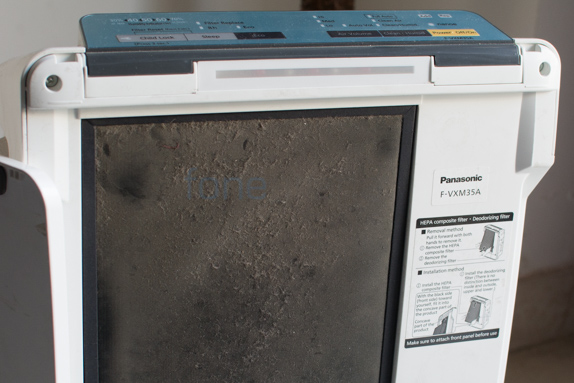 Air purification systems release negative ions which cling on to air pollutants and make them heavy. This pushes them down and makes it easier to catch them through the filter. The Panasonic F-VXF35MA integrates a proprietary Nanoe technology which essentially hydrates the air as well. As a secondary function, it also improves deodorisation abilities. While it is really hard to quantitatively judge the functionality of an air-purifier, our experience with the Panasonic F-VXF35MA was quite satisfactory. It would take under 30 minutes to clear the room of odor induced by cooking or mild incense. Post two weeks of usage, the filter had accumulated a fairly thick layer of dust which further points towards its effectiveness and well, a rather shocking reminder of the air pollution around us. That said, the F-VXF35MA lacks a HEPA filter making do with Panasonic's own filters that work to remove PM 2.5 particulates.
To be fair, most air purifiers feature similar functionality and the choice really comes down to personal preferences. The Panasonic F-VXF35MA punches above its weight by including a humidifier function that is not all that common and helps prevent skin dehydration. Priced at Rs. 25,995, the Panasonic air purifier is a lot more expensive than many competitors and the lack of a dedicated air quality readout or smartphone based connectivity puts it in a disadvantageous position compared to the likes of the Mi Air Purifier which offers tremendous value for money.
Pros
Humidifier
Quick to deodorise
Effective
Cons
No HEPA filter
Lacks granular air quality readout
No smartphone connectivity