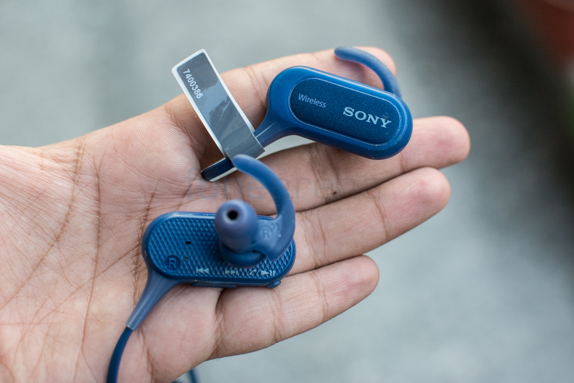 Sony, the pioneers of personal audio, have always had a fairly diverse portfolio of audio products that cater to all kinds of users. From the high-end headphones to basic budget models and everything between, Sony has also invested heavily into wireless audio products. The new MDR-XB50BS are the latest wireless earphones from the company and they represent a fantastic value for activity minded users. We've spent some time with the product and here's what we thought.
Design
The Sony MDR-XB50BS are big earphones by every right. Yes, we understand the complexity of fitting a battery and wireless electronics into portable hardware but where the likes of Brainwavz can manage within a regular IEM form factor, the MDR-XB50BS looks like a giant piece of alien technology.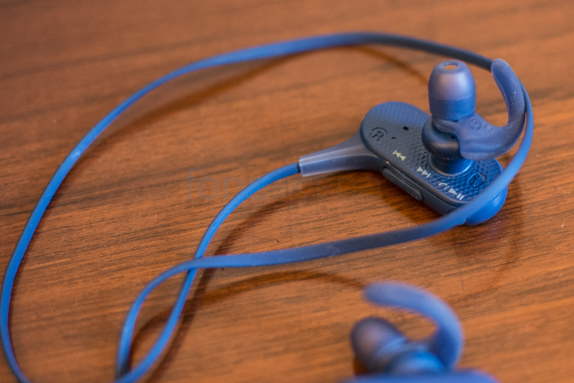 The gigantic rounded rectangle or squat squircle design, however you may call it, feels like some one took an mp3 player straight from the early 2000s and strapped it to your head. Surprisingly though, the design works. With just a minor amount of fiddling, we were able to get a really good fit that stayed in the ear over the course of a 5 kilometer run. Additionally, the MDR-XB50BS's are of the old school variety where the two earpieces are connected to each other via a cable. This makes sense in an activity oriented device where even if an earpiece fall out, it'll likely simply hang around your neck.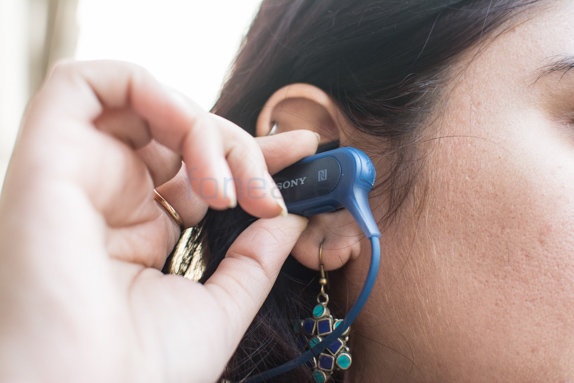 Coming to the port selection and buttons, the right side earpiece is where you'll find both the power button as well as the microUSB charging port. A light placed on the inside of the earpiece indicated charging and battery status. A volume rocker is also found here that lies along the bottom edge. We found this to be a little fiddly and it can take a couple of tries to successfully use this. The power button on the other hand is sufficiently raised and is very easy to find. The button even has a reasonable click to it and serves as a play / pause button too.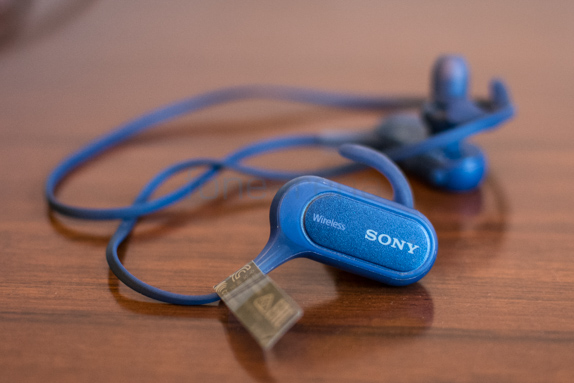 What we didn't like much from a design perspective has to be the materials used here. The Sony MDR-XB50BS has a slightly rubberized coating perhaps to assist in achieving its IPX4 rating but this material ends up being a veritable dust and lint magnet. The earphones get dirty way too quickly especially if you plan to go out running in Delhi. For a relatively high-end activity focussed wireless earphone, the grimy look doesn't work all that well.
Audio Quality
As always our standard test bench of tracks includes the excellent post-rock album, Pirohia by Kerretta. We also  referenced tracks like The Funeral of Hearts by His Infernal Majesty as well as Of The Night by Bastille, Monarchy of Roses by RHCP and Starboy by The Weeknd. An activity focussed user might rely on faster beats and bass drops to get pumped up so we added some tracks by Kendrick Lamar, Jidenna and Eminem to the mix as well.
Let's start with the sound staging first. For activity focussed wireless monitors, these are not bad but generally the staging is fairly confined. You can just about make out separate instrumentation but don't expect a concert like experience while out on your run. The sound signature of the MDR-X50BS is very bass oriented. This takes a hit on audio quality if you are a fitness oriented audiophile but makes the right compromises for most people.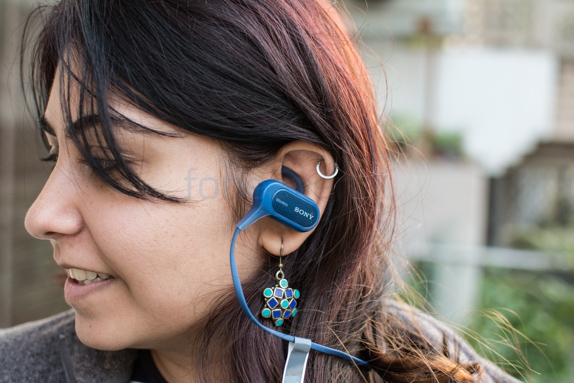 The target audience of activity focussed earphones are gym goers who will mostly listen to fast beats and bass oriented tracks as we mentioned earlier. And in this regard, the earphones work admirably well. Unlike many bluetooth earphones, the bass drops are deep and the entire experience is very tight and controlled. The mids are less prominent because they get washed out by the heavy-handed bass section though we managed to play around with the equalizer to reduce this a bit and see definite gains in audio quality. Treble in the highs though definitely takes a hit. As we've repeatedly mentioned, the focus on extra bass has skewed the dynamic range towards the bottom end of the frequency graph. Don't expect crystal clear highs with crashing trebles and the usual accoutrements.
Our review of the audio performance might sound a bit demoralising but we feel that the Sony MDR-X50BS achieves what it sets out to do. Volume levels here are above average for wireless hardware and in combination with the passive noise cancellation, they are able to cut out most noise from a gym floor.
Connectivity & Battery Life
Connectivity on the earphones is via bluetooth and you get built-in NFC for quick and painless pairing. Worth mentioning since a lot of wireless earphones struggle with this, the pairing process was seamless and there were absolutely no drop-outs even when we had our phone in our pants while out and about.
Battery life is plenty good for wireless earphones and we easily achieved 6-7 hours of usage depending on the volume level used. This falls a bit short of Sony's claim of over 8 hours but as we said earlier, battery life is also highly dependent on the volume levels you chose. Charging is a fast process and it takes just shy of an hour to fully charge up.
Conclusion
The Sony MDR-X50BS are mighty fine activity focussed earphones that mix a utilitarian design that somehow manages to fit really well with audio quality that is tooled perfectly to appease the target audience. Far from audiophile grade monitors, these earphones are fun to listen to without causing fatigue, go loud enough and even deliver solid bass.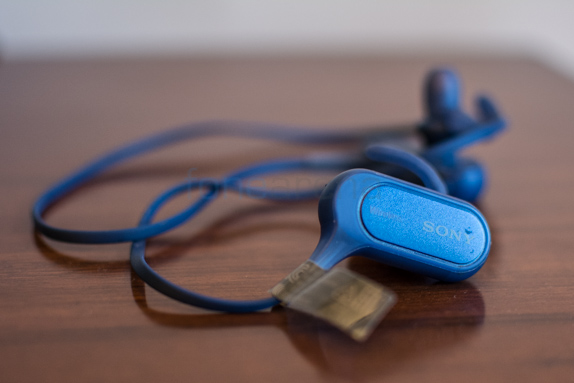 We have a sneaking suspicion that this is exactly the sonic signature that Sony was aiming. The Sony MDR-X50BS is priced close to Rs. 5,000 and is a good enough value for money all things considered and especially due to that IPX4 rating.