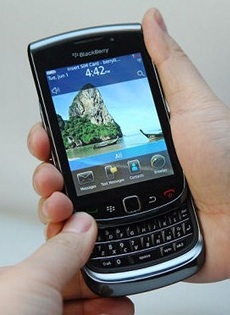 I never used a BlackBerry device in my whole life, but after seeing the new upcoming BlackBerry 9800 Slider, I want to try it. The BlackBerry 9800 is a quite beautiful phone, and we are waiting for it to come out so then we can give it a try. According to MobileSyrup, the first mobile network to carry this device in Canada will be Rogers. It's also reported that AT&T will be carrying this phone in USA. The Blackberry 9800 Slider features:
BlackBerry OS 6
3.2-inch touchscreen display


full QWERTY keyboard

optical trackpad,


5 megapixel camera

3G connectivity

WLAN

A-GPS

Bluetooth

3.5 mm headset jack

4GB of internal memory

16GB with a microSD card.
Few years back, RIM was conquering on the Mobile World with the Blackberry, but when Android and iPhone came out, they gave RIM a very hard time, and people start leaving BlackBerry and joined iPhone and Android bandwagon. I asked some people that " Why they leaved BlackBerry and joined Android/iPhone? They said that " It's very old, and phones are not that high-end like the EVO 4G and iPhone4," and somehow they are right. "Shares have declined because some investors think RIM can't match its past performance," said RIM Co-CEO Jim Balsillie. RIM lost 18% in stock market this year. When RIM saw that they are losing their position in market, then they decided to come back in action with the new BlackBerry 6 OS. The new BlackBerry 6 is almost re-designed with a lot of new things. Here are some of the changes in new OS.
A redesigned home screen
Universal search
Context-sensitive pop-up menus
Revamped

browser

(WebKit)
Social feeds
I am an Android follower, but I can't wait for the BlackBerry 6 to come out, so then I can give it a try. Also check out the Sneak Peak at the BlackBerry OS 6.
What do you people think, would you give Blackberry a chance?