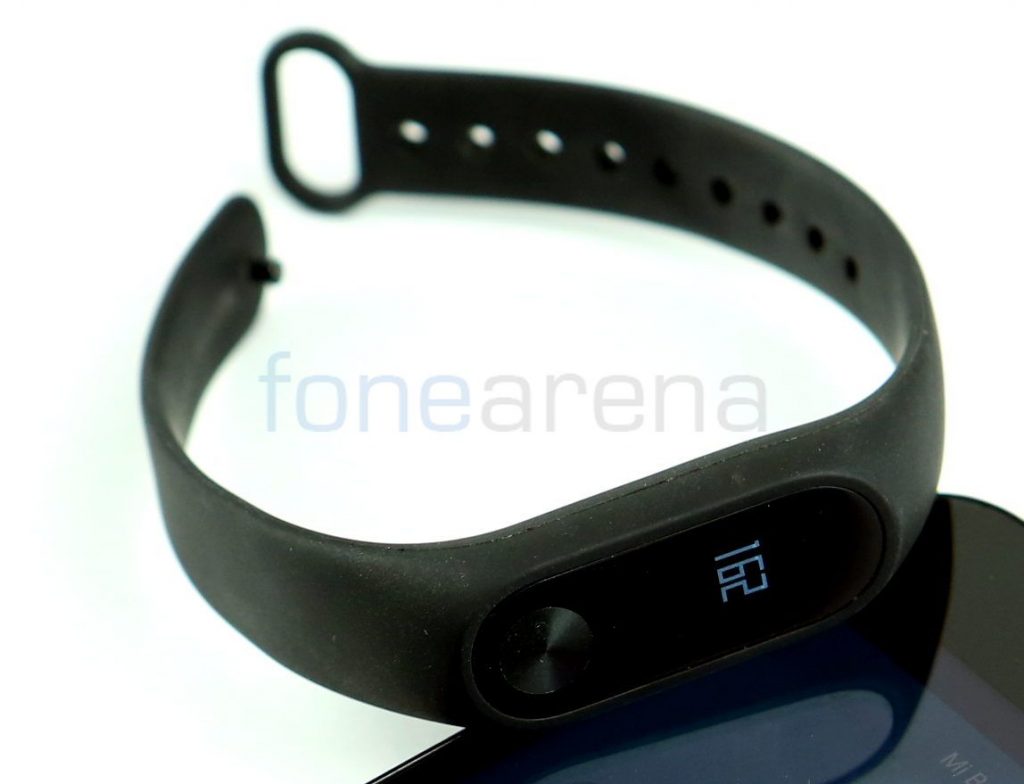 Xiaomi recently launched the most expected Mi Band 2 in India. It is the company's third-generation fitness and sleep tracker after the most popular Mi Band and the upgraded Mi Band Pulse with a heart rate sensor. It is the first Mi Band with an OLED display. Priced at Rs. 1999, it is one of the few bands with a display and a heart rate sensor in the price range, so it is definitely worth the price. How about the features, performance and the battery life? Let us dive into the review to find out.
Unboxing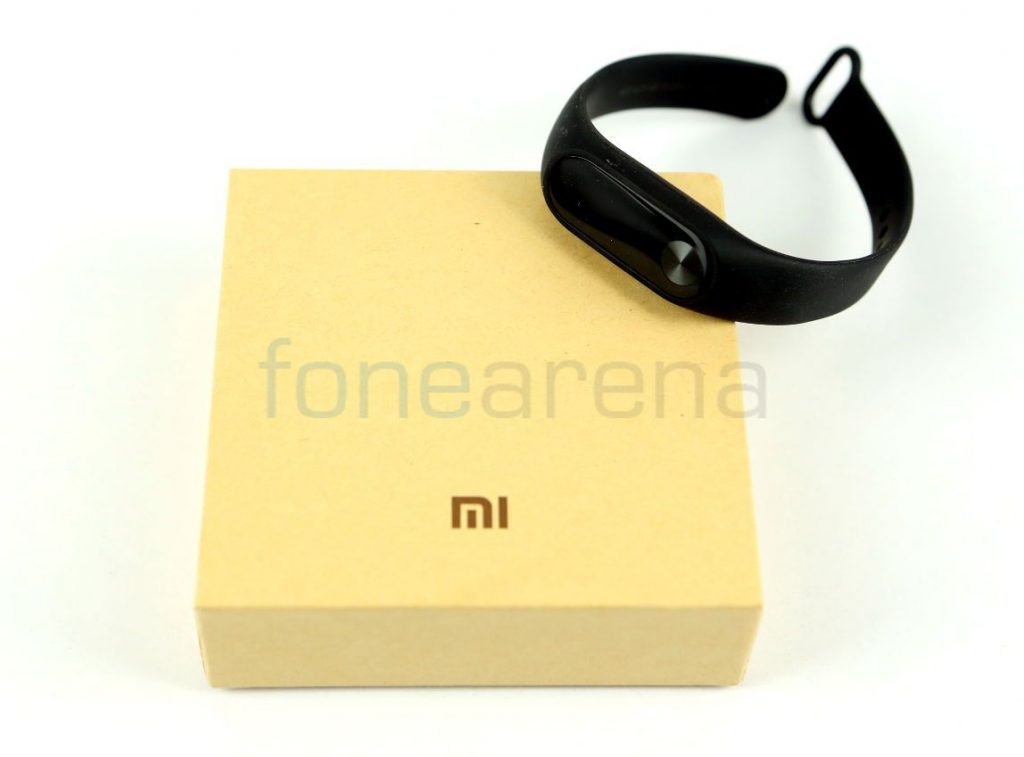 We unboxed the fitness band recently, check out the Mi Band 2 unboxing.
Box Contents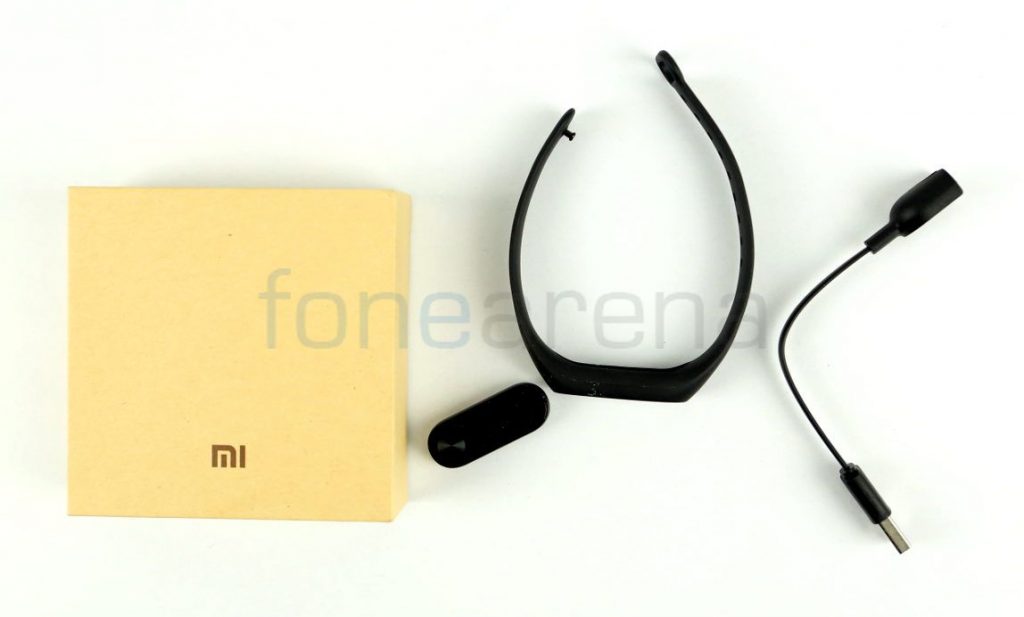 Xiaomi Mi Band 2 device
Black silicone wrist band
Charging cable
Quick start guide
Design and Build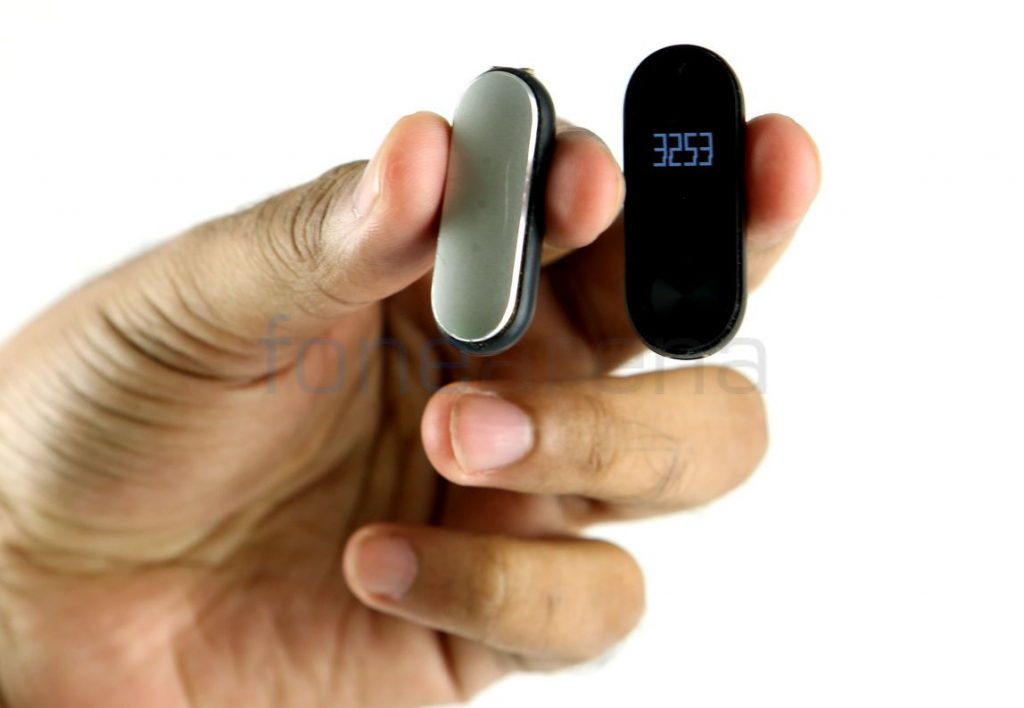 The core unit which is the heart of the Mi Band 2 measures 15.7×40.3×10.5mm and weighs just 19 grams, slightly bigger than the first Mi Band. It has a polycarbonate body, unlike the Mi band that had aluminium alloy finish on the top and polycarbonate finish on the back. The display is prone to smudges and might be prone to scratches as well since the company has not mentioned if this has scratch-resistant glass for protection.
It has IP67 ratings for water resistance, so you can even wear it in shower. Inside, it has ADI's Accelerometer sensor and Dialog DA14681 low-power Bluetooth chip. This Bluetooth chip is programmable, so it can store data even when it is disconnected from the smartphone. It uses Bluetooth 4.0 LE to connect to Android (4.4+) or iPhone (7.0+).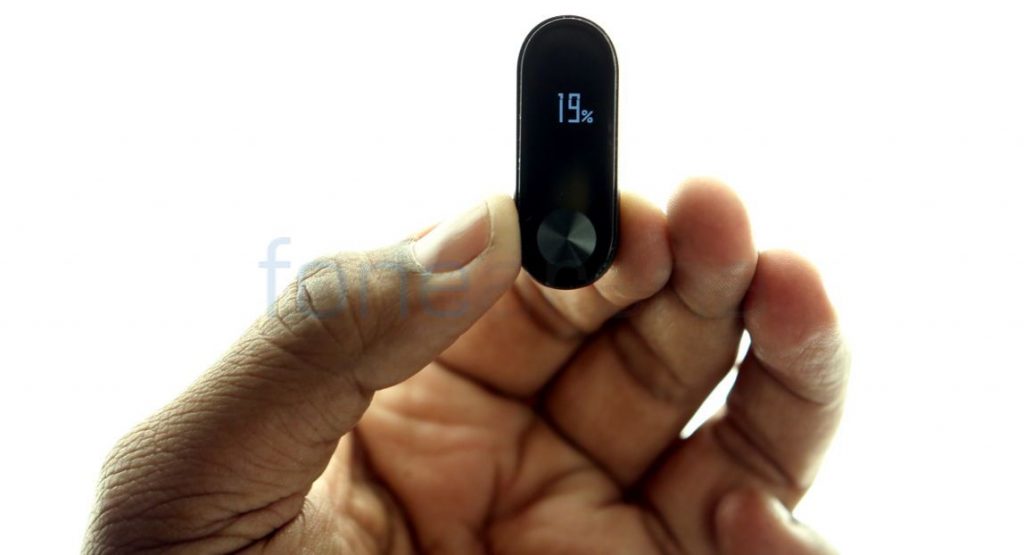 There is a tiny 0.42-inch OLED display on the front that shows time, steps, distance, calories burnt, heart rate data and battery remaining. Even though the display glass looks large, it is actually tiny that occupies 25% of the glass. This is not a touch screen display, so you need to press the button below the screen to cycle through different options. The display is good indoors, but it is hardly visible outdoors in bright sunlight since it is not bright. Hope this is improved in the next generation of Mi Band.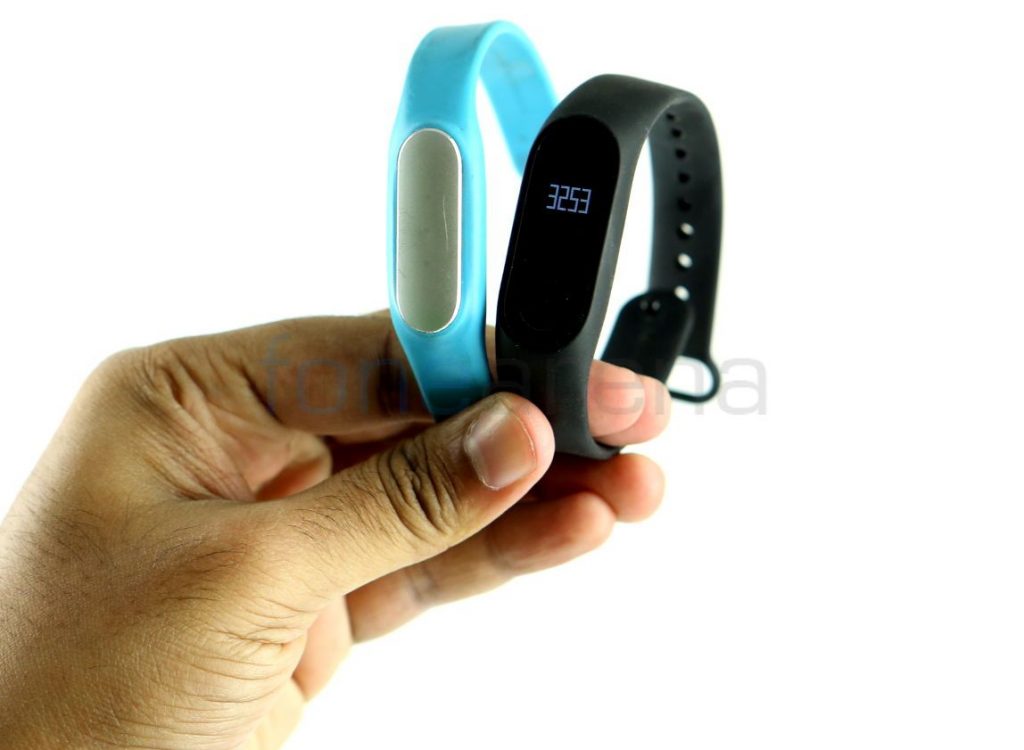 The band is made of skin-friendly thermoplastic elastomer and is slightly bigger than the first Mi Band to accommodate the large core unit. The core unit also fits tightly so it doesn't fall out of the band easily. The holes in the band are perfect and the clasp made of aluminum alloy holds the band securely so it doesn't come out unless you pull it out.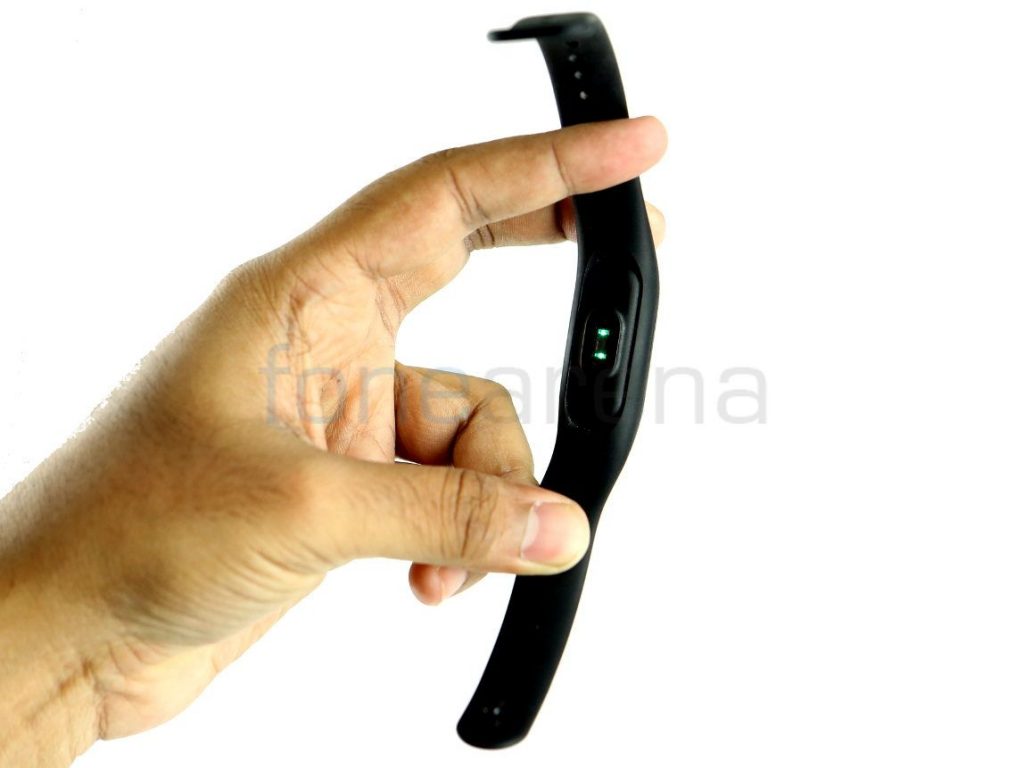 On the back you can see the heart rate sensor that has glowing green LED lights when you are using it to measure heart rate.
Heart Rate Sensor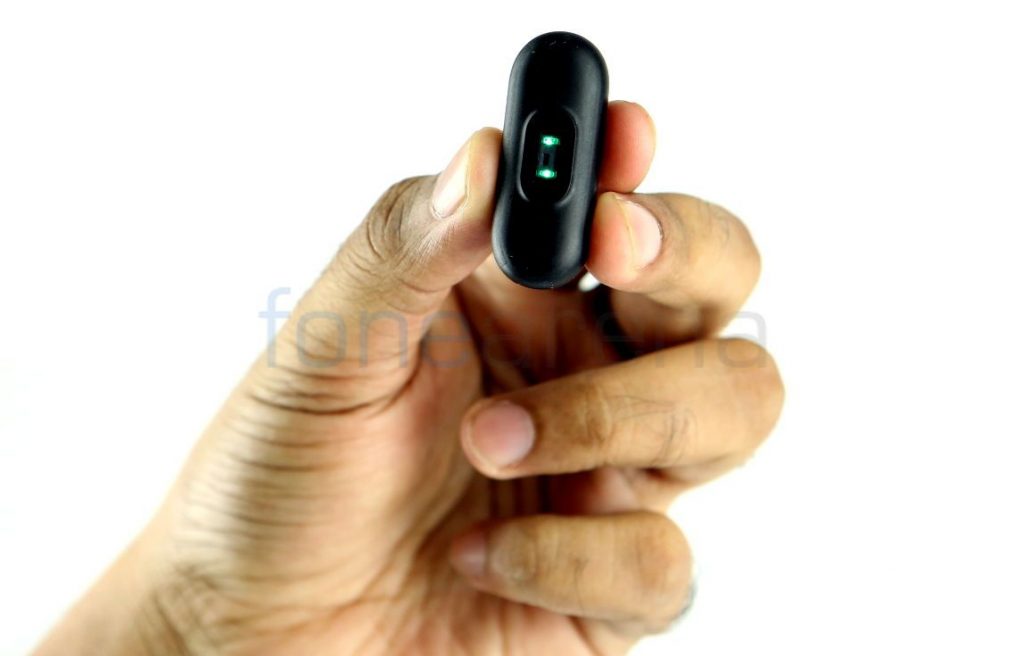 The Mi Band 2 uses LED lights and photo-diodes to illuminate blood vessel for a while and monitors the heart rate via the change of green light absorbed. You can't say this is 100% accurate since it is inconsistent some times, but for the price this does the job perfectly. There are several reports of the sensor not detecting people with dark skin. For brown skin it works well.
You can use the button on the Mi Band 2 or use the app to check the heart rate. It stores the data with date and time. It take 5 to 10 seconds to measure heart rate and is not continuous if you want to measure your heart rate throughout the workout. It also asks you to fasten the band above the wrist and not to move your wrist when measuring. It says heart rate in resting state usually varies between 60 and 100 BPM. Once It got 157 BPM when running. Over 164 BPM is considered heavy like when you are doing intensive cardio exercise.
Software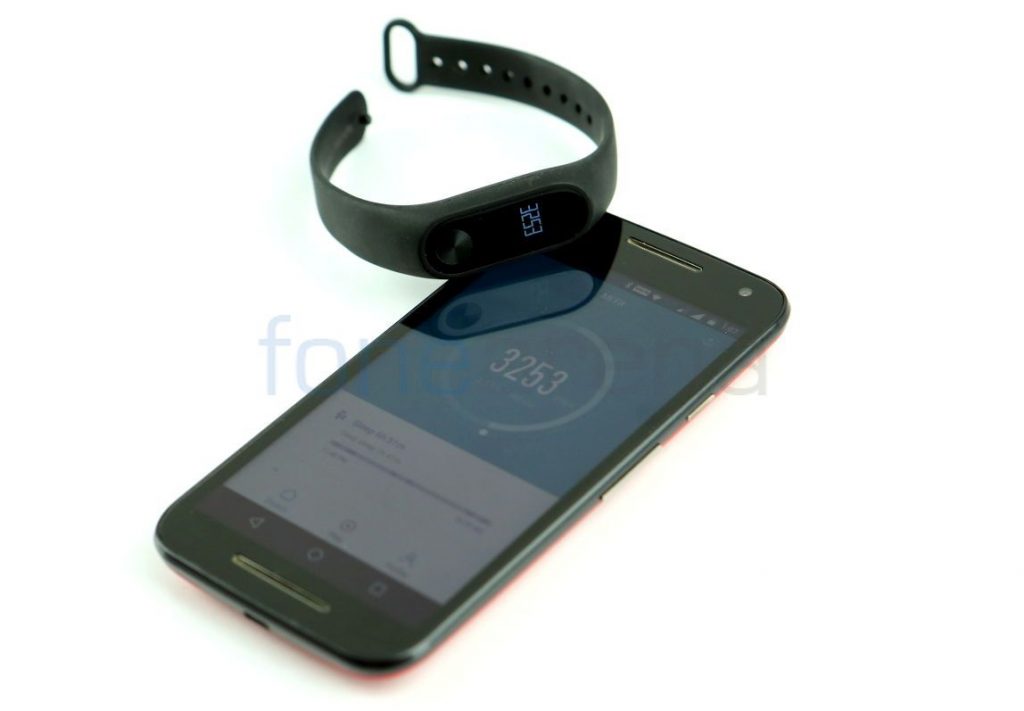 The Mi Fit app for Android and iPhone have been improved a lot since the first Mi Band.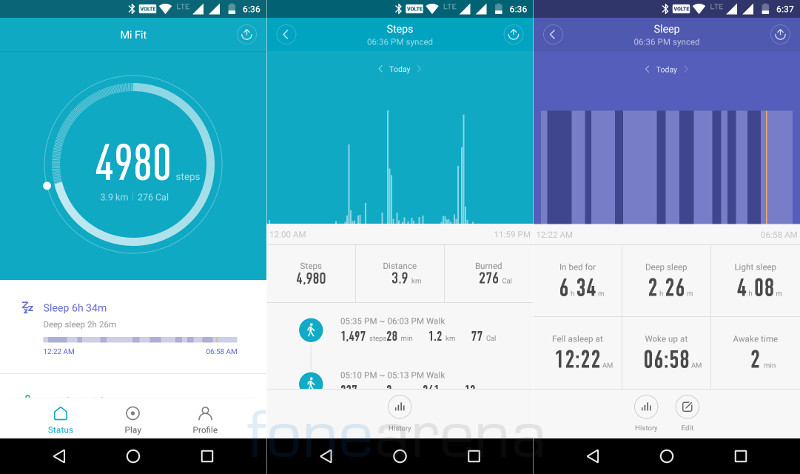 The app shows steps, distance and calories burnt. Xiaomi says that the Mi Band 2 tracks steps and sleep more accurately using the latest ADI ADX1362 acceleration sensor.
It still can't find difference between walking and running since it shows run as walk most of the times. Coming to sleep tracking, it shows total sleep time, deep sleep, light sleep and awake time, which is same as the first Mi Band.
A new feature is the heart rate sleep assistant, which gathers more precise sleep data by measuring your heart rate when you are sleeping. This will reduce the battery life warns Xiaomi.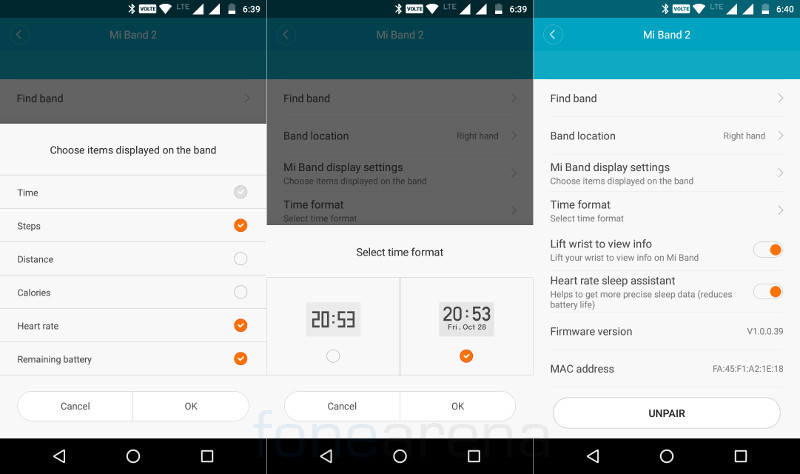 The display on the Mi Band 2 shows time by default. You can set it to show steps, distance, calories, heart rate and remaining battery life that cycles through when you press the button below the screen. You can also select option to show day, month and date, in addition to time, which is very handy. You can also enable option to show time when you lift your wrist.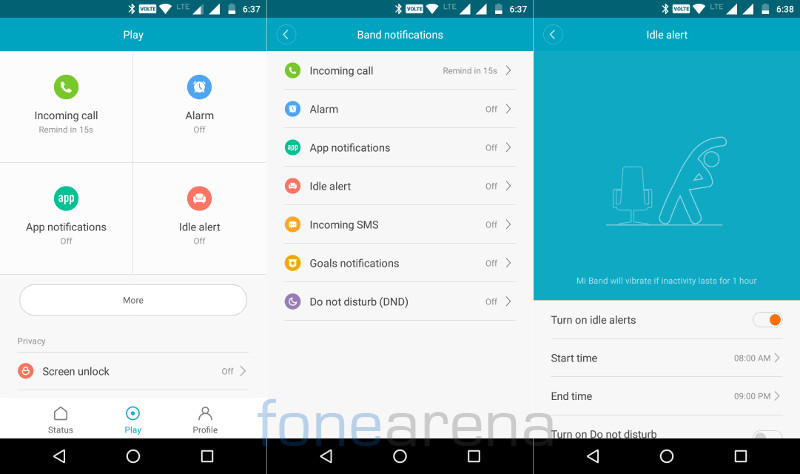 In addition to the usual incoming call alert, silent alarm, app notifications and incoming SMS alert, Mi Band 2 also has several new features such as Idle alert that vibrates when you are inactive for 1 hour, goal notifications and do not disturb (DND) that disables all notifications from your phone during the period of time you set. Idle alert also has DND option. You can connect to Google Fit that lets you sync your steps and sleep data.
Battery life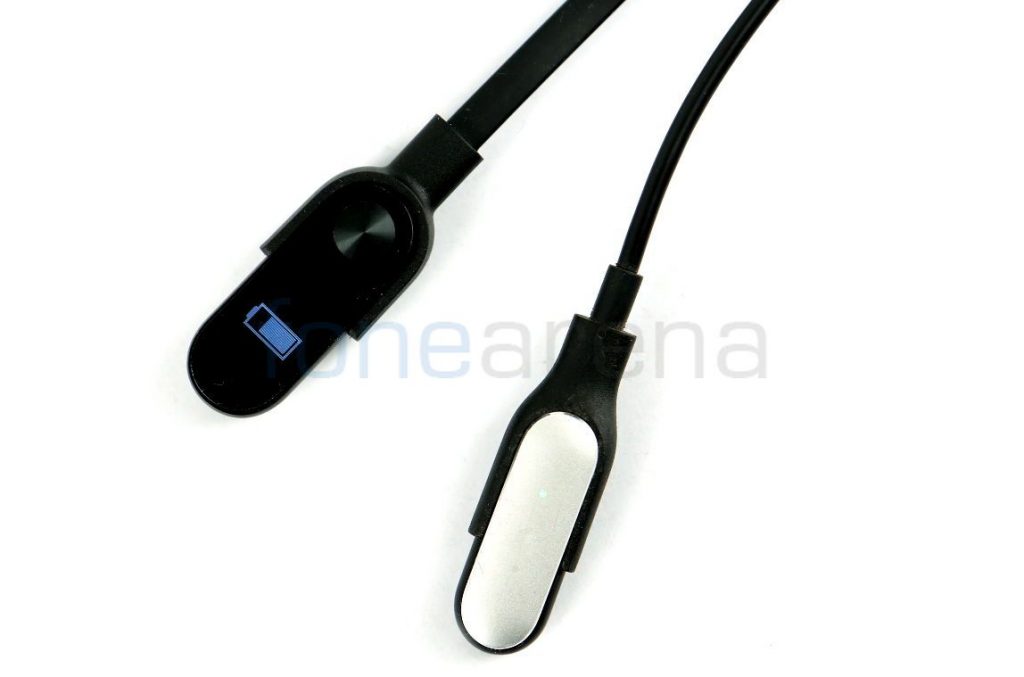 Compared to 41mAh battery on the first Mi Band, this has a 70mAh battery. The Mi Band 2 promises 20 days of battery life. I have been using it for about two weeks still there is 57% charge left, so based on my use it might last over a month. This might vary depending on frequent use of the display, heart rate monitor and accurate sleep tracking.
Conclusion
Priced at Rs. 1,999, the Xiaomi Mi Band 2 is a worthy successor to the Mi Band. It retains the compact design, has IP67 ratings for water resistance and also adds OLED display and heart rate sensor. Wish the display was brighter for better outdoor visibility, which might be a problem for people working in bright conditions. If you are looking for an affordable activity and sleep tracker with a heart rate sensor, the Mi Band 2 is what you need. The Mi Band 2 is available from Amazon.in and mi.com.
Pros
Affordable
Water resistant (IP67)
Heart rate sensor
OLED display shows time, remaining battery and more
Good battery life
Cons
OLED display is not visible clearly in bright outdoors