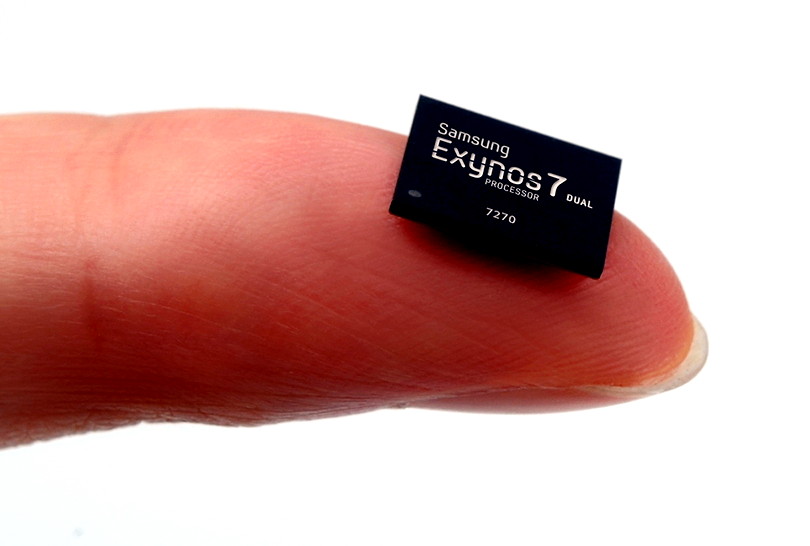 Samsung has announced that is has started mass production of Exynos 7 Dual 7270 processor for wearables that is based on 14nm FinFET process technology. It also has LTE modem integration, making it the first in class with built-in LTE. It recently started mass production of Exynos 7 Quad 7570 14nm processor for budget smartphones and IoT devices.
The Exynos 7270 uses Samsung's innovative packaging technology, SiP (system-in-package)-ePoP (embedded package-on-package) that promises outstanding performance and energy-efficiency within a compact solution optimized for wearable devices.
This technology combines the AP, DRAM and NAND flash memory chips as well as the PMIC (power management IC) together into a single package. The solution can offer more features than its predecessor in the same 100-square-millimeter (mm2) area while reducing the height by approximately 30%. This gives more room for device manufacturers to design high performance, ultra-slim wearable devices.
Highlights of Exynos 7 Dual 7270
Powered by two Cortex-A53 cores
20% improvement in power efficiency when compared to predecessor built on 28nm for extended battery life.
Cat.4 LTE 2CA modem, WiFi, Bluetooth, FM (frequency modulation), GNSS (global navigation satellite system)
The Samsung Exynos 7 Dual 7270 reference platform with NFC and various sensors is currently available for device manufacturers and customers.
Commenting on the new processor, Ben K. Hur, Vice President of System LSI Marketing at Samsung Electronics, said:
The Exynos 7270 presents a new paradigm for system-on-chips (SoC) dedicated to wearables. Designed on our state-of-the-art process technology, this AP offers great power savings, 4G LTE modem and full connectivity solution integration, as well as innovative packaging technology optimized for wearable devices. It is a ground-breaking solution that will greatly accelerate wider adoption of wearable devices by overcoming limitations in current solutions such as energy usage and design flexibility.