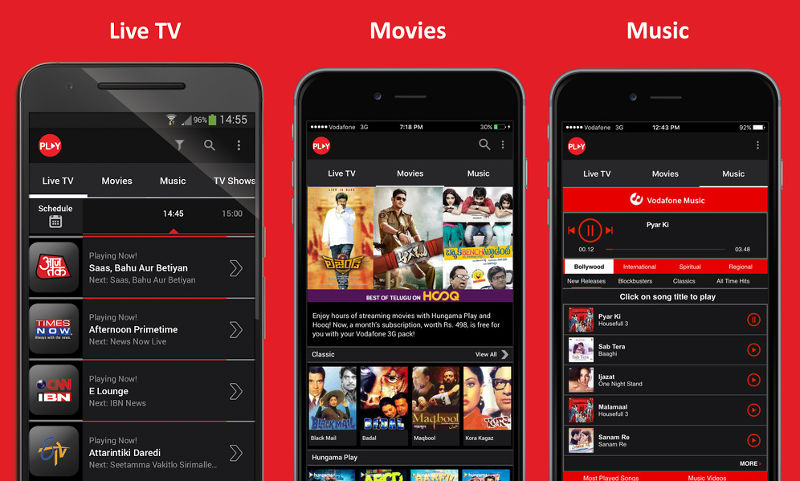 Vodafone India has announced that Vodafone Play app subscription for 3 months is now available for free to all customers till 31 December 2016. This app offers Live TV, videos, movies, TV shows and music.
It has over 180 Live TV channels including popular film and entertainment channels, 14000+ movies in several languages and a huge catalog of video and music content across all genres. Vodafone has partnered with Hooq and Hungama Movies for content.
Highlights of Vodafone Play
More than 180 Live TV channels
14000+ movies in several languages
Movies and shows in English, Hindi, Telugu, Tamil, Malayalam, Punjabi, Marathi, Gujrati, Assamese and Bengali.
Music library with over 1.2 million songs in Hindi, English and every regional Indian language.
Short videos on demand across genres like entertainment, movie gossips, Sports, Lifestyle, Comedy and more.
All Vodafone customers get a free registration. You need to open Vodafone Play on your Vodafone network for the first time and register. You can later stream content even on WiFi.
Download Vodafone Play (Free) – Android | iPhone and iPad
Commenting on Vodafone Play, Sandeep Kataria, Director – Commercial, Vodafone India, said:
People are increasingly watching more videos and listening to music on their smartphones. Instead of downloading multiple apps, all they need is to download and use.

Vodafone Play that offers the best of content digitally for all their entertainment requirements. It is truly a single window to the world of entertainment with a rich portfolio of content across genres and languages. We will continue to enrich its portfolio by adding more quality content and features on Vodafone Play to make the consumer experience more enjoyable.