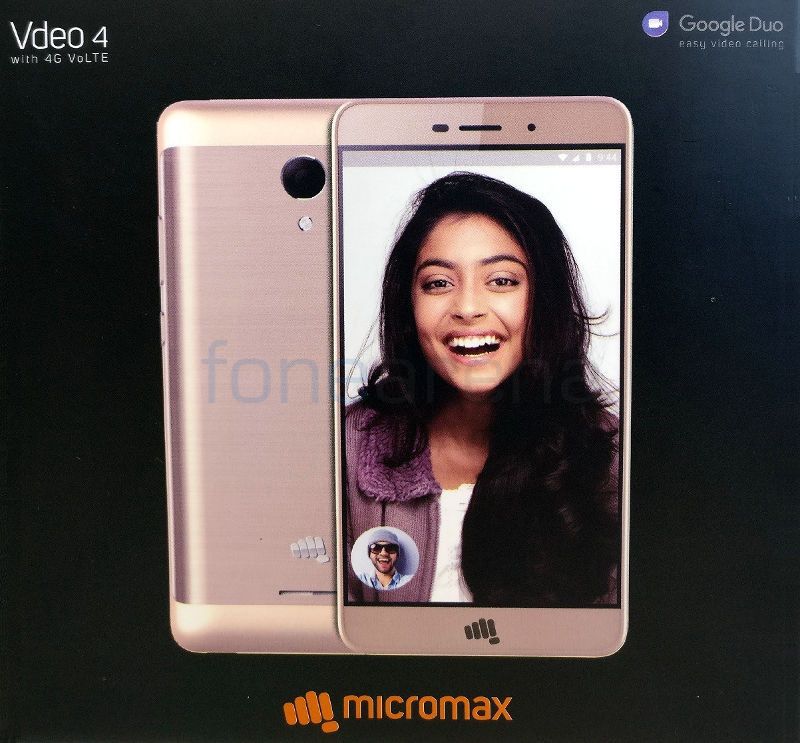 Last week there was a report that said that Micromax is planning to launch four budget smartphones with Google Duo video calling app pre-loaded and with 4G support ahead of the festive season. Today we managed to get hold of an image of one of the smartphone in the upcoming series.
Called Vdeo 4, the phone will come with 4G VoLTE (Voice Over LTE) support. As you can see in the image, the smartphone has a Micromax logo on the front and the back. Not much about the phone is known at the moment.
Since its launch in August, Google Duo has crossed 10 million downloads on Android with US and India being among the top countries. The app is extremely simple to make video calls and comes with a Knock Knock feature that offers a personalized preview of the caller before you even pick up the video call.
According to earlier report, these upcoming Micromax phones is expected to be priced under Rs. 6,700. We should know more details in the coming weeks.
Micromax co-founder Vikas Jain recently told PTI,
Video calling is perceived to be a very urban phenomenon and niche but at Micromax, we believe that there is a huge potential to massify the service by taking it beyond the tier 1 markets where Micromax has an unmatched edge. The collaboration with Google Duo is extremely important. Users will find Duo easy to latch on to Duo's simple interface…all the 4 phones will be sub-USD 100.