BGR is reporting that they got some information about iPhone 4 which got burnt due a USB connector that malfunctioned. It even caused small burns on the user's hands.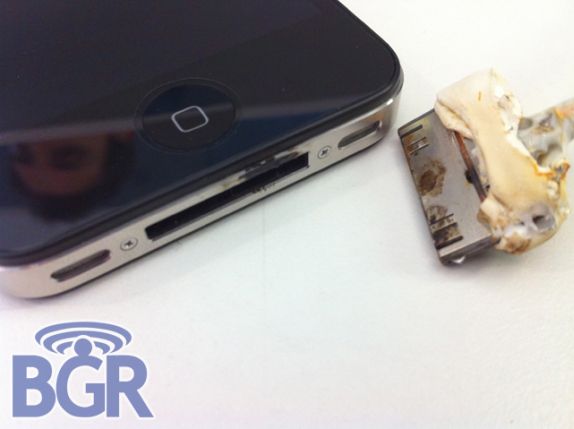 This is the what the post on BGR Says
One of our very close AT&T sources just sent us in these images. Yes, it's a fried iPhone 4. Apparently a customer brought the phone into the store to try and get help with it, although it's pretty evident that the phone is unrepairable. It's the first time our guy has seen this happen (us too), but the brand new iPhone 4 caught on fire while being hooked up to a computer using the Apple USB cable that accompanied the device. The customer wanted to exchange the iPhone — obviously — for a new, non-charred unit however the AT&T store in question was out of stock. An Apple Store did confirm to our AT&T connection that this did appear to be a defective USB port and not some sort of user error. Our source went onto say that the phone bezel was extremely hot (obviously), and it slightly burned the customers hand. The USB port in the phone was slightly melted and the cord was badly melted (as is apparent in the pictures). Hopefully this is the only time we see our beloved iPhones meet a fiery death.
Certainly sounds scary ! Hope this is an isolated incident. Or else the iPhone 4 selling like hot cakes might have a tragic meaning