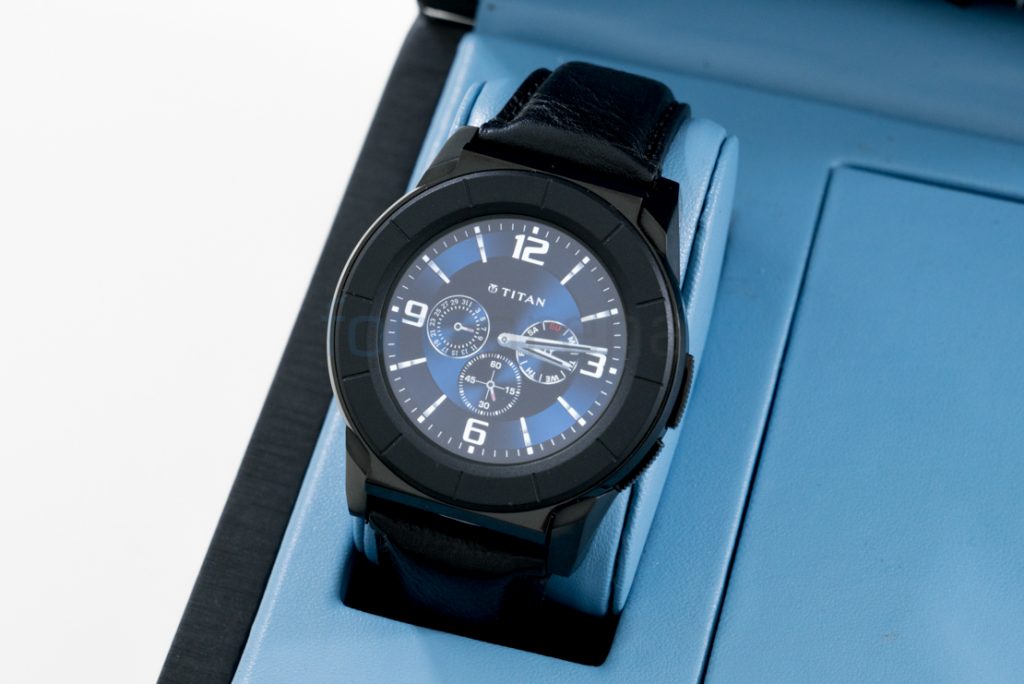 Titan just outed their first all touchscreen smartwatch that follows up on the JUXT. The new smartwatch is called the JUXT Pro and aims to provide a premium experience to customers. Let's take a look at what it offers.
Unboxing
The Titan JUXT Pro comes in a really neat wooden box that feels premium and reminds you of a premium analogue watch. You can watch the unboxing video below:
Here are the contents of the box: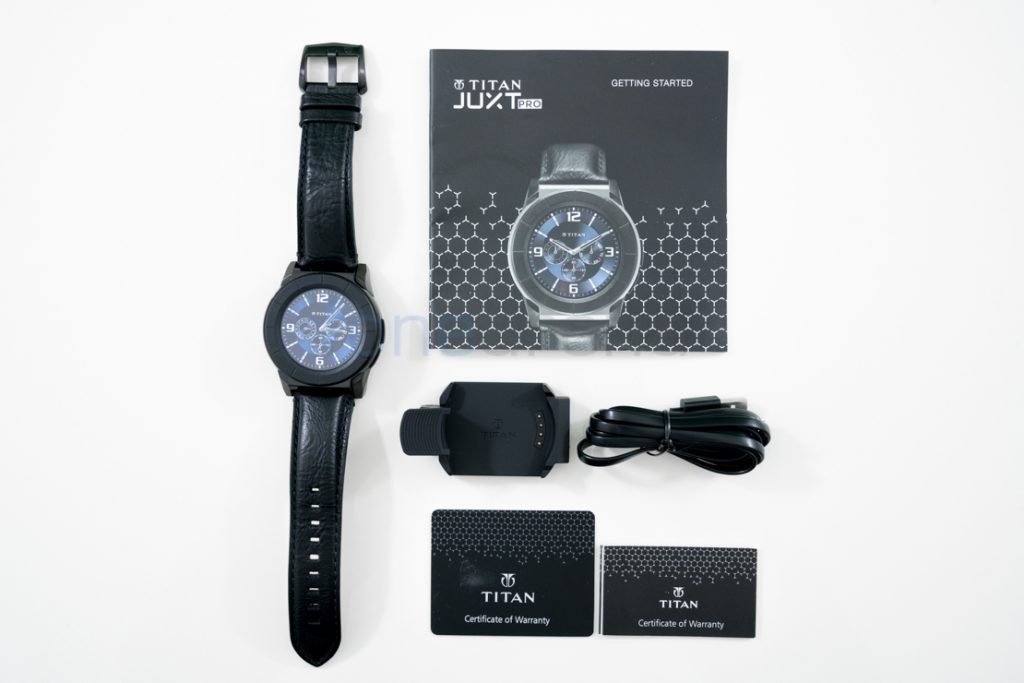 Titan JUXT Pro smartwatch in Black Case with leather strap
Charging cradle
Micro USB cable
User manual and warranty information
Design, Materials and Build Quality
The Titan JUXT Pro succeeds the JUXT but unlike its predecessor, it features a completely digital interface. However, you would be glad to note that Titan hasn't compromised on the aesthetics or build quality like most other smartwatches seem to do these days.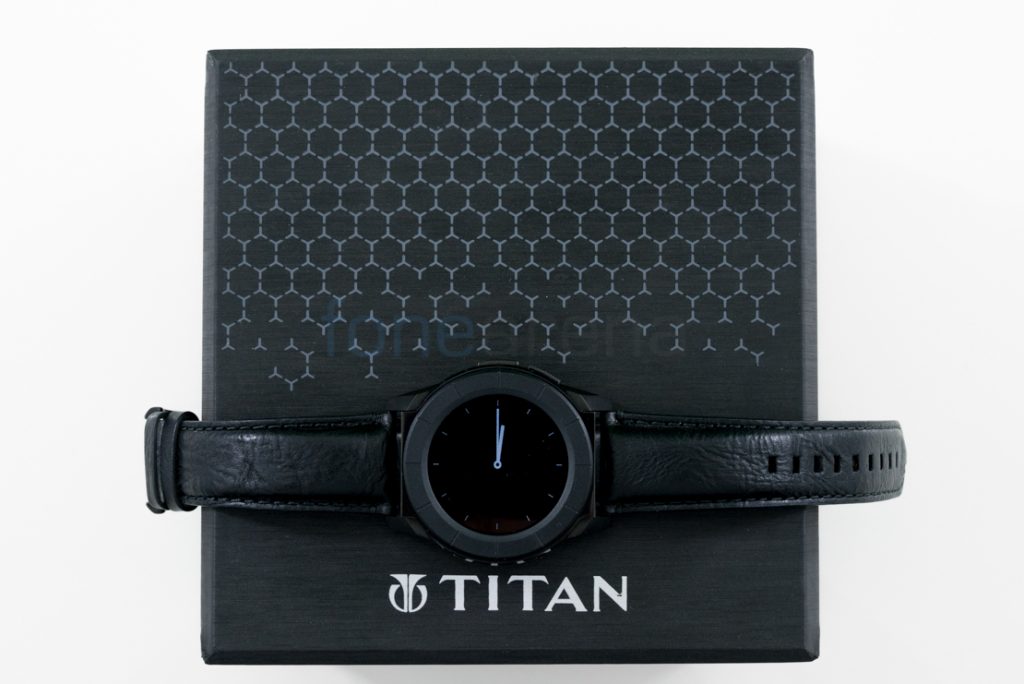 The JUXT Pro is made out of a stainless steel casing that is robust and features an IP67 rating that protects it from water and dust. The only plastic part on the entire casing is the bezel ring that surrounds the display but even that could pass as being metal to the untrained eye.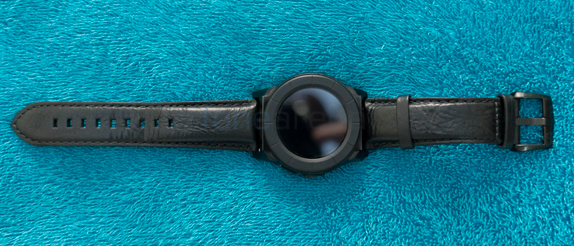 The build quality is top notch thanks to the 316L stainless steel that has been used in construction and the watch feels like it can easily handle a drop or two but we don't recommend that you try it though. The case features two buttons on the right side, one for the power button and another for the Titan Safety feature just below it.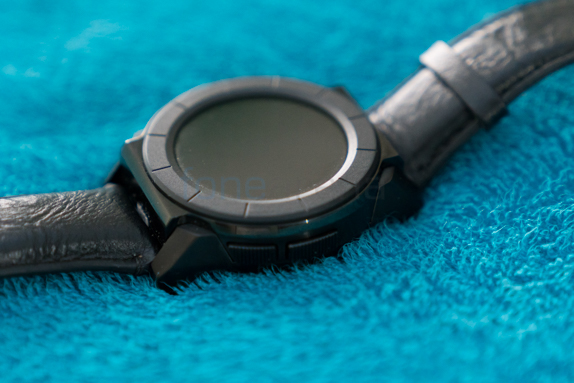 The casing is available in two different colour variants, one with a full black casing and the other in a combination of black and silver. Both of them come with a leather strap but the straps are interchangeable and just about any 22mm watch strap will fit into the casing.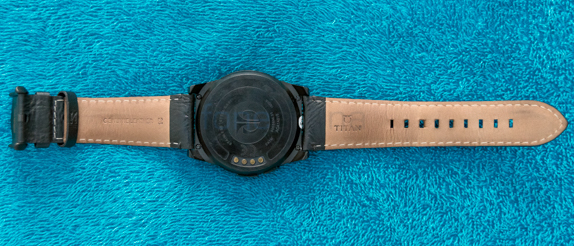 The watch is water resistant upto 3 ATM (30 metres) and it is quite a bit bigger (48mm casing) as well as heavier than most other smartwatches on the market. Although the size of the watch implicates that it would be something worn by men, Titan say that it could just as well be worn by women too.
The primary need to have a larger design was to integrate more components inside the body including a larger battery without having to compromise. Hence the design could be said as something that was inspired by functionality as much as it was supposed to invoke a premium analogue watch design.
Display
The display on the JUXT Pro is a fully circular 1.3″ IPS display that comes with a resolution of 360×360 pixels (278 ppi) which offers good brightness as well as viewing angles. The brightness is good enough for both indoor and outdoor visibility.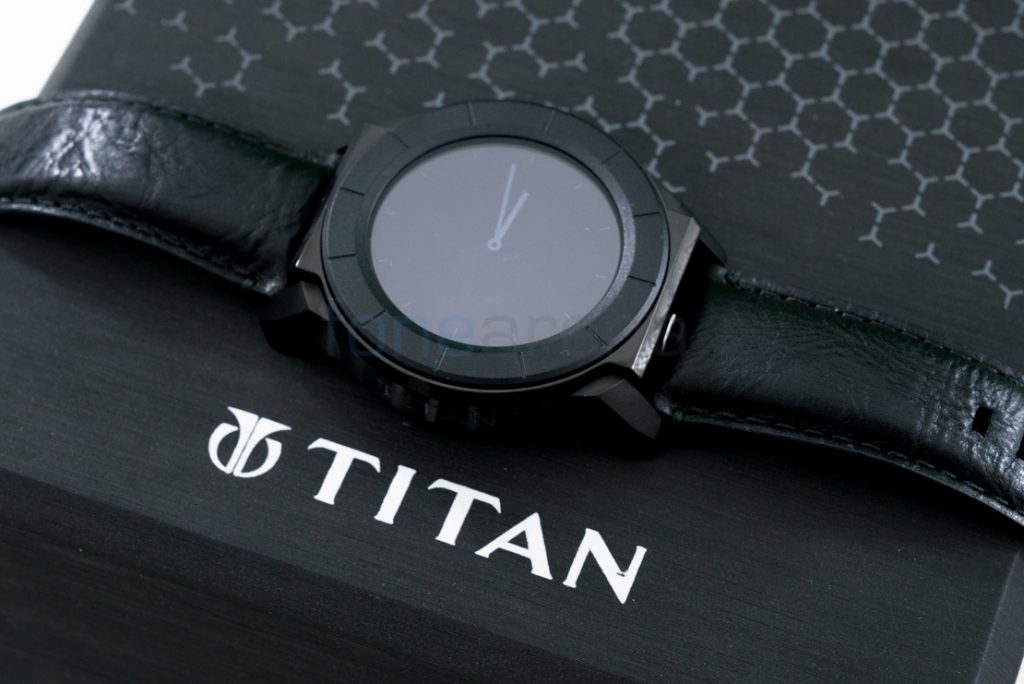 The display glass is Corning Gorilla Glass 3 which means its quite resistant to scratches and while it is no Sapphire Crystal, it still hasn't gotten scratched on our unit even with regular use. Touch response is good as well.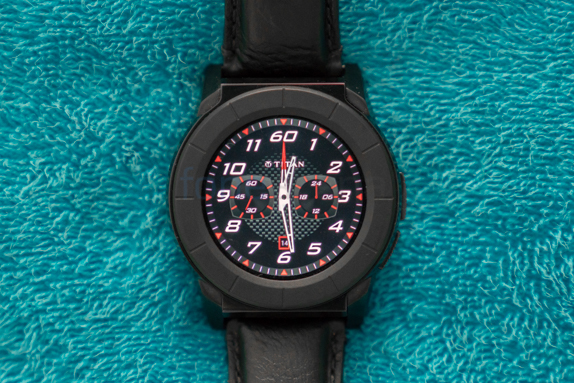 The display can be chosen to stay on all the time or a bring to see mode where you rotate your wrist in such a way that the screen is visible and the screen lights up. This also brings up an important feature of the JUXT pro called privilege reveal. Even if you get a notification, the screen of the smartphone won't light up right away. You will get a vibration but you will be able to see the notification only when you use the bring to see function.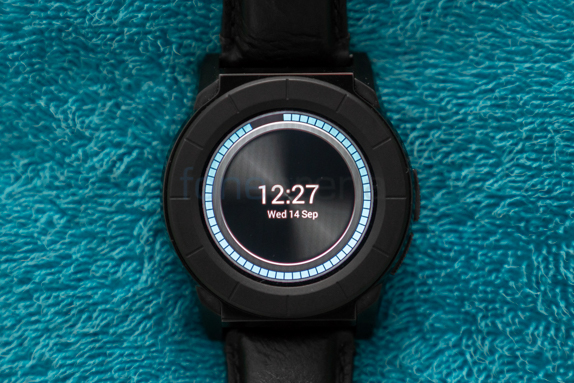 You could also turn off the bring to see mode and only have the watch display light up when you press the home button but I personally quite like the bring to see function as it is quite practical and doesn't really come at the expense of battery life. There are 20 pre-loaded watch faces to choose from and you can customize more online to your liking.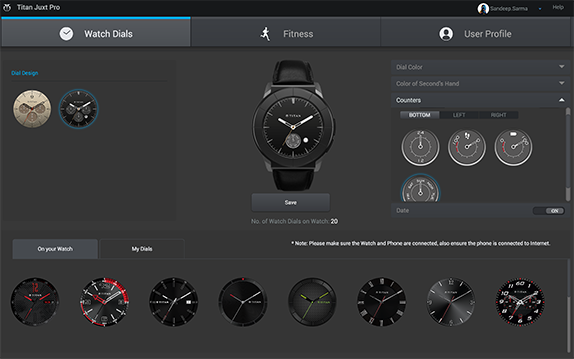 Comfort
I personally love big watches and the Titan JUXT Pro probably has the perfect size for my big hands too. At 48mm, the casing is larger than most smartwatches and even most analogue watches. But the whole point of the JUXT Pro was to be something that stands out and looks great. It certainly does achieve that.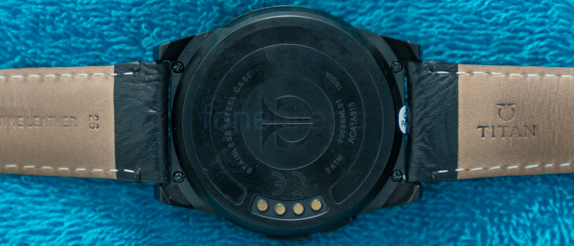 While the watch is quite a bit heavy when you hold it, it doesn't actually feel all that big or heavy while wearing it. It doesn't really give you any wrist fatigue too and despite having worn it through several hectic days during IFA 2016, it didn't really irritate me.
Coming to the strap, I am not really a big fan of leather straps and if I got the JUXT Pro personally, I would immediately change the strap for a silicon or rubber one. But with that said, the leather strap is of good quality and despite an initial rigidness, it becomes easy to wear after a few uses. A metal strap would also look good but I feel it would become too bulky and heavy if you do so. But that is your personal choice and the 22mm strap size means you can easily change the strap at a Titan store or anywhere else you want to.
Storage and Performance
The JUXT Pro comes with 4GB of internal storage but the OS itself takes around 2GB of space. Users can store their favourite music and play them from the smartwatch instead of having to rely on your smartphone itself.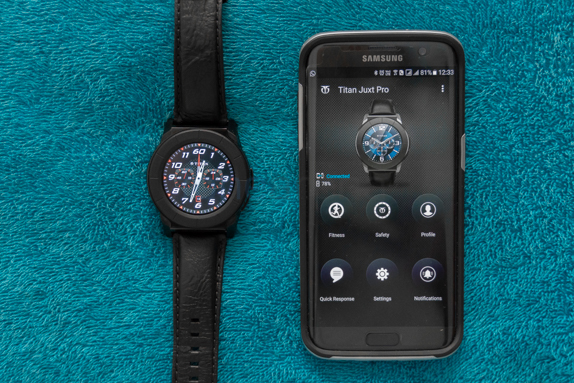 Additionally, you can use your JUXT Pro as a mass storage device to store and carry files that you want. In a way, its also a secure way to store important documents on travel for example your passport scans and more.  So in the unlikely event that you lose your phone or computer, you can still access the files from your smartwatch. However, the only downside is the fact that you need the dock to access the files.
The 512MB of RAM along with the Dual Core Intel processor clocked in at 1 GHz made sure that performance was smooth at all times and we didn't encounter any instances of the watch heating up even with step tracking and notifications turned on.
Software
The JUXT Pro does not run on Android Wear. Instead, it runs on Titan's proprietary OS and is compatible with Android devices running version 4.4 and higher as well as iOS devices running version 8 or higher. It connects to your smartphone using Bluetooth 4.0 but it doesn't have WiFi.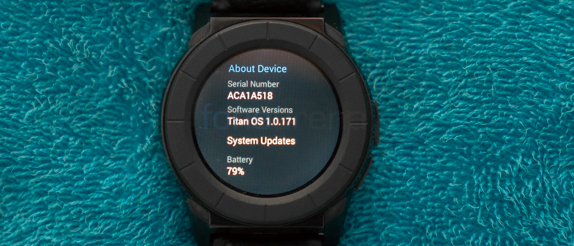 There is a Titan JUXT Pro app that allows you to feed in your profile as well as customise and manage your watch settings. There is also a Titan Safety app that can be used to assign your emergency contacts.
You can use Titan Safety to alert your loved ones of your location with the touch of the dedicated safety button. You could also set a panic alarm which will notify your selected contacts of your status and there is even a shadow me feature that will give regular updates about your location to your loved ones. Lastly, there is a priority call option where you can add chosen individuals to the list and you will be notified (even in silent or do not disturb mode) when any of them calls you but not disturbed when anyone else does.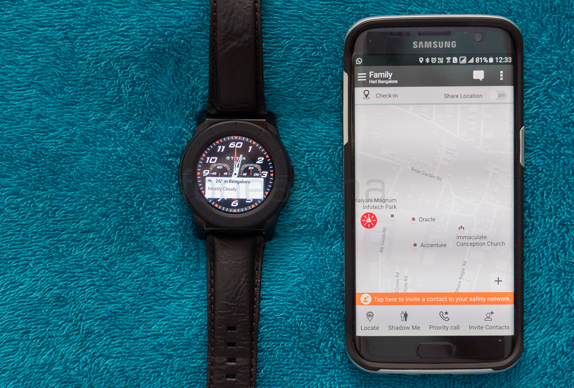 There is even a chat feature where you can talk to a particular group of contacts, be it your friend or family and send them photos and voice notes too.
Apps and Notifications
The JUXT Pro offers notifications for all apps and not just a few preset applications. This is quite good since the apps that each user uses varies a lot and it isn't necessary that everyone uses the same messaging client for example. So if you have support for one but not the other, it is bound to agitate a few users at least.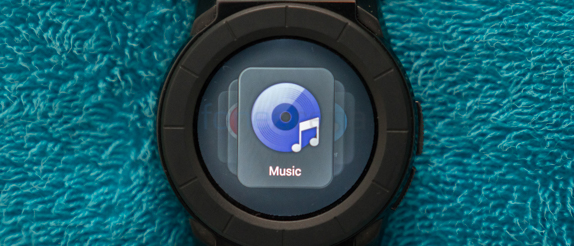 Luckily, all apps are supported and users can also choose which of them to exclude from the notification list and which should not be allowed to give a vibration feedback. I personally have disabled vibration and notification for apps like Whatsapp considering the vast majority of messages that come everyday. Have allowed important notifications such as calls, emails and messages though. You can also respond to notifications from a set of preset messages that can also be customised to your needs.
Users can choose to mute calls and notifications on their phone when it is connected to the watch in order to have a more subtle way of getting notified. The watch also comes with a timer, a stopwatch, a weather app, a calendar app and a converter. Mind you, it is a unit converter and not a real time currency converter.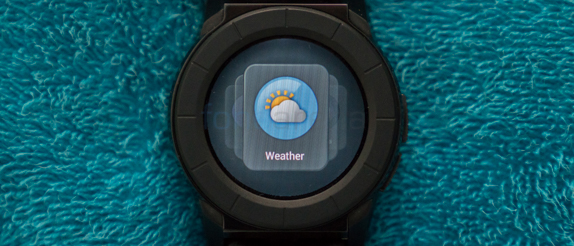 There is a built-in phone finder tool that allows the user to make his/her phone vibrate or ring when the watch is connected to it. The good thing is that it allows you to even ring the phone when the phone is on silent. Note that on iOS devices, the ringing functionality won't work if you have muted the phone with the physical switch. However, if you have muted it with the volume keys then it will work.
Lastly, there is a camera app that allows you to remotely control the cameras on your smartphone be it at the front or back. You can choose the flash setting and take a shot by pressing the shutter button on the smartphone. The watch gives you a 3 second timer so that you have time to pose before the shot is captured.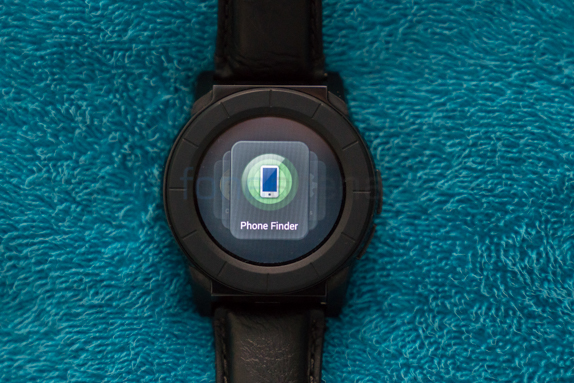 The only downside to this is that it launches its own camera app instead of the stock one and that limits the ability to adjust settings such as HDR, shutter speed etc before taking the shot. If Titan add that functionality too, it would become a really useful tool. Note that the phone needs to be unlocked when you want to use the camera app on the watch but you can launch the camera by hitting the camera app on the watch without needing to open the camera app separately on the phone.
You can also use your JUXT Pro to control the music on your smartphone or play ones from the watch itself. To start playing music on your smartphone, you need to launch the app with the phone unlocked. After that, you can control the music even when the phone is locked. You have track play/pause, seek/transport as well as volume controls.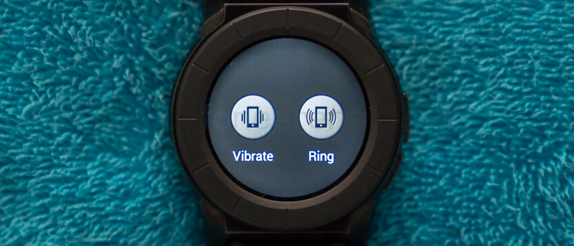 Fitness Tracker
The JUXT Pro has a built in Fitness Tracker that allows you to record the number of steps you take as well as the distance covered and calories burnt. It's pretty neat and you get a statistical chart of how your day has stacked up compared to the previous day, week or month.
You can set a profile where you specify your sex (this is another indication that Titan have also made room just in case women want to wear the watch), height, weight and also a step target. It can also notify you of your progress on a regular programmed basis.
The sad part is that it isn't really acccurate. We had the tracker count steps even as we were sitting in the car without too bumpy a road. So while it can be used as a rough scale of your physical activities, it isn't probably your best bet for proper training.
Battery Life
The battery life is one of the aspects for concern in most smartwatches since manufacturers prefer to put in tiny batteries in order to go for a slimmer and sleeker design. Titan refused to do that and have bundled a massive 450mAh battery (Massive in smartwatch standards at least) into the watch body.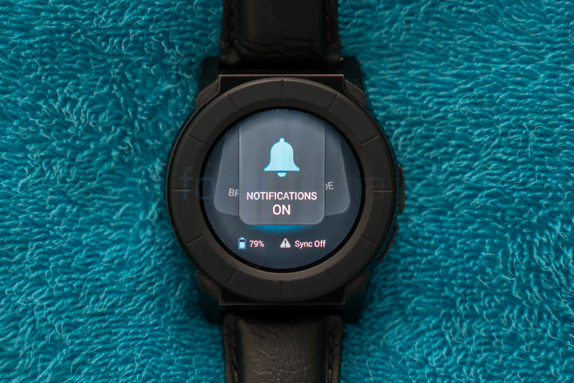 Titan had promised a battery life of 36 hours when using the smartwatch with notification and the bring to see feature. In real life, we found this claim to be more or less true. While most smartwaches would've definitely died after a day of use if not before, the JUXT Pro kept pushing and I was able to muster around 38 hours of use with step tracking, notifications etc which is quite impressive. It also has an impressive standby time of around 7 days.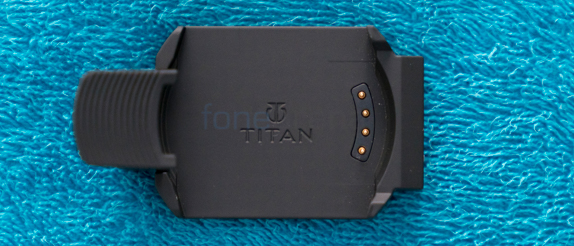 The battery life does drop significantly when you leave the display on always but then again that is the case with every smartwatch and it would be sort of pointless and moreover distracting to leave it on always.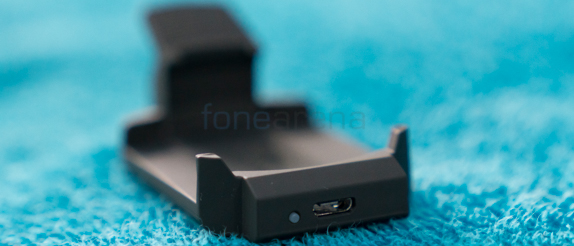 Charging requires you to place the smartwatch into the dock since it is waterproof. There are 3 pins which need to be aligned with the ones on the dock. Once you do that, you can plug in just about any microUSB cable in order to charge the watch.
Conclusion
The Titan JUXT Pro is certainly one of the better smartwatches on the market. While it is smart and offers a lot of functionality, it emphasises more on being a watch rather than smart. It is one of the most premium smartwatches that we have tried in terms of design but functionality wise, I don't think I can say the same. Sure, the Titan Safety feature is something unique but rest of the features don't really stand out. If you are getting a smartwatch primarily for its fitness tracking abilities then you are better looking elsewhere since it isn't very accurate. But if you want one to make a style statement while also being able to enjoy the occasional notification and perks of owning a smartwatch, then this is worth the buy at Rs 22,995.
Pros
Great Build Quality
Good Display
Good Battery Life
Interchangeable Bands
Waterproof
Cons
Inaccurate Fitness Tracker
No WiFi
Not Android Wear