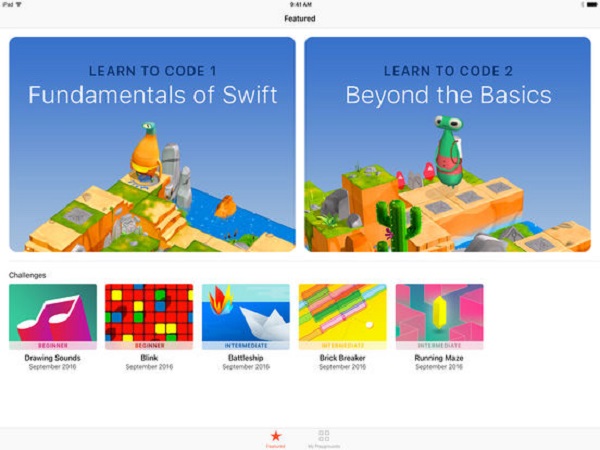 Apple has launched Swift Playgrounds app that makes it easier for children and adults to code. Available for iPad, the app will allows users to develop apps with Apple's programming language.
Announced at WWDC in June, Swift Playgrounds includes basic concepts of coding along with Apple-developed programming lessons where students write code to guide onscreen characters through a graphical world and solving puzzles  as they learn core coding concepts.
Swift Playgrounds comes with a number of built-in templates to help aspiring developers express their creativity. Students and developers can modify and build on this code to make it their own by adding graphics and touch interactions. Swift Playgrounds allows you to create a virtually unlimited variety of interactive programs using Swift and the iOS frameworks. And since Swift Playgrounds uses real Swift code, projects can be exported directly to Xcode to create programs for iOS and macOS that can ultimately be turned into full-fledged apps.
Craig Federighi, Apple's senior vice president of Software Engineering said,
Everyone should have the opportunity to learn coding, and we are excited to bring Swift Playgrounds to the next generation of programmers looking for a fun and easy way to explore key coding concepts using real code. More than 100 schools around the world have already committed to adding Swift Playgrounds to their fall curriculum, and we can't wait to see what students create with it.
Swift Playgrounds is compatible with all iPad Air and iPad Pro models and iPad mini 2 and later running iOS 10.