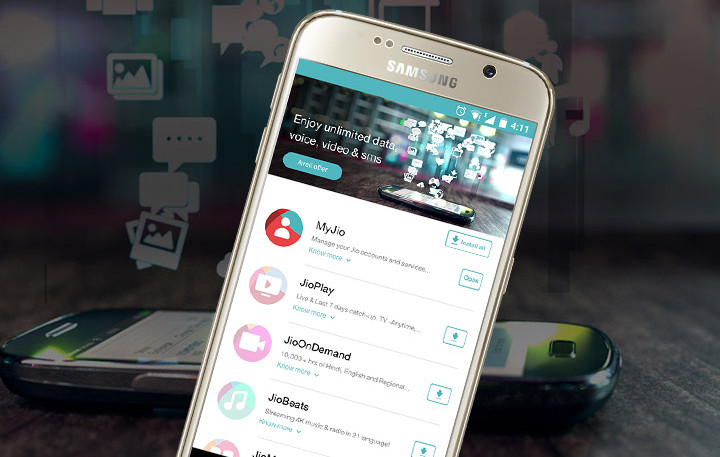 Reliance Jio is extending the Preview Offer which offers free 90 days of unlimited data, calls and messaging to all Samsung phones and LG phones which support 4G networks.
This is a biggest move by Reliance Jio so far as the combined user base of LG and Samsung phones in India is much larger than the limited user base of select Samsung phones for which the preview offer was offered recently apart from the company's own Lyf branded handsets.
Another big news is that you no longer need to generate the code from the MyJio app in order to get your free sim. You just walk in with your Samsung or LG phone and submit your KYC documents at a Reliance Digital / Mini store / Jio partner store to get your free Jio SIM card and you will get 90 days of unlimited 4G data, calls, SMS and access to Jio's suite of apps including JioPlay.
This offer is applicable to both new and existing users of the mentioned phones.
VoLTE is required for calls but no mandatory and calls can be made through the JioJoin App. The company recently made the Jio Fi 2 wireless hotspot available for purchase without any invite and we got you an exclusive unboxing as well.
Here are the Samsung models officially confirmed by Jio for the offer.
A8 VE, Galaxy A3, Galaxy A5, Galaxy A5 2016, Galaxy A5 Duos, Galaxy A7, Galaxy A7 2016, Galaxy A8, Galaxy Alpha, Galaxy Core Prime, Galaxy Grand Max, Galaxy J max, Galaxy J1 Ace, Samsung Galaxy J1 Ace, Galaxy J2, Galaxy J2 (2016), Galaxy J2 Pro, Galaxy J3, Galaxy J5, Galaxy J5 (2016), Galaxy J7, Galaxy J7 (2016), Galaxy K Zoom, Galaxy Note 3, Galaxy Note 4, Galaxy Note 5, Galaxy Note 5 Duos, Galaxy Note 7, Galaxy Note Edge, Galaxy S 5 Plus, Galaxy S4, GALAXY S4 4G, Galaxy S4, Galaxy S5 Neo, Galaxy S6, Galaxy S6 Edge, Galaxy S6 Edge Plus, Galaxy S7, Galaxy S7 Edge, Grand Prime, ON5, ON5 Pro, ON7 & ON7 Pro
And here are the list of LG phones
K332 (K7 LTE), K520DY (Stylus 2), K520DY, H860 (LG G5), K500I (X Screen), K535D (Stylus 2 Plus), LGH630D (G4 Stylus 4G) & LGH 442 (LGC70 Spirit LTE)
[Update: Jio has extended the preview offer to all the 4G smartphones.]