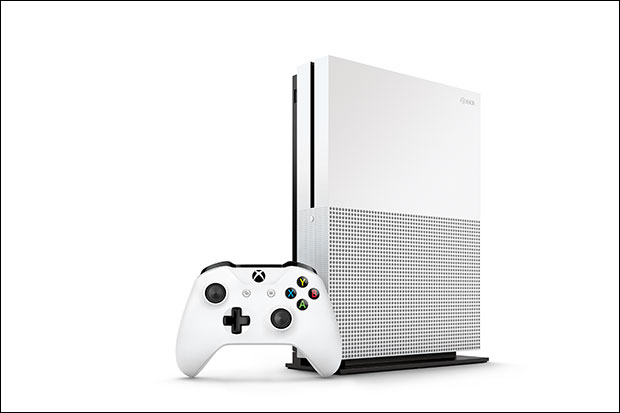 Microsoft has officially announced its next generation Xbox which is dubbed as Xbox One S following a leak earlier today. The latest gaming console from Microsoft sports a refreshed design and is 40 percent smaller than the original Xbox One,
It comes with a built-in power supply and can be placed horizontally or vertically with an optional stand. It supports 4K video streaming and Microsoft has partnered with content from partners like Netflix and Amazon Video. Xbox One S also offers High Dynamic Range (HDR) support for video and gaming for richer and more luminous colors in games.
There are three USB ports and the pairing button to the front of the Xbox One S alongside the newly added IR blaster. The dedicated Kinect port has been removed from the back. Kinect for Xbox One will still be compatible with Xbox One S via the Xbox Kinect Adapter for USB connection and offers the same experiences as the current console. Microsoft is offering a free Xbox Kinect Adapter for fans that currently own a Kinect for Xbox One and plan to purchase the Xbox One S.
Moving on, the Xbox One S comes with a newly designed Xbox Wireless Controller that features a textured grip for enhanced comfort. Microsoft says that it has improved the Xbox Wireless signal performance to offer a more reliable wireless connection to the console and up to twice the wireless range when used with Xbox One S. The Xbox One S also comes with Bluetooth support. The controller features a new thumbstick design to help maintain accuracy and smooth rotation over the life of the controller.
The Microsoft Xbox One S starts at $299 and comes in 500GB, 1TB and special launch edition 2TB options. The limited quantity 2TB launch edition Xbox One S will be available in select markets starting early August for $399, with the 1TB Xbox One S for $349 and the 500GB Xbox One S for $299 arriving thereafter. The new Xbox Wireless Controller is included with all Xbox One S consoles and will be available worldwide for individual purchase for $59.99 USD. The Xbox One Vertical Stand will also be available for standalone purchase for $19.99. All Xbox One games, accessories and Xbox Live services will work with the new Xbox One S.
httpv://www.youtube.com/watch?v=XuTwtOo88r8