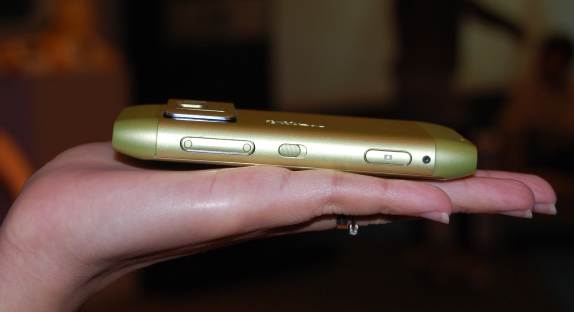 We had the chance to check out the Nokia N8 at Nokia Connection 2010 and we must say the phone feels great to grip. Finally full metal on a N-series device. The large screen (not as large as the HTC EVO 4G) but pretty good for a Nokia. Music playback is pretty loud considering there is only one speaker on the rear below the camera. The Cover flow animations are pretty cool but looks to have been inspired by Apple.Here is a couple of videos showing the multimedia features of the N8
Music playback and Coverflow
httpv://www.youtube.com/watch?v=7smfpljsI5I
The music player supports following formats : MP3,AAC,eAAC,eAAC+,WMA,AMR-WB, DRM
HD Video playback
httpv://www.youtube.com/watch?v=a7wKnoP20T4
The N8 supports H.264, MPEG-4, VC-1, H.263, Real Video 10, ON2 VP6, Flash video
We wish Nokia put a kick stand on the back of the N8.!  But we are sure you can use the one which came with the 5800 !
We had the chance to watch the N8 connected to a HDTV via HDMI and it was impressive , sadly we could not grab a video.
We heard a price of 370 euros (excluding tax) for the N8 and it seems pretty interesting as that would make the handset fall in the 20-22K price range. Come on Nokia start shipping the N8s soon !