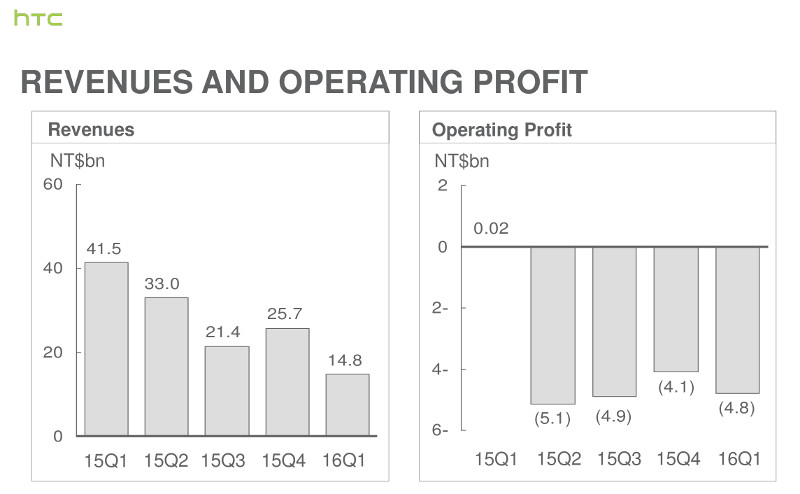 HTC has announced financial results for Q1 2016. The Taiwanese smartphone maker has recorded $454 million (NT$14.8 billion) in revenue, down 64% as it was $1.3 billion (NT$41.52 billion) in Q1 2015.
Operating loss for the quarter stands at $150 million (NT$4.8 billion) compared to a profit of $11.6 million (NT$360 million) for the same period last year. Profits were NT $1.8 billion (U.S. $60 million), down from NT $8.2 billion (U.S. $250 million).
Cher Wang, Chairwoman and CEO of HTC said,
The media and consumer buzz around HTC, including for the keenly-awaited launches of the flagship smartphone and Vive virtual reality system, clearly demonstrate our leadership in innovation and have provided a great boost to the HTC brand. We have been working hard to lay the groundwork over the past year, streamlining processes and optimizing resources to enable us to develop the best products in the most effective way.
HTC recently released its Vive VR headset along with a new flagship phone, the HTC 10. Both of these devices were not included in this quarter hence, we can expect a stronger growth from HTC next quarter. he company has been struggling in the highly competitive smartphone market as it is facing tough competition from the likes of Apple and Samsung along with a number of Chinese handset makers.