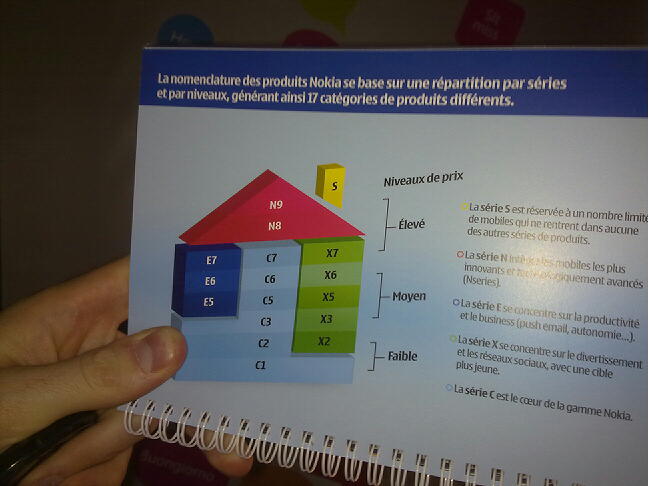 Earlier on we had posted information about Nokia's model nubering strategy for new phones. Back then there was no proper proof of it. But now we do have proof.
Because most of the model numbers were already used up by existing phones, Nokia had to introduce new model numbering strategy.
The entire Nokia product line will be divided under 5 letters:
S– The S range of phones includes luxury or limited edition phones which should include phones similar to the 8800 Sapphire Arte, 8600 Luna etc.
N– This is what was previously known as the NSeries. There will be two models, the N8 and N9. We already know of the Nokia N8-00. The next model to be launched under the N8 number would be called N8-01 and so on. We are guessing the N8 line will mean high end devices that run on Symbian. The N9 should mean high end devices running on the MeeGo platform.
E– This is what was previously known as ESeries. There will be three models, the E5, E6 and E7. The E5, E6 and E7 would correspond to the E5x, E6x and E7x of the ESeries.
X– This will consist of all the music oriented phones that were previously dubbed as XpressMusic line. There will be five models, X2, X3, X5, X6 and X7. We have already seen the X2, X3 and X6 phones. Next phones would be X2-01, X3-01 etc.
C– This is the basic Nokia phones that previously didnt have any Series branding. These are lower priced phones even thought they might offer some of the features of the other Series phones. They are aimed at the mass market. C1, C2, C3, C5, C6 and C7 are the models. We have already seen proof of the new numbering system in the C1-00, C1-01 and C1-02 models. We have also seen the C2-00, C3, C5 and C6 phones.
via MobileReview