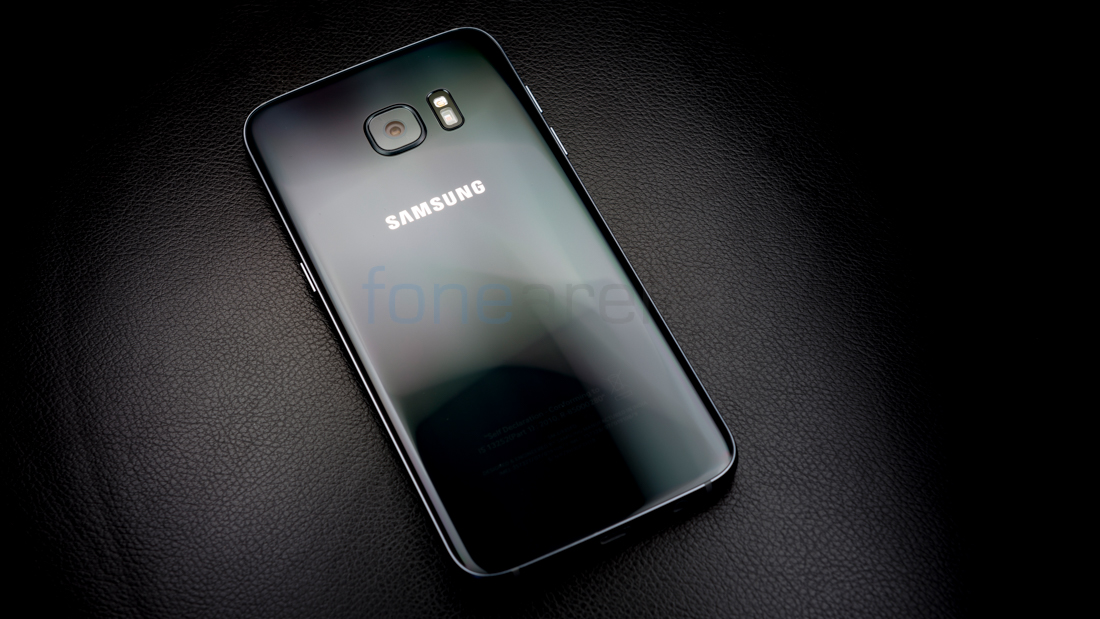 Worldwide smartphone shipment growth fell flat for first time and this is the smallest year-over-year growth on record. According to a report from IDC,  vendors shipped a total of 334.9 million smartphones worldwide in the first quarter of 2016 (1Q16), up slightly from the 334.3 million units in 1Q15.

The research firm stated that, one of the key changes in this quarter is the inclusion of Chinese smartphone makers like Oppo and Vivo in the top 5 list. Samsung continued to top the charts with 24.5% market share and shipped 81.9 million units while Apple came in second with 15.3% market share and shipped 51.2 million iPhones. IDC also said that the $399 price of the iPhone SE won't help it win especially in "India and China. The company saw its' first-ever year-over-year decline in the first quarter, down 16.3% from last year. Three Chinese smartphone manufacturers Huawei, Oppo and Vivo are third, fourth and fifth in the list respectively. These companies have pushed Lenovo and Xiaomi out of the top 5 list.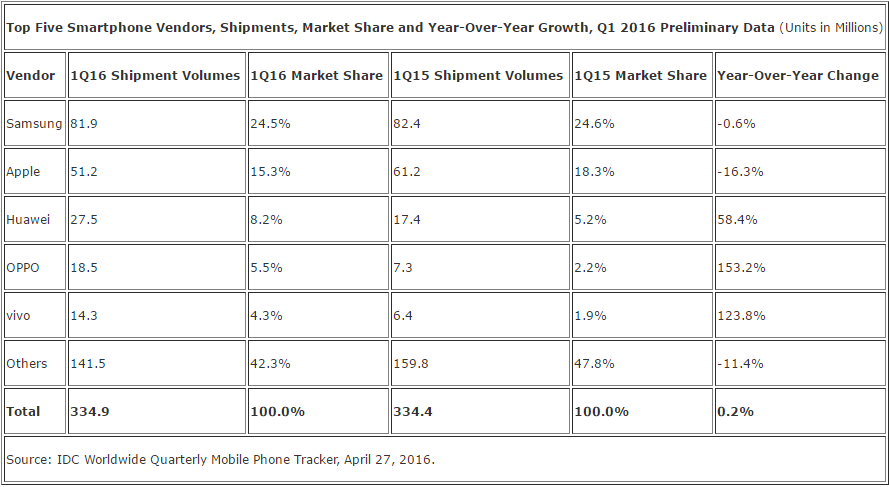 Shipment volume for Huawei climbed from 17.4 million units in 1Q15 to 27.5 million this quarter for year-over-year growth of 58.4%. OPPO's 18.5 million shipments represented a growth of 153.2 percent, the strongest among the top 5 smartphone makers in the world. In case of Vivo, less than 10% of its shipments were outside of China in 2015.
Melissa Chau, senior research manager with IDC's Worldwide Quarterly Mobile Phone Tracker said,
Along China's maturing smartphone adoption curve, the companies most aligned with growth are those with products serving increasingly sophisticated consumers. Lenovo benefited with ASPs below US$150 in 2013, and Xiaomi picked up the mantle with ASPs below US$200 in 2014 and 2015. Now Huawei, OPPO, and vivo, which play mainly in the sub-US$250 range, are positioned for a strong 2016. These new vendors would be well-advised not to rest on their laurels though, as this dynamic smartphone landscape has shown to even cult brands like Xiaomi that customer loyalty is difficult to consistently maintain.
Anthony Scarsella, research manager with IDC's mobile team said,
Outside of China, many of these brands are virtually unknown and the ability of these rapidly growing Chinese vendors to gain entry into mature markets such as the United States and Western Europe will be essential if they have aspirations of catching Apple or Samsung at the to. Huawei has proven that it can sell increasingly premium devices. In China, Huawei is already recognized as a premium brand, but it is now going toe-to-toe on build quality with premium devices like the Nexus 6P that are available worldwide. While Huawei is furthest along in terms of international recognition, selling equally impressive volumes outside of China remains a challenge for many of these brands, whether it is Xiaomi, Lenovo, OPPO, or vivo. Their ability to drive local growth no longer applies when it comes to international expansion, where premium branding quickly turns to price competition."