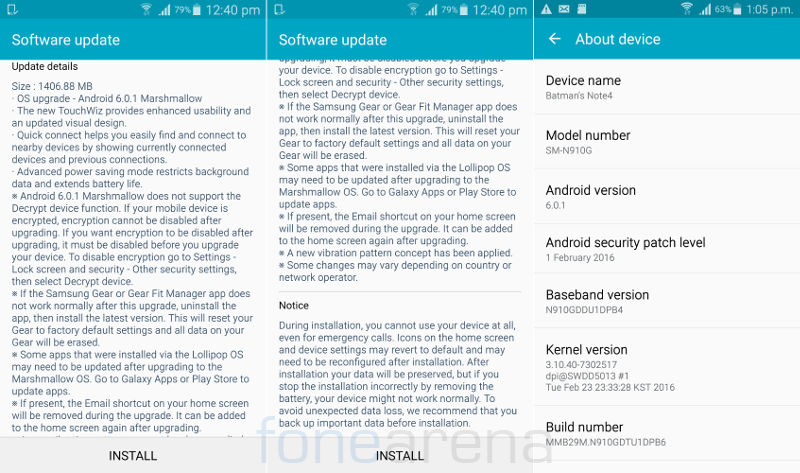 Samsung has finally started rolling out Android 6.0.1 (Marshmallow) update for the Galaxy Note 4 smartphone in India. The Galaxy Note 4 smartphone was launched in India running on Android 4.4 (KitKat) back in October 2014. It got the Android 5.0 (Lollipop) update back in April last year. Now it has got the Marshmallow update directly, skipping Android 5.1 (Lollipop), after an year in the country.
New features in the latest update for Samsung Galaxy Note 4

OS upgrade – Android 6.0.1 Marshmallow
The new Touchwiz provides enhanced usability and an updated visual design.
Quick connect helps you easily find and connect to nearby devices by showing currently connected devices and previous connections.
Advanced power saving mode restricts background data and extends battery life.
A new Vibration pattern concept has been applied.
Android 6.0.1 Marshmallow does not support the Decrypt device function. If your mobile is encrypted, encryption cannot be disabled after upgrading
If the Samsung Gear or Gear Fit Manager app does not work normally after this upgrade, uninstall the app, then install the latest version.
The Android 6.0.1 (Marshmallow) update for the Galaxy Note 4 (SM-N910G) is 1.4GB in size, includes Android security update for February and is available Over-the-Air (OTA) in India.