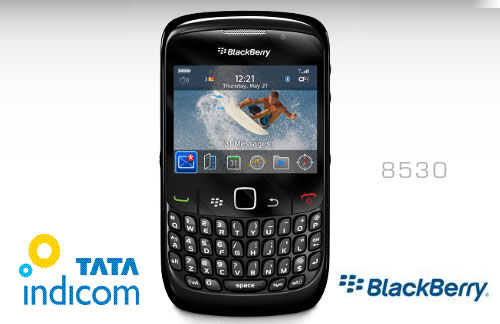 The BlackBerry Curve 8530 has been launched by RIM and Tata Indicom in India and it's the first CDMA phone in India with an optical Track pad and built in Wi-Fi.  The BlackBerry Curve 8530 is a CDMA version of the hugely popular 8520 Curve which was available on Airtel previously.  The 8530 offers high speed internet access, built-in Wi-Fi and GPS, trackpad and dedicated media keys.
Blackberry 8530 Curve  Features
Full-QWERTY keyboard and optical trackpad
256 MB flash memory and 528 MHz processor
voice-activated dialing and Bluetooth 2.1
3G-enabled for roaming on 3G CDMA networks
Built-in Wi-Fi (802.11 b/g)
GPS with support for location-based applications
2 MP Digital camera with zoom and video recording
Media player for music, pictures and videos, with dedicated media keys
3.5 mm stereo headset jack
BlackBerry Media Syncand music from your computer to the smartphone
Access to BlackBerry App World featuring a broad and growing catalog of third-party mobile applications developed specifically for BlackBerry® smartphones
Access to email, messaging (IM, SMS, BlackBerry® Messenger) and popular social networking sites such as Facebook® and MySpace
Powerful multimedia capabilities with dedicated media keys smoothly integrated along the top of the handset, giving customers an easy, convenient way to control their music and videos
Support for BlackBerry services with access to up to 10 supported email accounts, including most popular ISP email accounts such as Yahoo! , Hotmail , AOL and Gmail
BlackBerry Enterprise Server support, which provides advanced security and IT administration for corporate deployments
Expandable memory via hot swappable microSD/SDHC memory card slot supporting up to 32 GB cards
"The CDMA smartphone market is developing rapidly. The launch of the BlackBerry Curve 8530 will give Tata Indicom customers access to a very approachable smartphone at an affordable price," said Mr. Pradeep Dwivedi, Senior Vice President, Tata Teleservices Limited. "We believe that the BlackBerry Curve 8530 supported by our extensive network will appeal to young professionals and students who want easy-to-use smartphones with rich communications and multimedia features that allow them to stay connected through social networking sites, instant messaging services including BlackBerry® Messenger, and email."
"RIM is delighted to introduce the new BlackBerry Curve 8530 in India with Tata Indicom network and we are confident that it will appeal to a wide audience of customers with its exceptional messaging and social media apps as well as its powerful multimedia features," said Frenny Bawa, Managing Director, India, Research In Motion.
Blackberry 8530 Curve Price and Availability
The BlackBerry Curve 8530 will be available at all Blackberry retail outlets across India for Rs.18990.As a promotional offer Tata Indicom is offering free the Gold 900 data package for two months and free live TV subscription for three months to new subscriber. This offer is valid till 30th June 2010.