Thought of as the future of the automotive industry, the Tesla has without a doubt had a profound impact. From its straight out performance to the gorgeous design as well as the most important factor, environmental impact, millions of people have been waiting with baited breath for the all electric vehicle. I know a lot of us in India certainly have been. While watching the Model 3 announcement yesterday, I noticed that Tesla had added India and several others countries to the order page. Assuming it to be an elaborate April Fool's prank, i was in disbelief.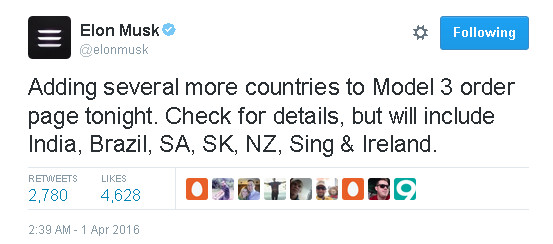 Following up though, we saw Elon Musk, the real life Tony Stark aka Iron Man of present times as well as the CEO of Tesla, tweet out the same information. Taking a gamble, I quickly went ahead and tried putting in my details including my credit card info thinking it wouldn't work. Color me surprised then when not only did it work but i was also told that i'll be receiving my confirmation within the next 24 hours! Here are 10 reasons why I put in $1000 to book a Tesla Model 3.

1.Electric Cars Are The Future –  Sustainable Energy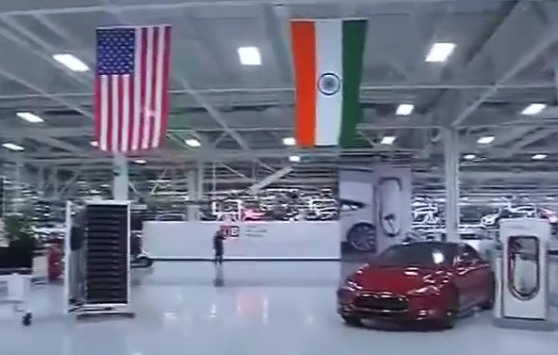 US, India flags at Tesla's HQ during Indian PM's visit last year
Electric cars would be the future of transportation as more and more countries are moving away from fossil fuels due to environmental concerns such as depletion of natural resources and also pollution. Electric and Hybrid cars are not new and many car companies have experimented with it in recent times including our very own Mahindra e2o. That said, nothing has been as popular or ground breaking as the Tesla thanks to CEO Elon Musk's ambitious plans. India is actually aiming to become a 100% e-vehicle nation by 2030 according to Minister for Power Piyush Goyal. The aim is very ambitious but at least we could see more electric cars on the road in India.
2.It Is Fast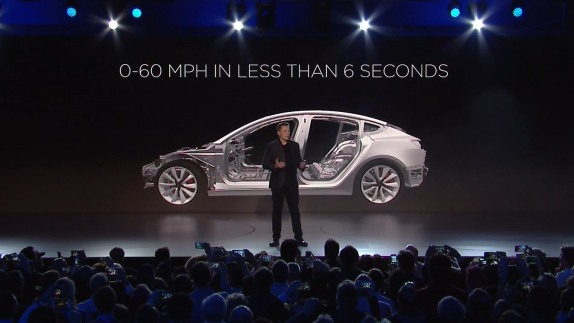 We love fast cars and we certainly love racing games? The Model 3 can do 0-100 km/h in just over 6 seconds! That incredibly fast and you can actually go faster with some upgrades. We don't advocate breaking the speed limits but i'm quite looking forward to taking my Tesla out on the Expressway!
3. Autopilot

Fast cars are nice but the stop-go traffic in Indian cities is the sad reality. That's when Autopilot will come in handy when you are stuck in traffic for hours. It is debatable if such tech will even work in our country when lane discipline is hard to see but I'll reserve that for when i get my car. Autopilot could take control of your car too if needed and even park your car or bring out the car from your garage. How cool is that ?
4.We Carry Way Too Much Junk In Our Cars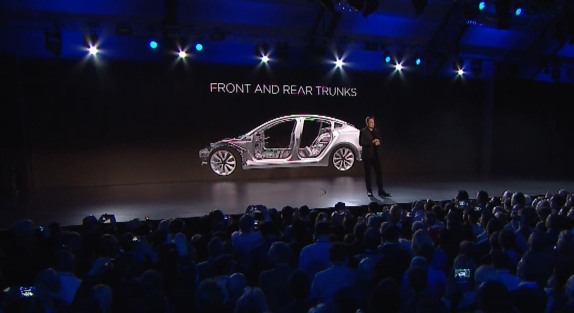 I always see people stuff more items into the trunks of cars more than it can hold. And one of the main factors while buying a new car in India is how big the boot space is. Since the Tesla doesn't have a traditional engine, it can cut down space massively and offers 2 trunks instead. So now we can fit in more stuff we don't really need!
5. We Love Big Screens
While we have to make do with slightly smaller display on the Model 3 compared to the Model S or the X, there is no doubt that the 15-inch screen at the center of the console looks crazy yet awesome. Tesla says it is placed that way to enable both the driver and the passenger to interact with the car. The car lacks traditional dials and knobs, instead everything can be manipulated using the display. These customizations go surprisingly deep for the techies but for the average user, it is simply awesome to have Maps on the large screen while driving or even check out the latest cricket score, get an idea of the surroundings while parking.
6. We Hate Going To The Petrol Bunk
Fully Electric means no trips to the petrol bunk unless you want to fill air in your tires. But we will still need electricity and chargers to get the car to run. Unsurprisingly, Elon Musk seems to have that factor addressed too. In a reply to India Today on twitter that Tesla would introduce a pan India Supercharger network.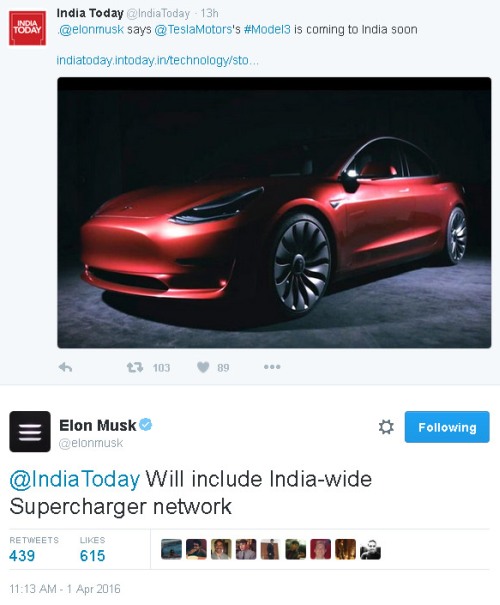 7. I Love Stuff from California
Be it Apple , Hollywood , Hollister or Mexican food, I absolutely love California and everything designed there. Tesla is made in Hawthorne , CA. Jokes apart, So much in the technology industry started small in California and grew at a terrific scale. Apple, Adobe, Google, Facebook, Twitter, Netflix, Intel, Qualcomm, GoPro, Fitbit, Logitech, Mozilla, Netgear, Nvidia, Palm, PayPal (Elon Musk was co-founder), Sandisk, Uber, Yahoo, Youtube and the list goes on and on. Each one of these brands is or was a market leader at some point or has been known for some ground breaking innovation. I'm sure most of us use products from more than one of those names in our day-to-day lives and sooner or later I hope Tesla will be one of them.
8. Our Pollution Problem is Getting Uncontrollable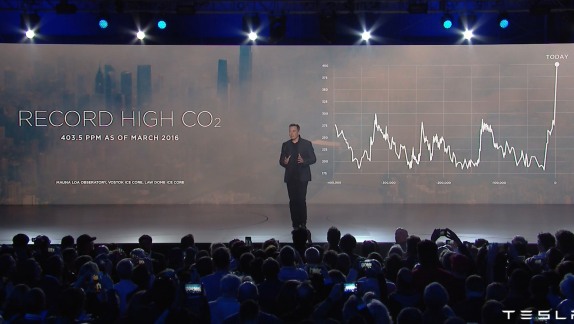 Global Warming is a serious threat to the balance on our planet. We already know our summers are getting hotter and winters are colder than usual. Part of this is linked to pollution from automobiles. Even in our own capital New Delhi, the air quality is so bad, it is forcing the government to experiment with an even/odd rule to get rid of a lot of cars from the streets thereby improving air quality.
Every time I go to Beijing, I carry a pollution mask to safeguard myself. Even when Leonardo DiCaprio ultimately won his Oscar recently, his speech was about ill effects of global warming. Tesla could solve this on a small-scale but if our government could give subsidies to electric cars and build charging infrastructure, this will lead to a whole new generation of eco-friendly transport which is also sustainable.
9.  Way Too Many People Are Killed In Road Accidents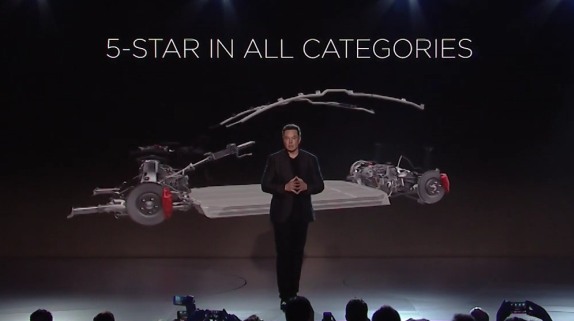 We see so many people lose their lives every day across the world mercilessly on the road. A significant portion of these are due to human error and could be avoided if in-car technology could detect collisions early or warn of blind spots. Tesla does pack a lot of these features in its cars. The company says that it designed the Model 3 with safety as a priority and claims it would be the safest car in its class once testing completes.The presence of dual crumple zones also definitely helps since the car lacks a traditional petrol or diesel engine which take too much space. While Tesla alone can't change this, awareness and consumer interest could drive all manufacturers to make safer cars.
10. We Love Fancy Cars, Cool Tech And Our Planet Too Don't We ?
Tesla is perhaps the coolest car company on the planet and it is giving other auto makers sleepless nights. The Model 3 is Tesla's most affordable car so far and is spearheading the mass market entry of electric vehicles. The market too is listening as bookings have already crossed 200,000 as per Elon Musk on Twitter. It'll take a few years but this is a fantastic start for the world to tip the scales in favor of electric vehicles over pollution emitting petrol or diesel variants, more so in the light of the recent emissions scandal by Volkswagen.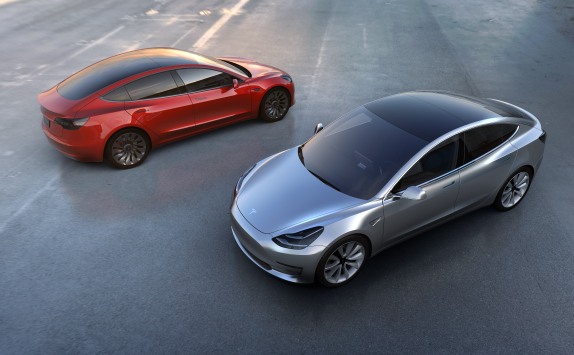 While i might sound silly putting my money on a car which won't ship anytime before 2018, i'm excited about the state of technology. I'm excited about a future electric vehicles flourish and we no longer have to breathe toxic air and lose our hearing to noise pollution. Maybe I'm a huge fan of Tesla and Elon Musk but Tesla is no ordinary company and Elon Musk is no ordinary CEO, i'm willing to bet my money on them if it helps usher in the future of automotive technology.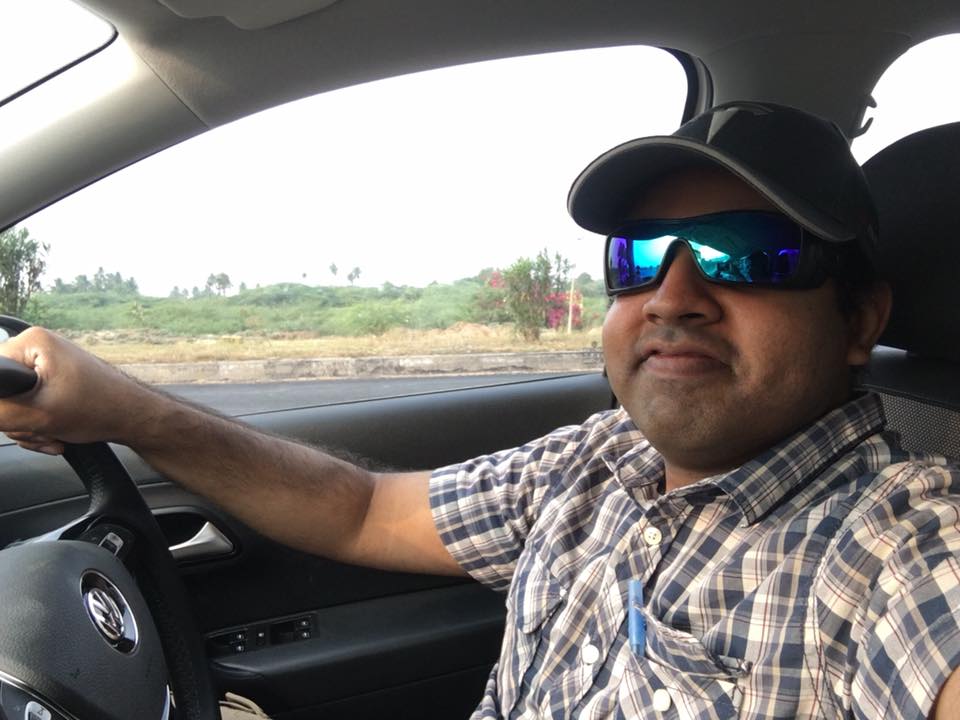 So until the Model 3 ships out to me in a couple of years , I will treasure my order confirmation and shall be waiting eagerly wearing my Tesla Hat!