Yesterday during Computex Taiwan , Qualcomm famous for the Snapdragon processors showed the sample of its first dual-CPU Snapdragon chipsets.  The 3rd generation Snapdragon Solutions sport 2 Cores Running up to 1.2 GHz . These products are namely MSM8260 and MSM8660 and MSM8x60 series. These third generation chipsets which are specially used to power up smartphones, tablets and smartbook devices.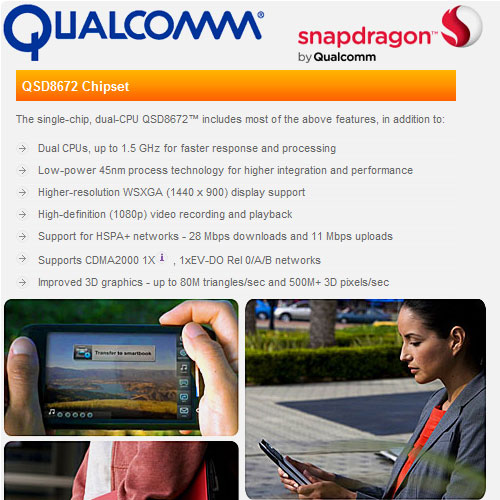 Steve Mollenkopf, executive vice president of Qualcomm and president of Qualcomm CDMA Technologies, said that, by developing the first generation Snapdragon chipsets, a new standard has been set for advanced smartphones and other related devices and the second generation series is already available in the markets. Now the customers of Qualcomm mainly equipment manufacturers are preferring dual core MSM8260 and MSM8660 chipsets for designing future products.
The new chipsets are expected to offer the following features
Improved Web application and multimedia performance
powerful GPU with 3D/2D acceleration engines for Open GLES 2.0 and Open VG 1.1 acceleration
1080p video encode/decode
dedicated low power audio engine
integrated low power GPS
support for 24-bit WXGA 1280 x 800 resolution displays
The Qualcomm's chipset solution has the following offerings
First-generation products which includes QSD8x50™ with 1GHz enhanced core
Second-generation products which includes MSM8x55™ and QSD8x50A™ with 1GHz enhanced core, including multimedia optimizations and 1.3GHz enhanced core, respectively
Third-generation products include MSM8260, MSM8660 and QSD8672 with dual-CPU architecture featuring enhanced cores running at up to 1.2GHz and 1.5GHz, respectively
The new generation dual CPUs have changed the way smartphones and other products can be used.