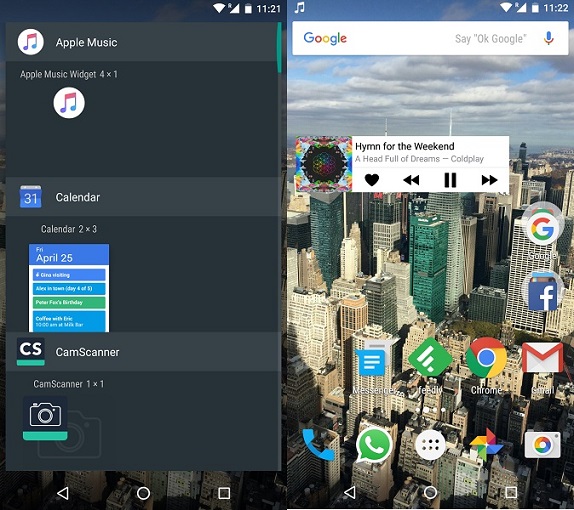 Apple Music has added a bunch of new features and improvements to it's Android app. The update which bumps the app to version to 0.9.7 gets a homescreen widget that will let you control playback.
For starters, you will be able to create a home screen widget for Apple music in a similar way you add any other widget. You can create a 4×1 widget for the service that shows the current song playing followed by controls to forward, rewind, pause or play a song. You can also heart the song that will Apple Music offer you suggestions based on your taste and preference.
Besides the new widget, the update includes the ability to add a song to a playlist without adding it to your library, as well as the ability to redeem iTunes gift cards to renew subscriptions. Another good addition is that you will now see which song is playing on Beats 1 directly from the Radio tab.
Apple Music V 0.9.7 full changelog
• Control playback with a widget you can add to your home screen
• Redeem gift cards in Settings to renew your membership using iTunes credit
• See what's playing on Beats 1 directly from the Radio tab — without having to tune in
• Tap the name of the currently playing song in Now Playing to go to the album
• See which songs are most popular on albums in the Apple Music catalog
Apple launched Apple Music for Android in November last year while in February the app got an option to download songs to SD card. Apple Music if offering 3 months free trial for Android users. I personally love Apple Music for its international content but it still needs to improve a lot when it comes to regional content and playlists. I will finish my free trial period this month and I am still having two thoughts about paying for the service. Have you started paying for Apple Music after the trial period? Let us know in the comments section below.
Play Link – Apple Music