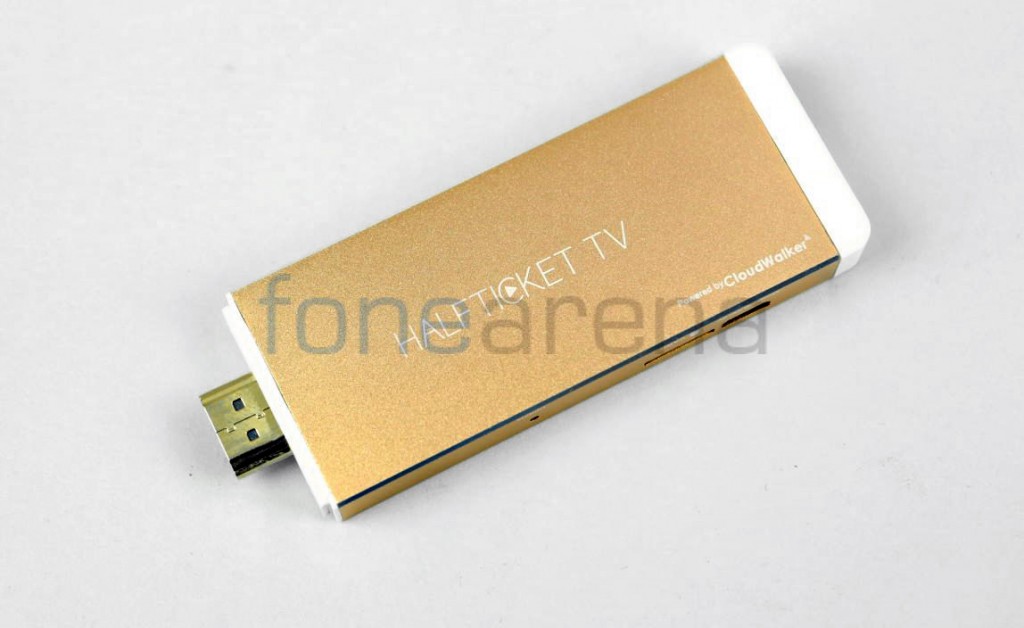 If you are someone who has invested a lot of money into a large screen TV for your home but find that it lacks "smart functionality", you are probably on the lookout for a device that can breathe new life into it. That is where streaming sticks come in and the HALFTICKET is a newer entrant to the scene. On paper, it seems like a winner, but how does it fare in the real world scenario? Let's find out.
Unboxing
We have already done the unboxing of the streaming stick. You can check the unboxing here.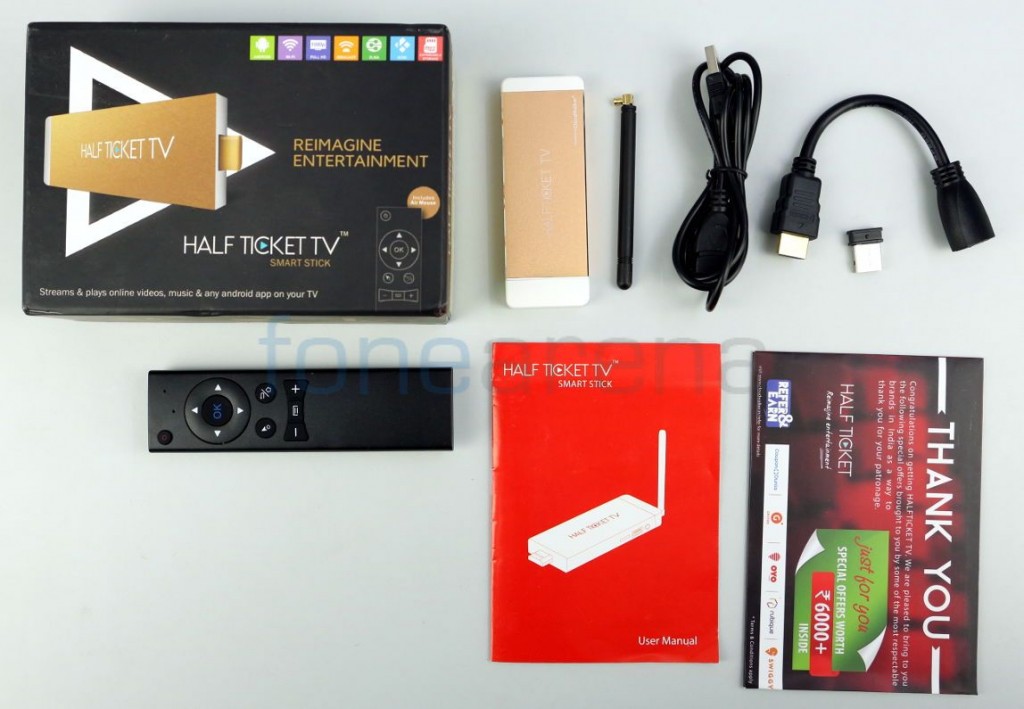 Design and Build Quality
The design of the streaming stick is quite old school but yet looks elegant at the same time. The build quality is solid thanks to the use of metal. The centre has a Golden Bronze finish with a glitter like coating while both the ends are made of plastic. The two tone paint job and design with rounded corners seem very iPhone 5/5S like. Despite having a majorly metal build, the device is quite light weighing just 36 grams. However, it has a larger footprint than most other streaming sticks as it measures 10x3x1cm. As a result, it becomes difficult or sometimes even impossible to plug the device in directly to the HDMI port especially if you have multiple cables already going in and if the HDMI ports are all located next to each other. Luckily, you also get an HDMI extension cord for such cases or if your TV's HDMI socket is hard to reach for example when it is wall mounted.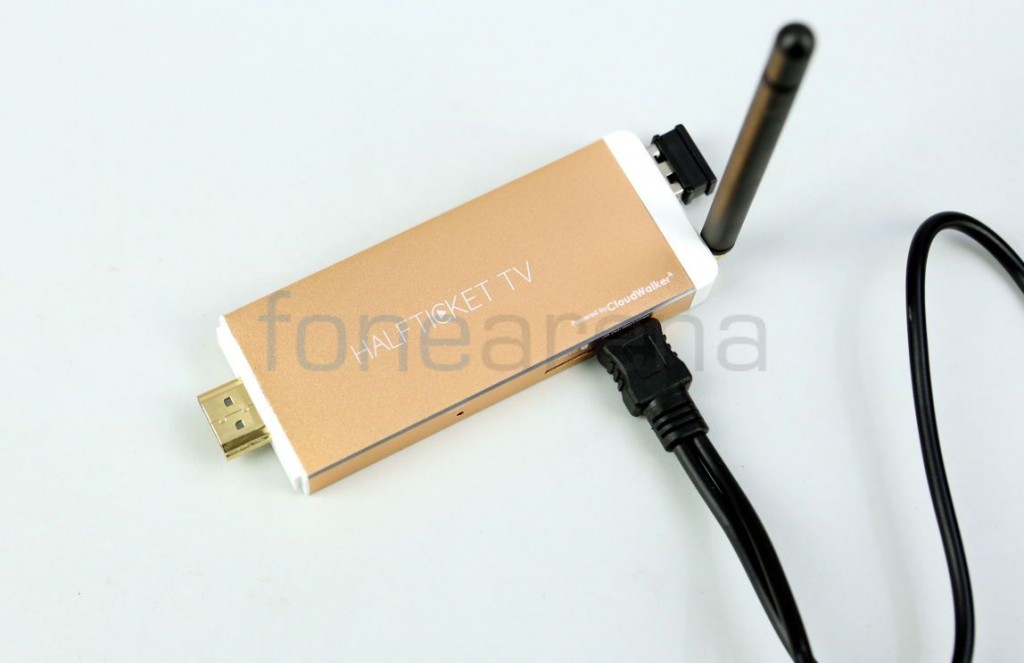 Controls and Ports
The plastic portion at the top can be removed in order to reveal the HDMI port. At the bottom, you have a USB Type-A port as well as a connector for the external antenna for WiFi. The left side houses the microUSB port which also serves as the power port. Next to it is the microSD card slot and finally a slot that says update.
Compatibility and Features
The HALFTICKET streaming stick has the ability to convert any monitor or TV with an HDMI port into a smart one. All you need to do is connect it into the HDMI socket and then hook it up to the power supply. There is no power adapter so what you basically need to do is connect your device to a USB port on your monitor or TV. In case you are out of ports, you could also use a 5V DC adapter to power it. HALFTICKET comes bundled with a remote that also supports an Air Mouse feature. In order to use it, you will have to connect a wireless module to the USB Type-A port on the stick.The remote is largely made of plastic and has a stealth black finish. It takes 2 AAA batteries to power itself. You have the power button, D-Pad with an OK button, volume up/down button as well as the home/return key and the options key. Finally, you also have the button that can be used to toggle the Air Mouse feature on and off.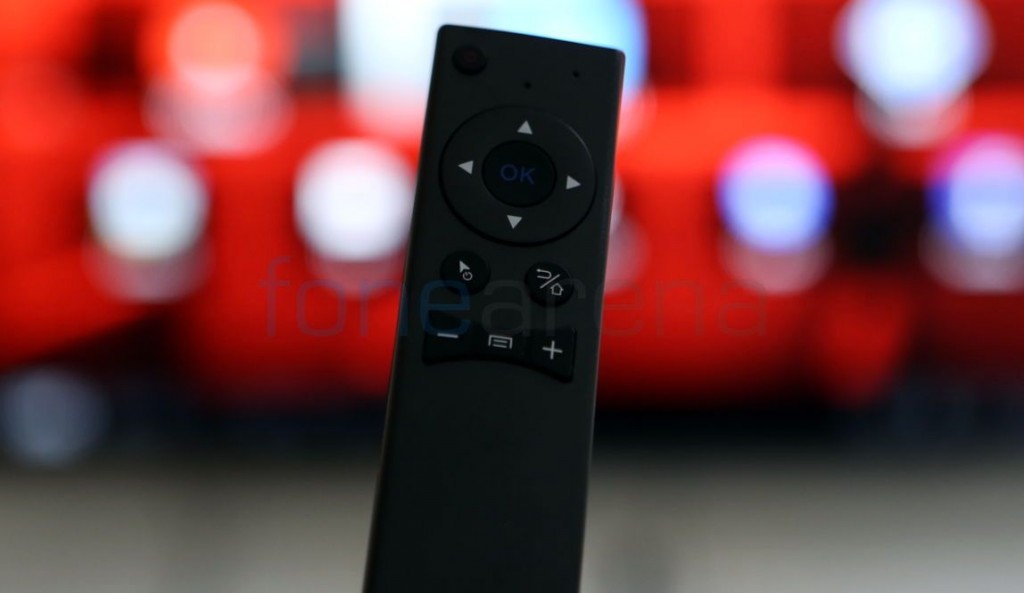 What is good about the HALFTICKET is that they've included a splitter cable with a microUSB port on one end and a USB Type-A Male as well as Type-A female on the other end. So there won't be any worries of having no ports due to the Air Mouse module and power supply.There is a 1.5GHz quad-core processor powering it with 1GB of RAM as well as 8GB of on-board storage too. You can pop in your microSD to extend the storage on-board the stick itself or to play your files from your smartphone's memory card instead of streaming it wirelessly. It supports WiFi 2.4GHz but not at 5GHz. It outputs at a maximum resolution of 1080p and a refresh rate of 60Hz.
Software and UI
Once you've got it all setup, it takes around 30 seconds for the streaming stick to bootup. The stick runs on Android 4.4.2 KitKat which is a bit dated but it still has access to the Play Store and can run all Android apps just like your regular Android smartphone or tablet. Although it is a streaming stick and not a smartphone or tablet, a newer verison of Android such as Lollipop would've been appreciated. We hope that the company will release an update for the same in the near future. It is capable of playing a wide variety of formats and can output videos at 1080p resolution without issues. The Air Mouse feature makes use of the remote and USB receiver which attaches to the stick, both of which come in the box itself.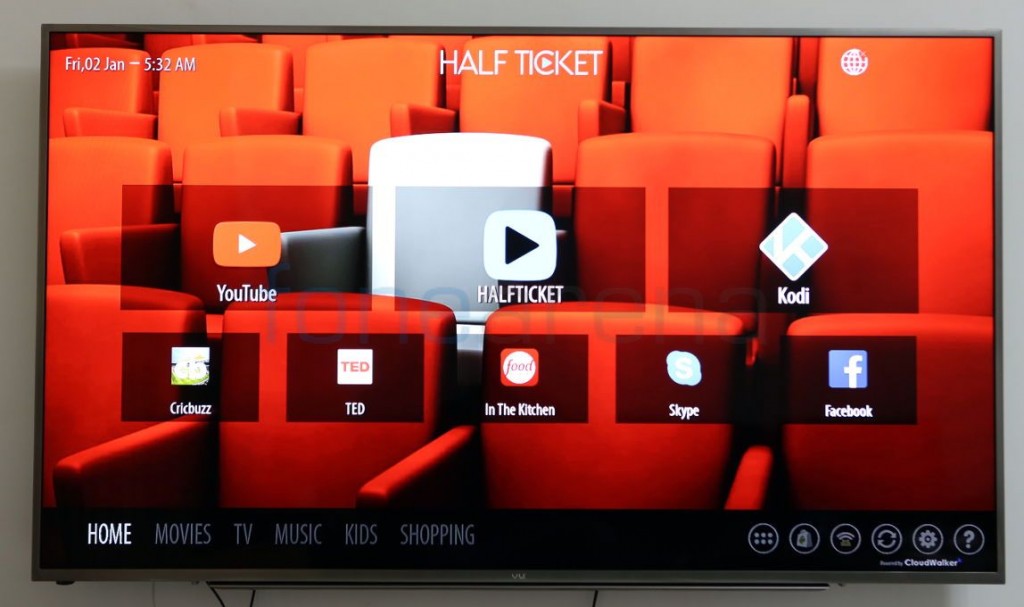 The Air Mouse feature is pretty self-explanatory. It works just how a mouse would but without the need of a mousepad or a surface to move on. You just move the remote in the air till your hovering icon reaches the item or letter you want to select and then select it. This is faster and more intuitive than using the D-Pad to scroll and select items or text. Where you really appreciate this feature is when entering text onto the keyboard. It takes only a fraction of your time as opposed to the amount of time it would take with a D-Pad. You can choose to enable or disable it with the click of a button. It comes with a Halfticket app that lets users steam TV shows or movies using Netflix, HotStar etc. You can even do your shopping online via Amazon or Flipkart.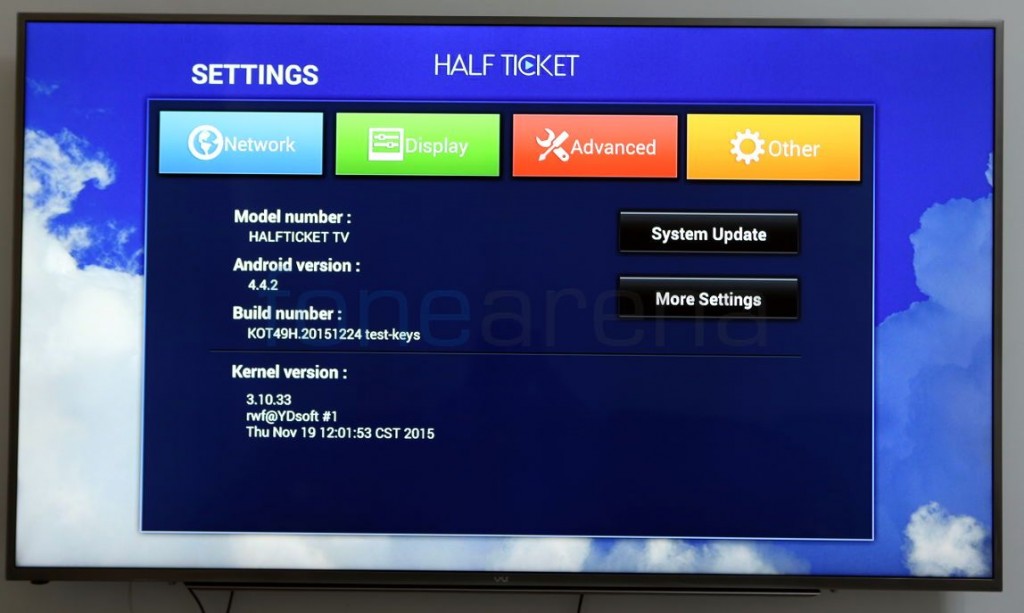 You can choose to display a screensaver after a certain amount of time which helps to save energy as well as prevent screen burn-in on Plasma TVs. The performance is decent but not as fast as we expected from a Quad-Core processor. Some apps take quite a while to startup. A single tap on the return/home button will take you to the previous screen and tapping and holding will take you to the home screen. It has an app drawer as well as apps listed categorically via shortcuts on the home-screen. Updates can be done OTA and at the time of writing the review, the streaming stick is running on Android Kitkat 4.4.2. An update requires the system to restart so make sure to finish everything you have been doing before updating.
Conclusion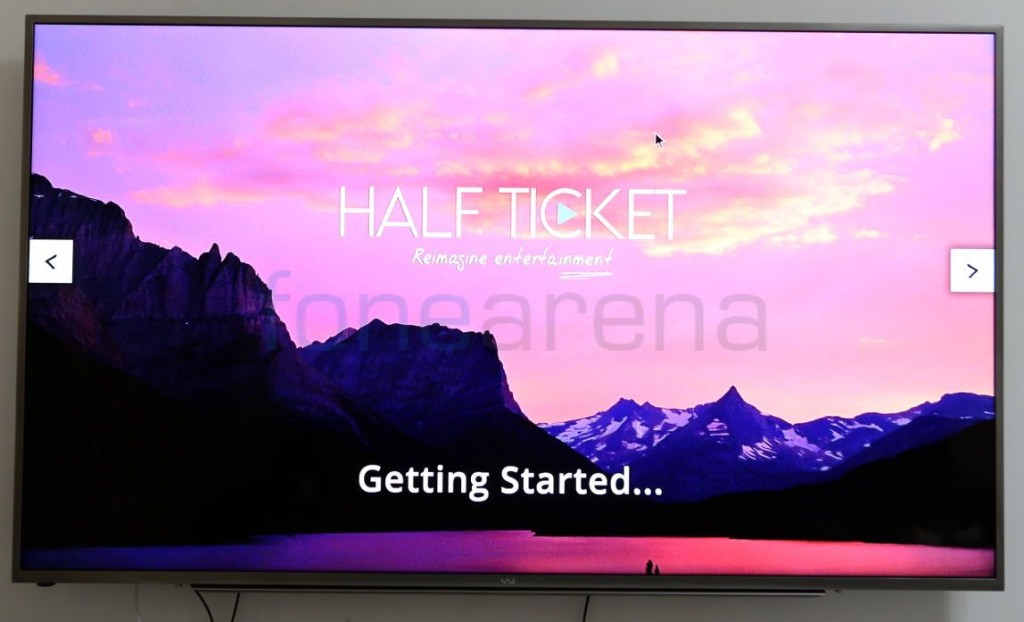 The HALFTICKET streaming stick is something that is different from what other streaming sticks provide. It is quite easy to use and can easily convert your old monitor or TV into a smart device. The only downside we really see so far is the aging software version but hopefully an update comes out soon enough. Other than that, the HALFSTICK is a device with plenty of features and performance to justify the price. The HALFTICKET TV is priced at Rs. 3,999 and is available for purchase from Flipkart, Amazon.in and Snapdeal.