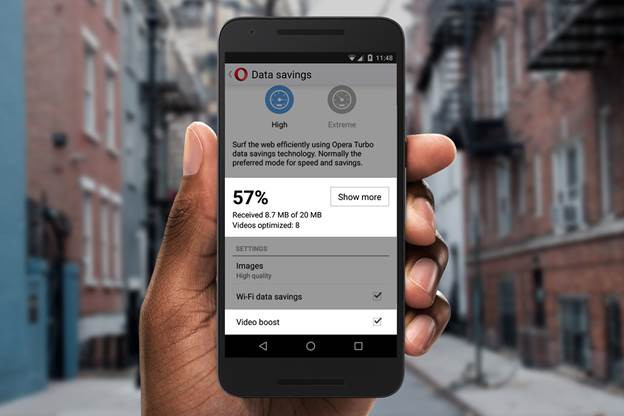 Opera has updated its Opera Mini app for Android to version 15 that brings a new video boost feature that offers smoother video viewing using Opera's video boost technology that reduces the size of video data, to lessen video loading time and combat buffering delays and also extend save data. The update also adds option to save files to the SD card in compatible phones, "Wi-Fi data savings" in the high data-savings settings for users on poor Wi-Fi connection and more.
To enable the video boost, under the "O" menu, tap the savings summary to change to high-savings mode. Below, tick the box beside video boost to switch on smoother viewing. The video boost feature also shows a count where users can keep track of how many videos have been optimized.
New features in Opera Mini 15 for Android

Added "Save to SD card" for phones on Android 4.4.4 or higher.
Access your SD-card files when uploading on the web.
Included the "video boost" option to compress video.
Updated high data-savings mode so it can save data on Wi-Fi.
Improved fast scrolling, triggering a handle you can drag.
Added an option to shrink photos before uploading, with three different sizes.
Introduced automatic status bar color changes, to match the environment (for Lollipop and Marshmallow devices).
Download Opera Mini for Android from Google Play, if you don't have it yet.
Regarding the new video boost feature, Sunil Kamath, Vice President – South Asia & South East Asia at Opera, said:
In India alone, 70% of smartphone users stream video on their phones. Unfortunately, this eats up data plans quickly, and stalled videos waste time and create frustration. Opera Mini for Android comes to the rescue with video boost. It works to make the video sizes smaller serving up slimmer mobile videos and keeping data plans in check. If you love to watch videos on your Android device, but hate getting surprises on your data bill, it's time to switch browsers.