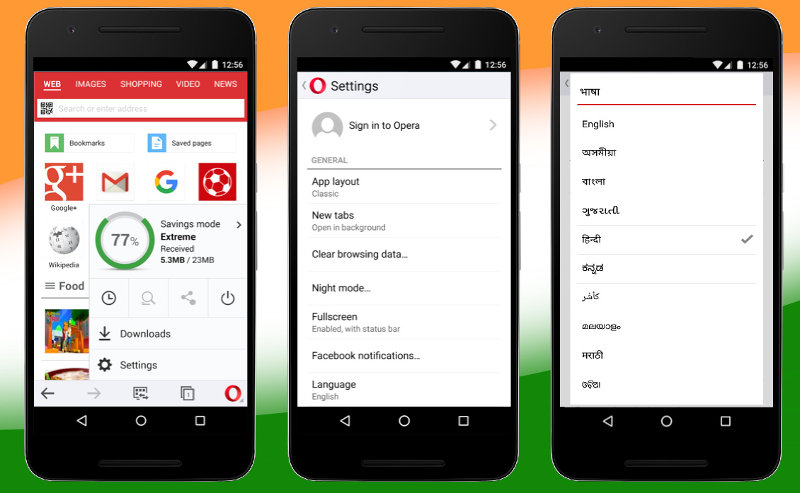 Opera has updated its Opera Mini app for Android to version 14 that brings better language support, with 90 languages to choose from. This includes 13 Indian languages – Assamese, Bengali, Gujarati, Hindi, Kannada, Kashmiri, Malayalam, Marathi, Oriya, Punjabi, Tamil, Telugu and Urdu. In addition to the improved language support, Opera Mini for Android also gets a QR- code reader and generator and an improved download manager.
New features in Opera Mini 14 for Android

QR code reader & generator
Higher success rate for direct downloads.
In-app camera support for file upload
Easily change the browser's language from the settings menu.
Custom search engine per category
Download Opera Mini 14 (Free) – Android
Commenting on these new features, Christian Uribe, Product Manager for Opera Mini, said:
We are continuing our efforts to bring the internet to as many people as possible, not only by making it possible to access the internet on low-bandwidth networks with our compression technology, but also by making sure that our browser is easy for anyone to use and understand. The improved language support is an important part of our efforts.

More products and services use QR codes as an easy way to give users access to web content. On a mobile phone, typing long URLs can be challenging and frustrating. With a QR code, just do a quick scan with your phone's camera, and you're on your way. We've also included a QR code generator, so if you want to share a link with a friend nearby, you can create a QR code to any page yourself.

We've done a lot of research on how to improve downloads in the browser, as we know it's something many users care a lot about. We've made loads of improvements and tweaks lately to improve the stability and speed of downloads.