Syntonetic the company which released the PlaylistDJ app for Nokia Touchscreen phones is now making the app available for free for non-touchscreen Nokia phones too.  The app basically analyzes your music library stored on the phone and then displays tracks based on the mood of the song – joy, passion, anger and tempo etc. The app has is approaching 1 million downloads on the OVI Store already.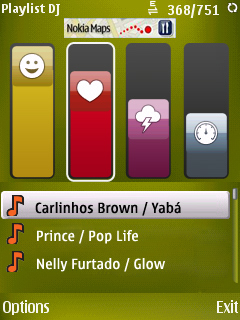 "Playlist DJ has been an excellent addition to Ovi Store's growing music app category for Nokia devices," said Marco Argenti, vice president and global head of media, Nokia. "Nokia is happy to expand its relationship with Syntonetic by making this app available to more Nokia device owners with this new offering, and we're eager for Syntonetic to add new features and grow its listener base."
The company has also launched a message channel to alert Playlist DJ listeners to new version availability.
"Playlist DJ has been extremely successful in the Ovi Store on Nokia touchscreen devices, and we know that many people want the app for their non-touch devices. We're expecting this launch to put us well past the one million downloads mark – in very short order," said Richard French, chief executive officer, Syntonetic. "This is just the beginning for Syntonetic and for Playlist DJ. We have many enhancements planned for the near future, and we're looking forward to working with Nokia to make them a reality."
Playlist DJ now supports plenty of Nokia Devices
Nokia 5320 XpressMusic
Nokia 5630 Xpress Music
Nokia 5730 XpressMusic
Nokia 6210 Navigator
Nokia 6220 Classic
Nokia 6700 Slide
Nokia 6710 Navigator
Nokia 6720 classic
Nokia 6730 classic
Nokia N78
Nokia N79
Nokia N85
Nokia N86 8MP
Nokia N96
Nokia 5230
Nokia 5233
Nokia 5530
Nokia 5800
Nokia N97
Nokia X6
Our Demo of the PlaylistDJ app from Nokia World 2009.
httpv://www.youtube.com/watch?v=3IQCetVpqoY
Download from Ovi Store [FREE]
The app is free to download and is supported by ads. Surely worth a try if you want a DJ on your phone !