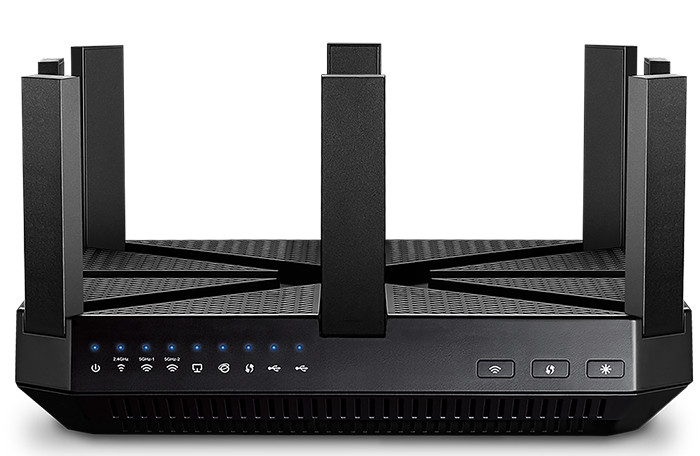 TP-LINK today announced Talon AD7200 at the CES 2016, which becomes the first router in the world based on 802.11ad wireless technology. It delivers speeds of up to 4.6Gbps on 60GHz bands and channels at 60GHz. It uses 802.11ad and 11ac MU-MIMO solutions from Qualcomm Atheros, a subsidiary of Qualcomm Incorporated.
It also utilizes existing 2.4GHz and 5GHz bands, resulting in combined unprecedented 7Gbps Wi-Fi speeds throughout the home as well as combines 802.11ad with 802.11ac MU-MIMO. It promises 2.5 times better performance compared to 11ac while supporting several devices simultaneously for gaming and streaming. It has eight antennas with high-powered amplifiers to supercharge the Wi-Fi signal.
Highlights of AD7200 Multi-Band Wi-Fi Router

Connect devices to a dedicated in-room band for ultra-fast, interference-free Wi-Fi using Wireless AD, the latest, most powerful wireless technology
Stream a 4K movie in minutes and instantly share thousands of files and photos on the 60GHz band
Talon AD7200 Multi-band with 4-Stream technology delivers up to 7200Mbps Wi-Fi speeds over 2.4GHz (800Mbps), 5GHz (1733Mbps), and 60GHZ (4600Mbps) bands
Faster Wi-Fi for every device with multi-user support from MU-MIMO technology
Powerful 1.4GHz dual-core CPU to enjoy high-speed connections without interruption
Active 60Ghz adaptive beamforming enables Gigabit performance and dense deployment
Eight antennas with high-powered amplifiers supercharge your Wi-Fi signal
Four gigabit Ethernet ports enabling lightning-fast wired connections
Two USB 3.0 ports to share files, photos, music, and videos across the network
Beamforming technology to send targeted Wi-Fi signals to individual devices
Advanced security encryption to protect your data
Check network status and adjust Wi-Fi settings from your mobile device (Android, iOS) using the TP-LINK Tether App
Supports 802.11ad and backwards-compatible with 802.11a/b/g/n/ac
The TP-LINK Talon AD7200 will be available in the U.S. in early 2016, and the pricing will be revealed closer to the launch.