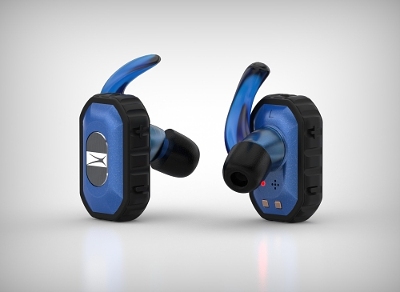 Up until now, most wireless pair of earphones always came with a wire that connected the two. Sometimes that wire its flexible and sometimes its rigid. But no matter what, they are always distracting and now, Altec Lansing has come up with new earphones that are truly wireless as they make do without the wire connection between the earbuds.
The company has managed to "cut the cord" thanks to the rechargable lithium ion batteries that are built-into each ear piece. These earphones will provide a more hassle free and wireless experience than ever before. They are rated IPX& for waterproofing and has a 6 hour battery life.
They also have a Bluetooth based GPS feature that helps you track them if you do misplace them anywhere. They have a range of 100 feet using Bluetooth and come with noise cancelling microphones for hands-free phone use. You can even control your calls or music tracks using the buttons on the earpiece. It has the ability to shut itself down when not active in order to save battery as well.
What is more interesting is the ability to use these earpieces separately. The user can use just one for a mono sound or use them together for a stereo acoustic experience. The earphones come with a carrying case that also doubles up as the charging cradle. It will be available in 9 different colours when it releases in Q2 2016 at a price of US$ 149.99 (Around Rs 10,000).