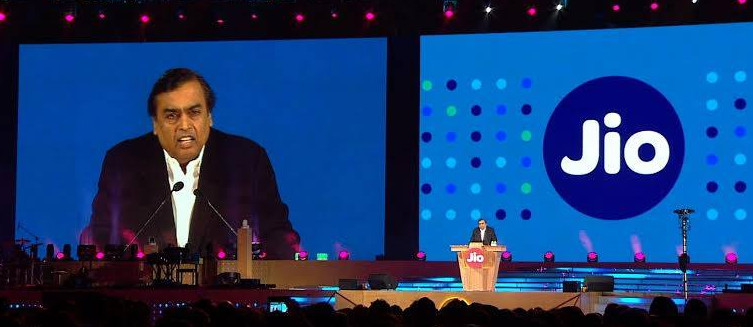 Reliance Jio Infocomm, a subsidiary of Reliance Industries Limited (RIL) yesterday launched its 4G LTE services for its employees at an event in Reliance Corporate Park on the eve of the 83rd Birth Anniversary of the group's founder Chairman Dhirubhai Ambani.
"All employees of RIL, its group companies, Jio and its partners totaling more than one lakh, every single one of them, spread across various locations and geographies, were simultaneously initiated into the Jio Digital Life," said the company. Mukesh Ambani, Chairman and Managing Director of the Reliance Industries interacted with employees, including those who were watching the event from distant places.
Reliance Jio has Pan India 2300 MHz spectrum and 1800 MHz in 14 circles. This year it acquired 800 MHz spectrum in 10 circles and 1800 MHz spectrum in 6 circles, bringing the cumulative investment to nearly Rs. 34,000 crores. It was expected to launch 4G services commercially this month, but it could not launch it due to  technical challenges related to the 2300 MHz spectrum.
The Chairman did not say when Reliance Jio's commercial 4G roll out will begin. According to earlier reports pan-India commercial roll out is expected in March-April 2016. After Airtel, Vodafone recently launched its 4G services in India starting from Kerala. Last week Idea Cellular launched 4G services in the country starting from 75 towns in Andhra Pradesh, Karnataka, Kerala, Tamil Nadu and Telangana in South India.
In a statement Reliance Jio said:
Never before had there been such a mammoth employee launch in the history of Corporate India. By throwing open the Jio services to all its business partners, and its vast number of employees and their families spread all across India, RIL will be making the optimal use of human resources to ensure that the last and the slightest wrinkle would be smoothed out to perfection before Jio launches its all-India commercial services. Nothing is being left to chances. It is a glowing testimony to the company's commitment to provide consumers with an exhaustively tried and tested, highest quality digital services.