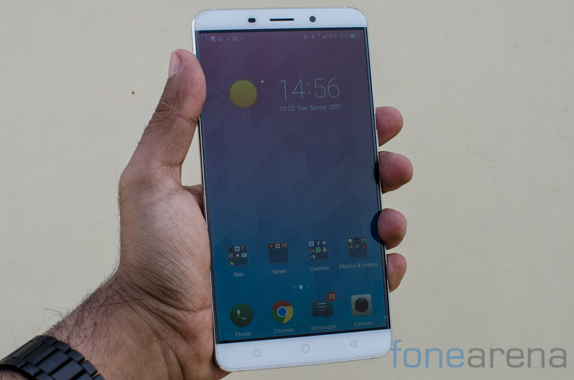 Apples, Blackberries and now Qiku (pronounced cheeku); fruits or thereabouts seem to be the preferred nomenclature amongst the tech world. All jokes apart, when we first got acquainted with new entrant, Qiku, we were a bit apprehensive about the choice of name and its repercussions in India. Not to be laughed off though, the company has gone ahead full steam and has incorporated a lot of feedback. Using a combination of sheer power and some very interesting software features, the QiKu Q Terra has managed to garner a lot of positive feedback. But is this warranted? More so for a company that's a scrappy new upstart not just in India but in its home base of China as well. That's what we set off to find out in our review.
QIKU Q Terra 808 specifications
6-inch (1920 x 1080 pixels) Full HD IPS display with Corning Gorilla Glass 3 Protection, 1400: 1 contrast ratio
Hexa-Core Qualcomm Snapdragon 808 processor with Adreno 418 GPU
3GB RAM, 16GB of internal memory, expandable memory up to 128GB
Android 5.1 (Lollipop) with 360 OS
13MP rear camera with Sony IMX278 sensor, f/1.8 aperture, dual-tone LED flash, 4K video recording
Secondary 13MP rear camera with Sony IMX214 sensor
8MP front-facing camera, f/2.4 aperture, 1.4μm Pixel Size, 1080p video recording
Hybrid Dual SIM (micro + nano / micro SD)
Fingerprint sensor
Dimensions: 157.6×79.8×8.6mm; Weight: 185g
4G LTE, Wi-Fi 802.11 ac (dual band), Bluetooth 4.1, GPS / GLONASS, USB OTG
3600mAh (minimum) / 3700mAh(typical)battery with fast charging
Video Review
Design
When it comes to design, we've reached a point where innovation is spread thin and this is doubly true for a lot of newer entrants. The Qiku Q Terra bends that trend to a degree through some very clever engineering.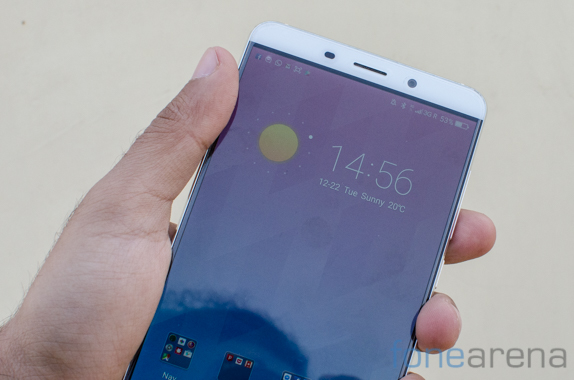 By minimizing the bezel and using a wider display, Qiku has managed to fit in a massive 6 inch display into a shell that is reminiscent of devices with a 5.5 inch screen. The company also claims to have the thinnest bezel in the world at 1.4mm. True or not, the bezels certainly are minimal and add to the visual appeal of the handset. At the top is an 8MP front facing camera while capacitive controls lie at the bottom.
Over on the right you'll spot the volume rocker as well as the power button below. Despite the relatively large size of the handset, the company has managed to place it well within reach and the tactile feedback is sufficiently satisfactory as well. The top and bottom sport the 3.5mm audio jack and microUSB ports respectively. On the left are placed two slots for SIM and micro SD cards.
Flip the phone over and you'll spot something very curious. The phone sports not just one but two camera modules akin to what HTC attempted but the approach here is very different, something we'll talk about in-depth later on in the review. A circular fingerprint scanner is placed below the camera modules, once again well located for your finger to reach without having to stretch too much. Minimal QiKU branding has been silkscreened towards the bottom where it also mentions that the phone is powered by 360.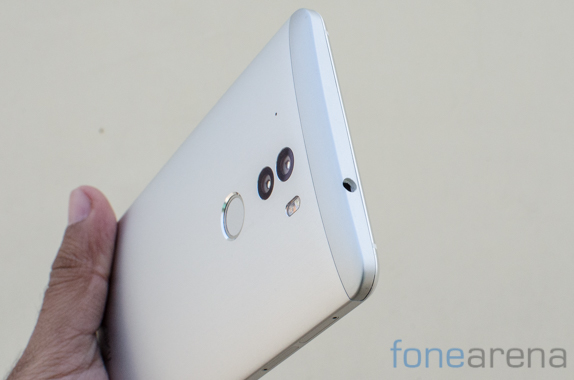 With large screened devices, there are some things that you just have to learn to live with. You certainly won't be using the Q Terra single-handed. A task as simple as pulling down the notification shade will require two-handed usage though on their part, QiKU has added software based scaling. Despite this, the ergonomics are good enough that we never felt the device cumbersome to use. Even the weight has been kept in check and it never felt as if we were carrying a massive phablet in our pocket, something worth keeping in mind for a large device like this.
Software
Onwards to the software section then. The Q Terra is running 360 OS which is a namesake of Qihoo 360, the Chinese mobile security giant. The ROM itself is based on Android 5.1.1 though an update to Android 6.0 is promised for the first quarter of 2016.
Basic functionality remains similar to most of its contemporaries and the phone eschews an app drawer for an iOS like approach. The notifications hub and quick toggles too have been segregated and are deployed from the top and bottom of the display respectively. There are quite a few helpful additions across the software which show that perhaps QiKU's prowess lies on the software side of things. Enter any app folder on the homescreen and you don't have to go back to enter a separate folder. You can simply swipe through all the folders that you have created. To a degree this helps replicate the app drawer experience if you are so inclined.
What we liked the most however was Ice Box and Uninstall functionality. Let's tackle the latter first. You might wonder why we find the ability to uninstall an app so very intriguing? Well, you'd be surprised to note that pretty much any app that you see on the phone can be removed. This even includes the mail client! So while the company does include a few apps onboard, you can happily get rid of these to get your self an absolutely clean device. Kudos to QiKU for enabling this and we hope more brands start following this (we're looking at you Micromax and Samsung!). The Ice Box functionality that we mentioned earlier is also quite a fresh approach. A lot of us end downloading apps that we rarely use, there are quite a few apps that we have on our handset but we don't use them too often. Despite not being used, several Android apps have the tendency to activate sensors, use the internet and often even run a background process. Using the Ice Box, you can quite literally freeze these apps thereby preventing them from running till the time you 'release' them from the box. In theory AND in practice, this worked well and is quite a handy feature indeed.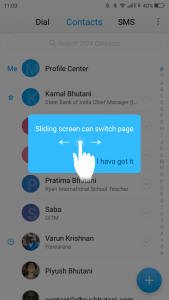 It's not all rosy though and the Chinese origins of the handset are very evident once you've spent some time with the phone. Localization of the handset seems a bit incomplete when you spot Chinese phrases, misspelt words or even some not so accurate translations. The home button too is occasionally unresponsive or sluggish which can lead to a frustrating experience if you just want to get to the homescreen quickly. An issue within the accessibility settings meant that we had to toggle it back on every time the app started. We also noticed that due to the older version of Android and non-standard fingerprint API, several apps just did not recognize the presence of the scanner. While QiKU has made a very good start with the software on the Q Terra, we feel that there is still scope for improvement all around. That said, our issues were a bit niche and the phone performs well for the most part.
Performance
With a Snapdragon 808 processor and 3GB of RAM onboard, we certainly did not expect the phone to lag. True to form, the QiKU Q Terra delivers exemplary performance and remains slick and smooth all the way through. Unlike the Snapdragon 810 processor, the 808 is known to have good control over the thermals, still, QiKU added a liquid cooling strip to the phone which ensures that there is absolutely no over the top heat. Throughout our testing, the phone remained cool to the touch and even under performance benchmarks, the phone was just mildly warm. Clearly, QiKU has done well here once again. We've added a few benchmarks below to get comparative scores across the competition.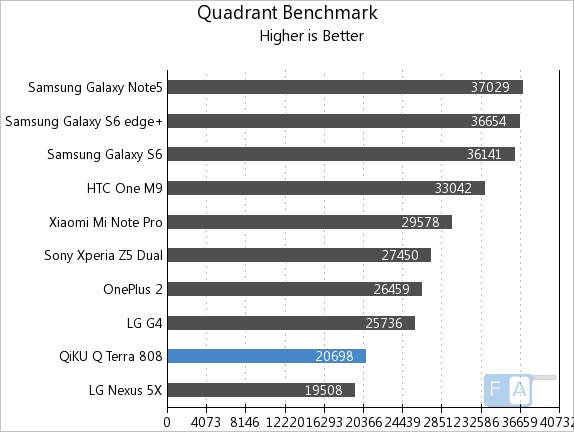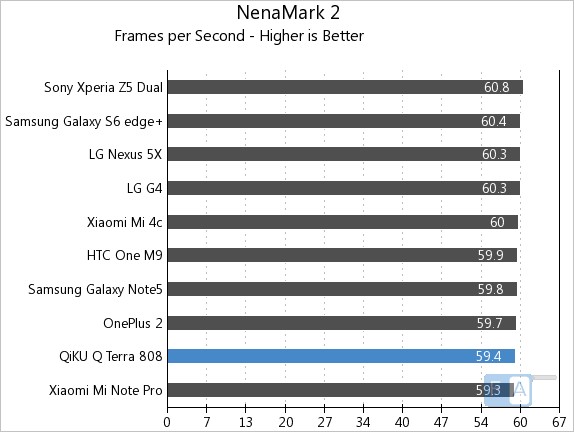 Display
A Full HD panel stretches out to 6 inches and forms the display of the QiKU Q Terra. While internationally there's a 2K version as well, we feel that 1080p is absolutely satisfactory here. The screen is well saturated and contrast levels are good. Viewing angles too are suitable for group viewing.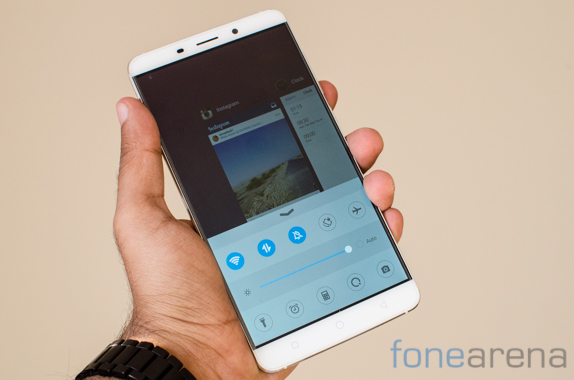 The display is reflective but not overtly so. Unfortunately the brightness levels are a bit disappointing. Sufficient for indoor use, the screen doesn't go bright enough to view the display comfortably in the harsh sunlit ambient conditions around India.
Camera
Two 13 Megapixels units stacked one above the other are placed over at the rear. QiKU is proud to announce that it uses Sony IMX 278 sensors for both. The sensors themselves are stacked and employ Exmor RS technology to enable high-speed capture. But the bigger question is, why two sensors? One of the two sensors at the back is a mono sensor while the other is a full spectrum RGBW sensor. And what use is this? Well, the Q Terra shoots with both the sensors simultaneously and merges the two shots to give you better image reproduction and reduced noise.

In practice, this works reasonably well. We do feel that the noise reduction could be toned down slightly but the photographs are generally very good indeed. On occasion, the handset struggles a bit with getting a focus lock and this led to a few blurry shots. More often than not though we managed to get well detailed, balanced images from the Q Terra. This is not going to beat a Galaxy S6 or the latest iPhone but isn't too far behind either. Here's a few photo samples for you to get a better idea of the handset's camera capabilities.
Battery Life & Miscellaneous
Connectivity options on the handset include 4G LTE, Wi-Fi 802.11 ac (dual band), Bluetooth 4.1, GPS / GLONASS, USB OTG which are about par for the course. The handset is a Dual SIM device with a catch. The second slot is a combination slot for the Nano SIM and microSD card slot which is a bummer. We've been very vocal about the fact that using a combination slot deprives the customer of an advertised feature. This fact is even more important on a handset which has just 16GB of storage onboard and you'll have to choose between extra storage or a second SIM. Of the 16GB onboard, a little under 10GB is available to the user and you can expand this via the aforementioned card slot or via USB OTG. For what its worth, we do wish that the handset shipped with at least 32GB onboard considering its high-end positioning and the large, multimedia conducive display.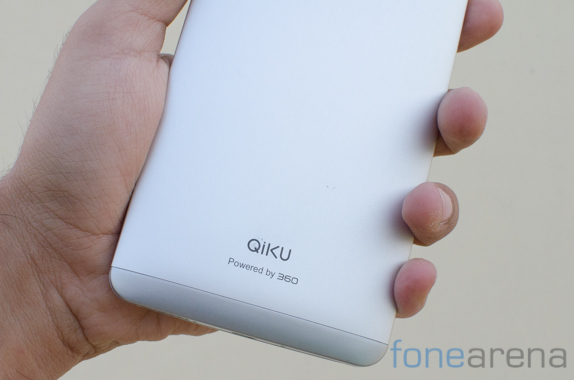 Owing to the large dimensions of the handset, QiKU has managed to build in a large 3700 mAh battery into the handset. The Snapdragon 808 chipset is fairly frugal compared to the 810 and it shows as it barely sips the battery when on standby. Indeed, we noticed a drop of just 7% over a period of 8 hours when on standby. In every day usage we easily managed over a day of use. With extensive usage, syncing of multiple email and social accounts, photography and phone calls, we still found it hard to deplete the battery by the end of the day. Looping a video netted about 12 hours of battery life and when you do need to top it off, the phone bundles in fast charging to allow you to top off the battery super quick.
Conclusion
Being cautiously optimistic, we'd say that QiKU has almost hit the ball out of the park with their first launch. Solid hardware and an almost well-rounded software package make it a very promising handset. Yes, we faced software issues and that is something to worry about. That said, our experience so far indicates that the company is very proactive on fixing software issues. Additionally, none of those was a deal breaker or hindered regular usage so a lot of users will likely not face those issues at all.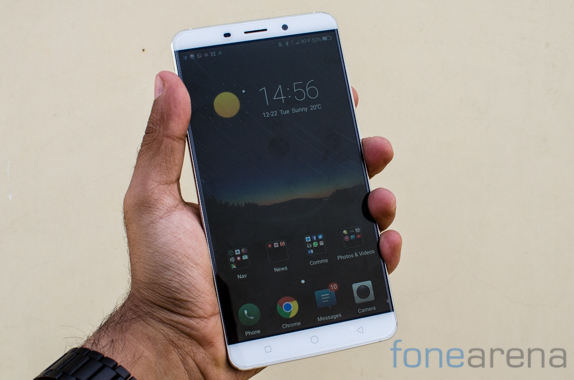 Summarizing the rest of the experience, we'd say that the camera is very good when it delivers though it can be slightly unpredictable. Battery life is amazing and the entire package in general is something we came to quite enjoy. What really seals the deal is the amazing pricing which at just under Rs. 20,000 in case you can land an invite is absolutely spectacular. Would we recommend the device? Most definitely, as long as you are willing to step out of the conventional and give a new company a shot. You should also be willing to over look the few translation errors that are scattered around the menus. All in all, our experience has been more than satisfactory. Truly, a new challenger has appeared.