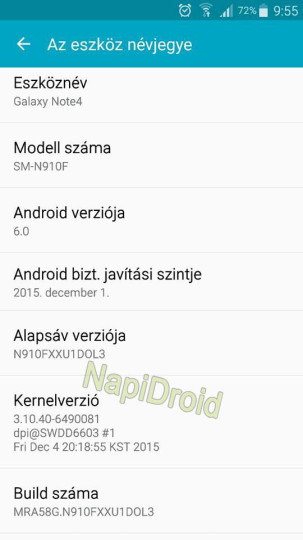 In November, a roadmap for Samsung's Android 6.0 Marshmallow update had surfaced and it revealed that the Note5 and S6 edge+ would be getting the update sometime in December. One T-Mobile Note5 user even got the update to 6.0 accidentally but both the phones haven't received the official release yet. However, it seems that Samsung is ready with the update for the Note 4 and they have already begun rolling out the update across some devices.
The people over at Napdroid have apparently gotten the update to Android 6.0 Marshmallow on their Note 4. The update has the build number N910FXXU1DOL3X. Although, it is quite likely that the update was an accident since manufacturers usually give preference to their latest flagship products over the older ones.
While we aren't sure yet whether the update is the final version or not, it still does include the screen-off memo feature from the Note5 along with the new Air Command menu and a few performance improvements. There is no word on whether it brings in Doze and app permission etc but it should considering those are default features of Android 6.0 Marshmallow. Even if this isn't the final build, it looks polished enough to be close to the final build and that means that Note 4 users should be getting the update pretty soon as well. As of now, this update seems to be isolated and not many users have gotten it yet so perhaps we will have to wait a bit longer for the proper roll-out to start.