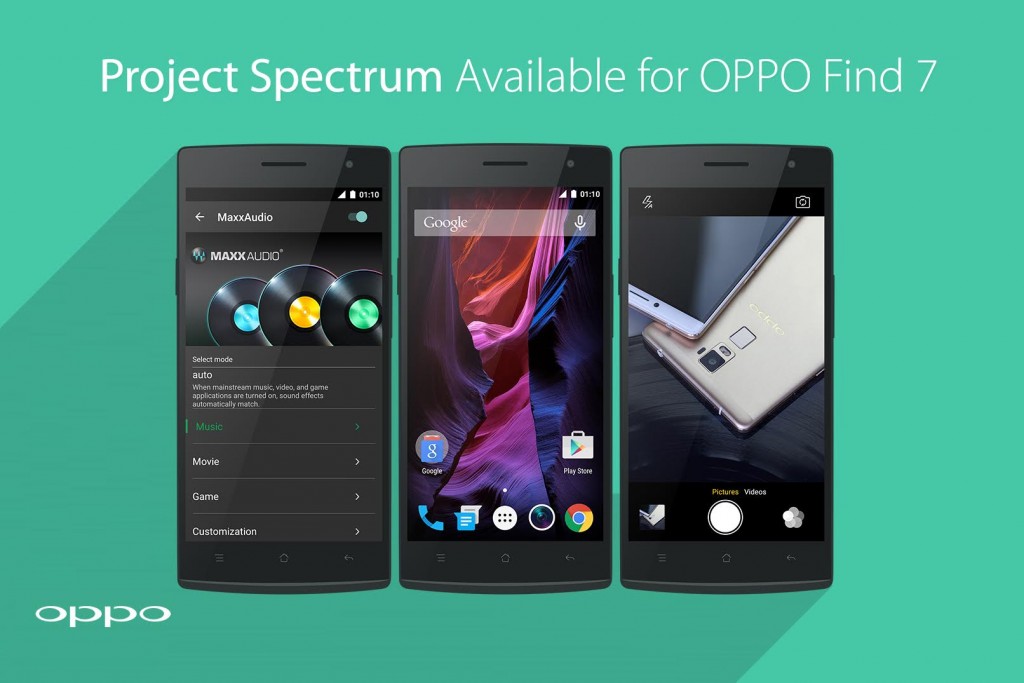 OPPO's custom AOSP ROMs for their phones now has a name. Project Spectrum is now live and is already available for the OPPO Find 7.
OPPO claims that Project Spectrum combines the best of both worlds as it gives a near stock Android experience as well as some of the features and benefits of ColorOS. The features still included from ColorOS are:
ColorOS Camera App
MaxxAudio Audio Enhancements
Screen-off gestures including double tap to wake
As far as we're concerned, this is a good thing as whatever OPPO has chosen to keep are actually good stuff and doesn't really take up too much of storage or processing power. They have already released Project Spectrum V1 Beta for the Find 7 which is based on Android 5.1.1 Lollipop. You can download it for your Find 7 or Find 7a by following this link.
The OPPO R5 and R5s will receive Project Spectrum based on Android Lollipop 5.1.1 soon while the Marshmallow based Project Spectrum ROMs will be released in early 2016 for the aforementioned devices and more. Another good thing to note that this will not void the warranty if the users have purchased their smartphones on oppostyle.com or through Amazon Europe. Consumers who have bought their phones through stores in Asia, Africa or Latin America however are advised to check with their retailer to see whether their warranty would be affected or not.