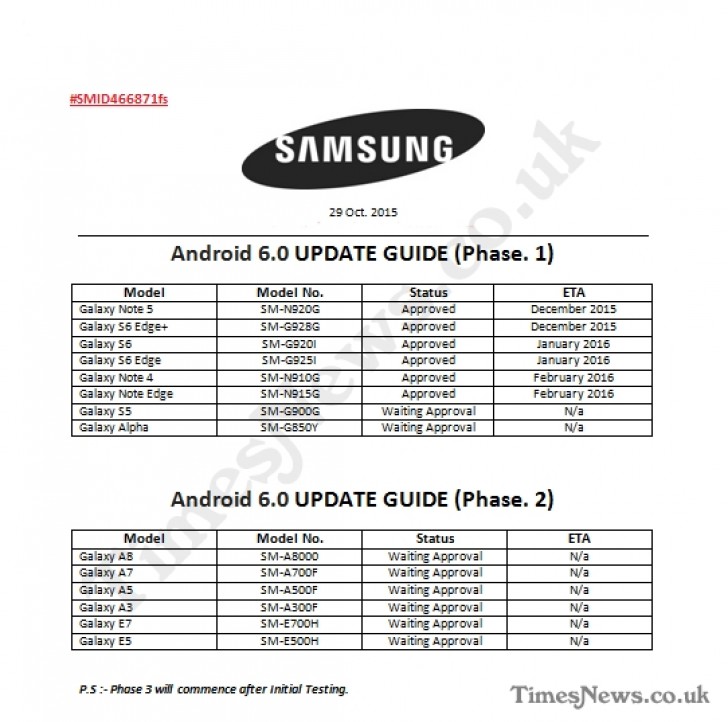 A software update roadmap for Samsung devices has just appeared online and it lists out 2 phases of updates for phones to Android 6.0 Marshmallow. The Samsung Galaxy Note5 and S6 edge+ will be the first to get it as they are scheduled for an update in December 2015 itself.
The update to Marshmallow has been approved for 6 handsets so far and all of them in the first phase. The Galaxy S6 and S6 Edge will follow the update in January 2016 while the Note 4 and Note Edge will receive the update a month later in February. While only one model number per phone has been listed in the roadmap, it is quite possible that other regional variants should also receive the update around the same time except for carrier branded variants which could take longer depending on the carrier and their policies.
The Galaxy S5 and Galaxy Alpha are also a part of the Phase 1 of Marshmallow updates for Samsung but they haven't been approved yet and none of the models in the Phase 2 have been approved yet either. The phase 2 models include the Galaxy A3, A5, A7 and A8 as well as the E7 and the E5. It is also important to note that this roadmap is dated 29th November which is nearly 3 weeks ago and a few handsets may have been approved by now such as the S5 and Galaxy Alpha. Judging by the update schedule for the first 6 phones, we could expect the update for the S5 and Alpha to come by March or so.
There is a mention of a Phase 3 as well but it will commence only after testing and Samsung hasn't specified which handsets will be included in Phase 3 either. While this is a roadmap and companies do strive to meet the deadlines, there are chances that the dates may get pushed back and the updates may get delayed. So although we may wish for an update at the earliest, don't get your hopes too high in case some delays do happen.