Microsoft has announced that the new Skype for Business app for iOS devices is now publicly available. The business version of Skype aims at making office communication easier and more efficient.
Similar to the consumer app, this one lets you chat using both voice and video, instant message, conference call, and more. The dashboard has been updated featuring a search bar for locating contacts, a list of upcoming meetings, and a list of recent conversations. The contact search bar allows you to search your Global Address List by first name, last name, email alias or phone number.  Upcoming appointments can be seen by simply tapping on the left for the meeting details or on the icon on the right to join immediately.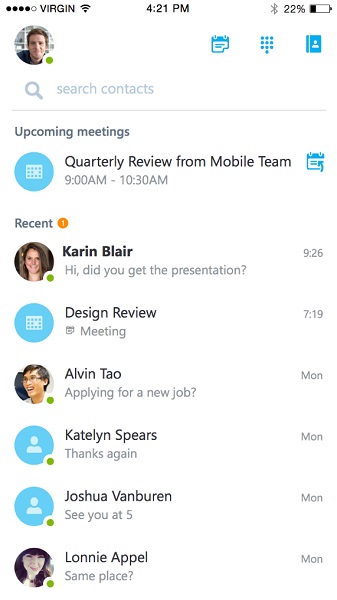 In addition, the app features a full-screen video calling experience, larger mute button, and the ability to view content being shared and the speaker's video at the same time. Skype also said that users will be able to view PowerPoint slides while in a meeting. Office 365 customers can now take advantage of Active Directory Authentication Library (ADAL)-based authentication. This enables your IT admin to configure multi-factor authentication for the Skype for Business iOS app, increasing the security beyond just a user name and password.
Microsoft had announced Skype for Business in technical preview in March this year. Android version of Skype for Business is still in testing and will not be released until later this year. iPhone users with Lync 2013 will automatically get updated to the Skype for Business app. iPad users with Lync 2013 need to download the new Universal app from the iTunes Store.
App Link – Skype for Business