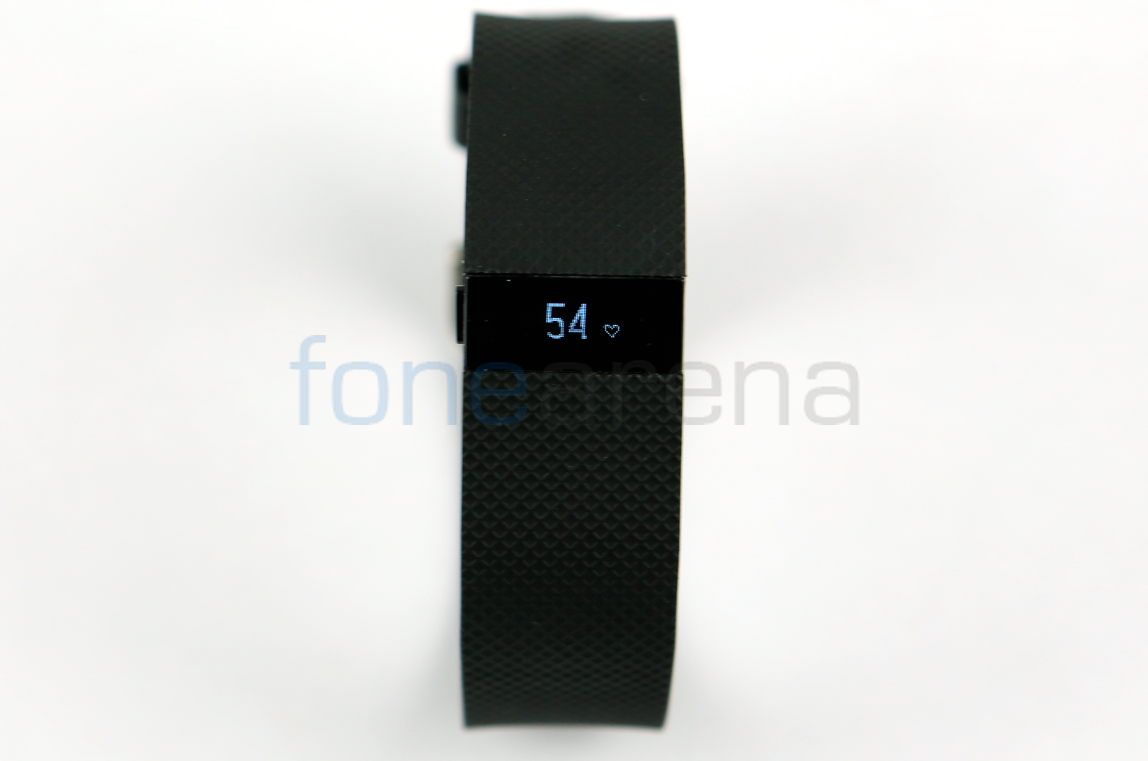 Some of the top international wearable makers such as Misfit, Jawbone and Fitbit have recently entered in India. Let us take a look at one of the fitness and activity trackers from the leading wearable and activity tracker maker, Fitbit. Fitbit introduced the Charge HR fitness band along with other line of products back in October last year, following which it was launched in India in June for Rs. 12,999 on Amazon.in, later it was expanded to Reliance Digital, Croma and Helios stores across India. Is the device that comes equipped with a heart rate monitor good enough to be your fitness companion? Let us find out.
Unboxing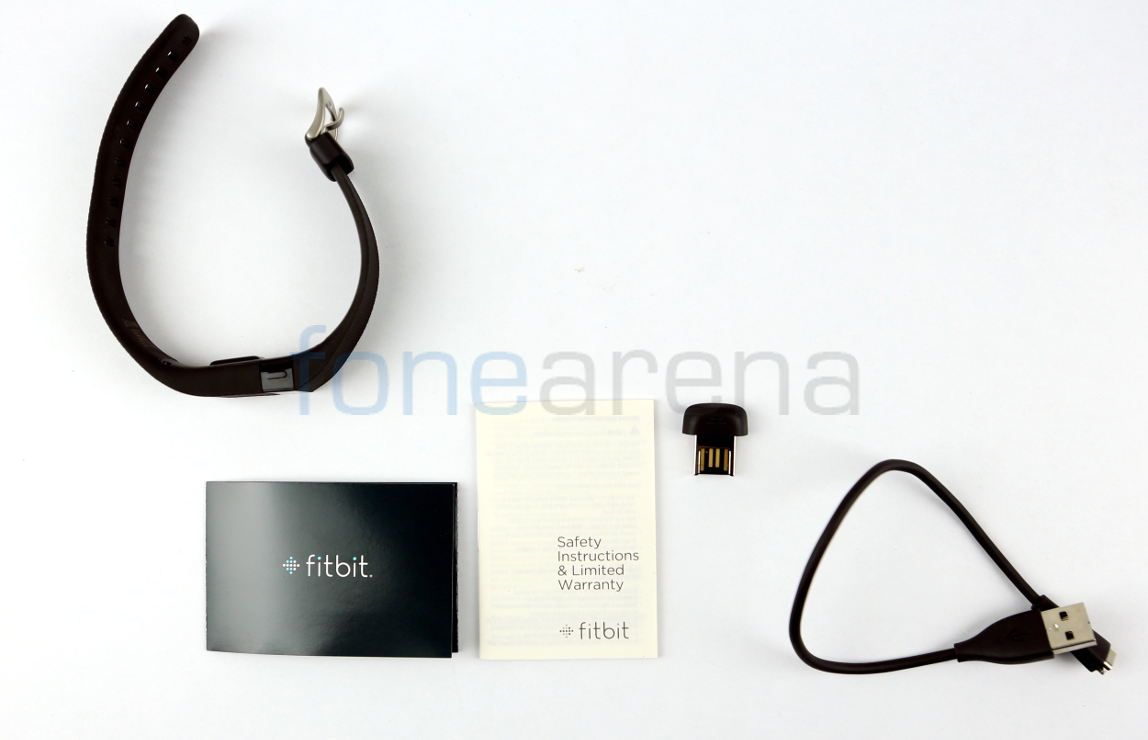 We recently unboxed the Fitbit Charge HR, check out the unboxing here.
httpv://www.youtube.com/watch?v=ZnBv4ee0iUo
Hardware and Design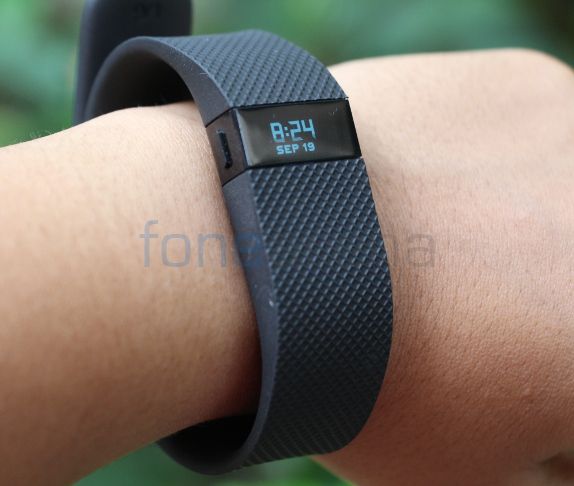 The first thing you will notice about the Charge HR is its strong build and the thick rubber textured band that comes with a traditional strap and a stainless steel watch buckle. The device comes in two different sizes – small and large so make sure you get the one depending on your wrist size. Available in Black and Plum color, it measures 175 x 21 x 11 mm and weighs 23 g. Fitbit says that the small fits a wrist between 5.5 and 6.7 inches in circumference (or 140 – 170 mm) while the large fits a wrist between 6.3 and 7.6 inches in circumference (or 161 – 194 mm).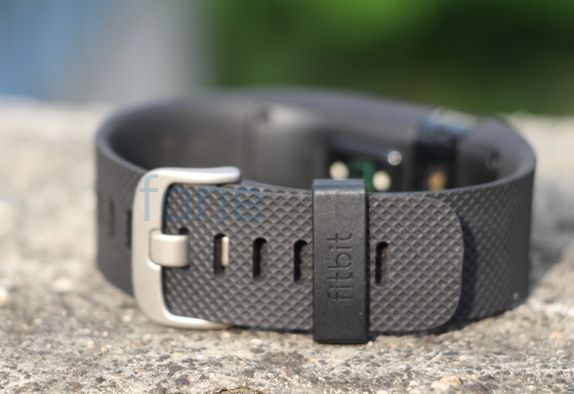 Fitbit Charge HR sports a rectangular OLED screen that shows you stats of your day such as time, steps taken, heart rate, distance covered, calories burned and floors climbed. All the above stats can be accessed by pressing a power/navigation button on the left side of the Charge HR. The display is pretty sharp and shows all the information neatly. Another way to check these stats is to gently tap on the screen.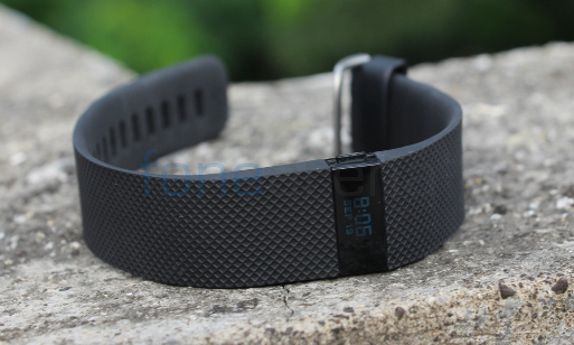 Moving on, the Fitbit suggests that the Charge HR should be worn just loose enough to move slightly as you will be wearing it for most of the day. The heart rate monitor which is one of the most important feature of the device is situated below the band. The sensors on the heart rate monitor become active as soon as it touches the skin and flashes two bright green lights. In order to get the correct heart rate, Fitbit insists users to wear the band one finger width above your wrist bone, and double or triple that distance during exercise. The device also has 3-axis accelerometer and Altimeter.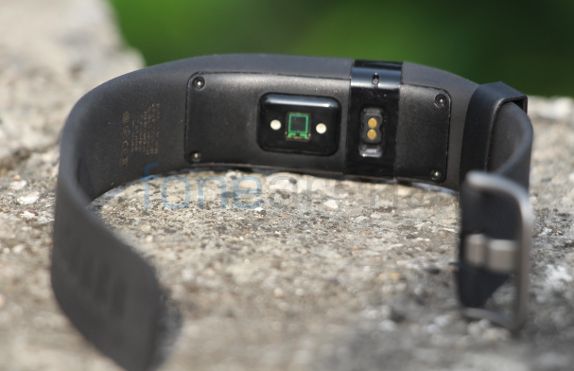 Also present above the heart rate sensor is charging connector that charges the device. It uses a proprietary charging connector to charge the built-in Lithium-polymer battery.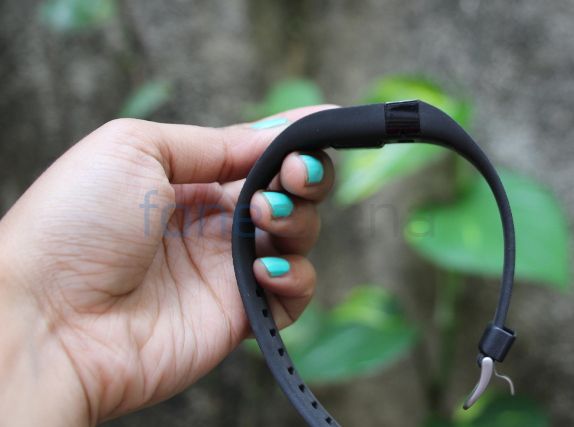 Features and Performance
Fitbit App
The Charge HR works with Android, iOS and Windows phone with companion apps. We tried to use the device by syncing it with the Fitbit app present on the Google Play Store. After downloading the app you will have to set it up by adding your basic information like name, age, height, weight and gender. The Fitbit app is a real winner when it comes to offering detailed analysis of all your daily stats at one place. It is upbeat, colorful and uses icons for every stats. The app which has a beautiful UI is also intuitive and did not lag at any point of time during our testing period. The Charge HR will pair with your smartphone via Bluetooth once you start searching for it using the app. All the data from the app can also be accessed on your desktop with a tiny USB dongle that syncs with your Charge HR.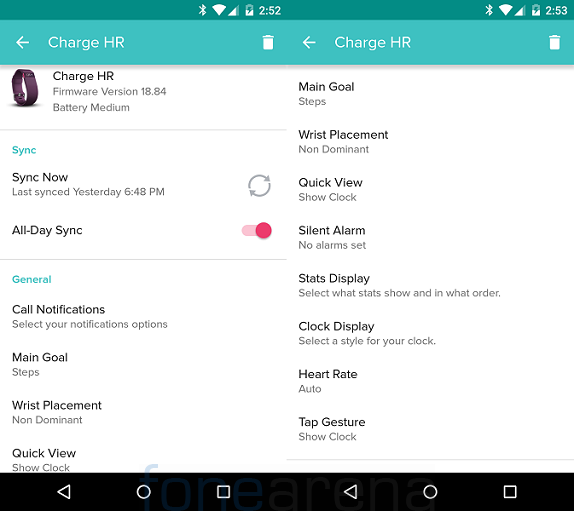 Your Charge HR will automatically sync every 15 minutes whenever it is within range of a compatible mobile device. Using the app you can set up goals for steps, change the clock setting and enable call notifications. However, you will have to keep pressing the button or tapping on the screen until you get to a particular stat and it becomes a bit annoying as you cannot skip the rest and jump to that specific stat. You can control what information you want to see on your Charge HR from the app and select which info you want to see and which one can be skipped. You can also set the order of your choice for the same. Tap gestures can also be controlled. Main Goals can be changed as per your preference by steps, calories, floors etc. You can select up to four styles of clock display for your Charge HR.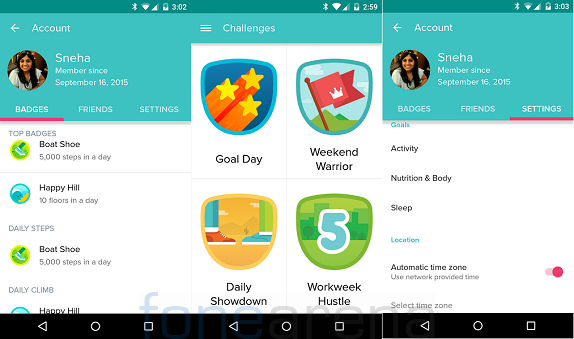 The Charge HR motivates you with badges and also lets you be competitive with friends with different kind of targets and goals. However, for your friends need to be using Fitbit devices for this features. Fitbit can share your daily or weekly averages to Twitter and Facebook. You can also connect with Facebook friends on Fitbit to share data and compete against one another. In Settings you can set up your activity goals by steps, calories, distance, active minutes and floors. Under Nutrition & Body you can create a food plan and log your daily intake along with water consumption. Finally you can set a goal for body fat as well.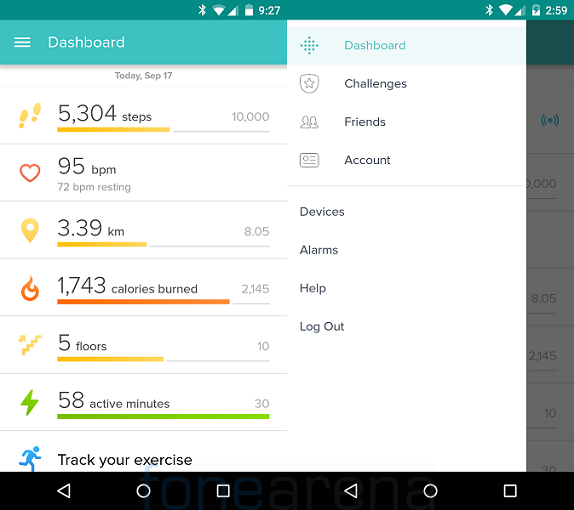 The Dashboard offers you all the information about your daily activities including steps, calories, floors, average heart rate and sleep on a single page. As you strap the device on your wrist it starts tracking your steps and the default step goal is set to 10,000 steps a day but you can change it as per your needs. Fitbit trackers use a 3-axis accelerometer to understand your motions. We found that the Charge HR is not very accurate when it comes to counting steps and this in turn affects the calculation of the calories burned. But, then again may be expecting a perfect accuracy is asking too much.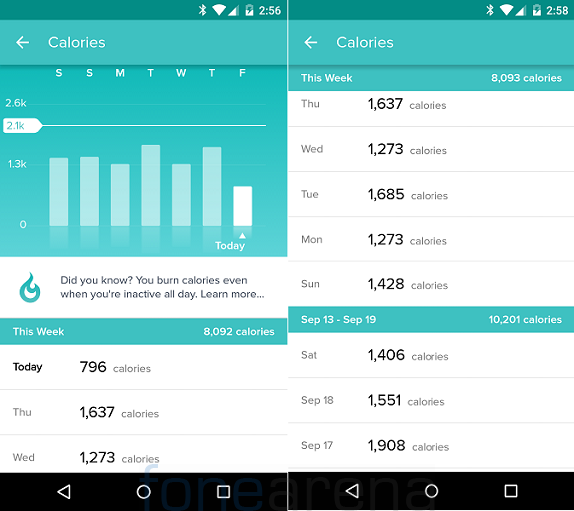 Fitbit says that you burn calories even if you are inactive all day. It takes into account your BMR (Basal Metabolic Rate), the activity recorded by your tracker and any other manually logged activities. The app shows a detailed record of your calories that are burned everyday. This is supported with graphs as well. Similar treatment is given for steps, distance, floors and active minutes. The floors climbed information offered by the device is calculated by an altimeter and we found it accurate for most of the time and same goes for the distance covered.
Heart Rate Monitor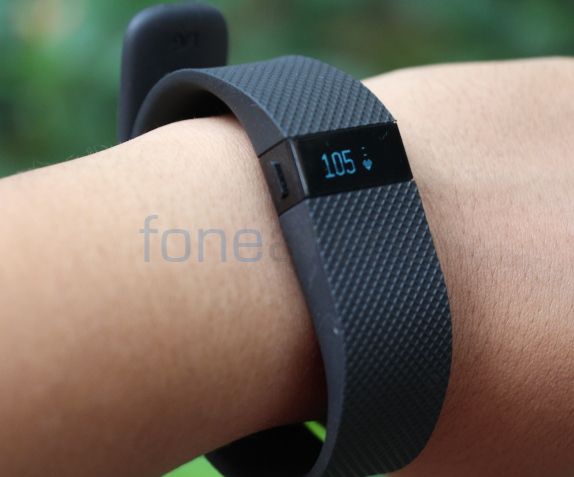 Fitbit uses it's heart-rate monitor to chart the heart's activity through the day, concentrating on resting heart-rate and exercise zones. The heart rate monitor is accurate most of the time and changes according to the activities you do. Fitbit says that the PurePulse LED lights on your Charge HR reflect onto the skin to detect blood volume changes and finely tuned algorithms are applied to measure heart rate automatically and continuously. I tested the device for couple of dance class sessions and it was showing different heart rates throughout the class from low to high. The app offers calorie-burn count and detailed feedback on exercise intensity. It also shows minutes in heart rate zone such as fat burn, cardio and peak. The heart rate icon you see on the Charge HR display tells you if you are in one of three heart rate zones.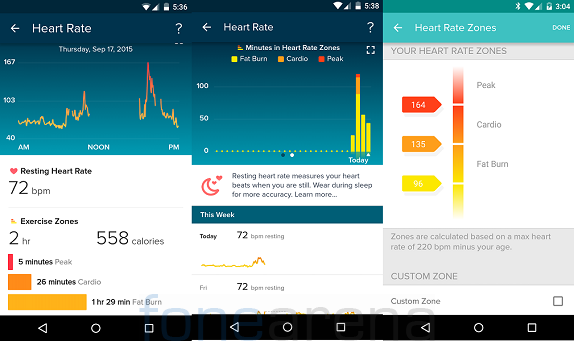 Active tracking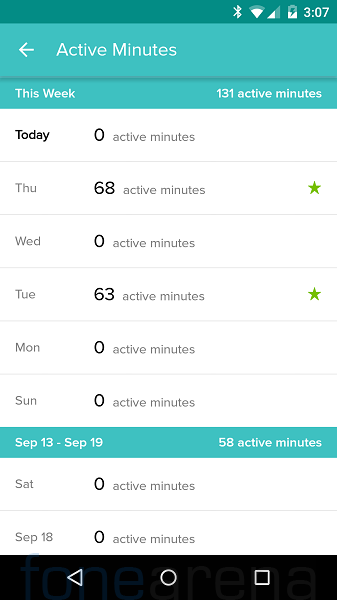 When you exercise, you press and hold the single button to activate active tracking which kick starts a stopwatch and all the motion and heart rate information recorded in the time will be stored in your Fitbit account as a workout.
Sleep tracking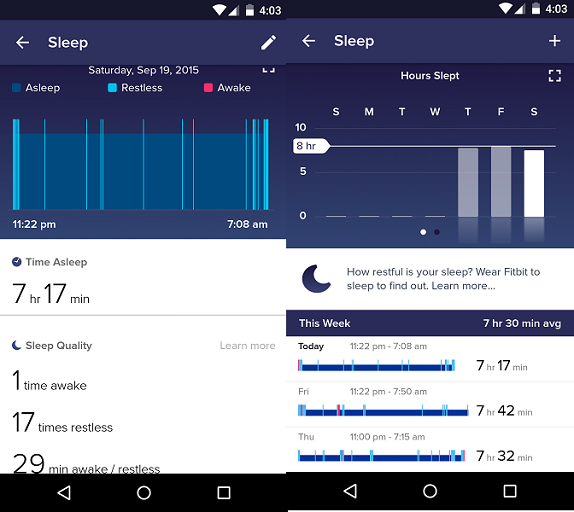 You do not have to turn on the sleep tracking function manually as the Charge HR automatically figures out when you fall asleep. It measures total sleep time and indicates when you were restless or awake. You can also log your sleep time manually. The accuracy of sleep tracking is moderate and it does not track your light, deep, and REM sleep cycles.
Alarm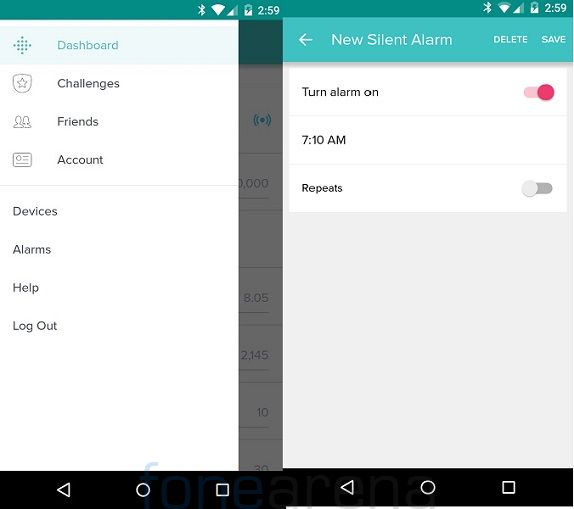 You can set an alarm on the Charge HR which is silent vibrating alarm that can be put off by simple tapping on the device's screen. Users can set up to eight silent alarms from a computer or from a compatible mobile device. Silent alarms can be configured to recur on multiple days of the week.
Call notifications
One of the good features of the Charge HR is its ability to notify you about incoming calls. As soon as you get a call on your synced smartphone, the device which has a caller ID support will display the phone number on its OLED screen. You will have to enable the notification in the app's setting. However, the device does not send you a text message or any other alert.
Battery Life
Fitbit claims that the Charge HR's lithium-polymer battery lasts for more than 5 days, but during our testing period it lasted for four days. However, we did test the device rigorously during this period. The dashboard on the app informs you about the battery life of the device from high to low so you can charge it accordingly.
Conclusion
The wearable device market is gradually surging with increase in demand from users across the globe. A recent IDC report revealed that a total of 18.1 million units were shipped for quarter Q2 2015 and that the number is further pegged to hit 76.1 million units in 2015. FitBit is currently the number one wearable maker in the world and it's entry in India comes at a right time when the market is flooding with activity trackers from various international companies.
Coming back to the verdict, we think that the FitBit Charge HR is a no-nonsense device that does help you to track all your activities and see your progress seamlessly. The heart rate monitor does puts the device in a different league compared to budgets fitness trackers like the YU Fit and the Xiaomi Mi band and hence makes it a premium one in the range of fitness trackers. If you are serious about your health or even if your enthusiasm about fitness is short-lived, the Charge HR does have the ability to push you to reach your goals.
Fitbit also launched FitStar Personal Trainer program in India recently, which is currently available for iOS users and for desktop. This lets users get a tailored exercise program from trainers, designed specifically for them using the activity data collected. You can sign up for a free plan or subscribe to the unlimited plan for Rs. 490 a month or Rs. 2500 a year. The Charge HR loses a couple of points because it is 1ATM water-resistant and is only rain and splash proof, but it is not water proof. You cannot wear in the shower and while swimming . To sum up, the Charge HR is an excellent fitness tracker and is worth the price tag of Rs. 12,999.
Pros
Heart rate monitor
Simple design with conventional watch buckle
Excellent App
Decent battery life
Cons
Not water proof
No message alerts