Qualcomm Technologies has announced new milestones for its Snapdragon 410 and 210 processors. Within the first year of its commercial launch, the Snapdragon 410 processor is now available in more than 550 mobile device designs while 210 processor has been included in more than 200 designs.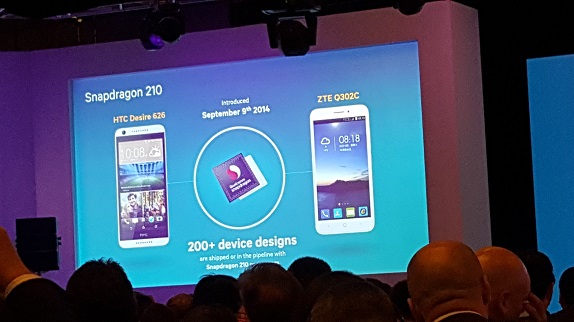 The Snapdragon 410 processor which brought 64-bit computing power and LTE connectivity to emerging regions has also shipped more than 200 million units globally from more than 60 OEMs. The Snapdragon 210 processor is the first commercial processor for mobile to deliver 4G LTE connectivity to developing regions, while the 410 is the first commercial processor for mobile to provide 64-bit computing to the sub-$150 pricing point.
The Alcatel OneTouch Pixi 3(5), ZTE A460, and Huawei Bee 4G and Honor 4A are some of the smartphones based on Snapdragon 210 processor. While smartphones based on the Snapdragon 410 processor include Motorola Moto G, Asus Zenphone 2 (ZE550KL), HTC Desire 510, HTC Desire 626, Samsung Galaxy Mega 2, Xiaomi Redmi 2 and BLU Life One. The company says that more devices equipped with these processors are expected to announced in coming weeks and months.
"The pipeline of device designs with Snapdragon 210 processors is double what has already shipped to date. We're excited that increasing numbers of users around the globe are enjoying a premium computing and connectivity experience at an extremely affordable price point.  Additionally, given the proliferation of 4G LTE worldwide, which is currently 422 commercial LTE networks and counting, and five generations of LTE modems that extend LTE to all tiers, Qualcomm Technologies is also excited to have helped operators worldwide make 4G LT technology available to all of their customers."

said Cristiano Amon, executive vice president, Qualcomm Technologies, Inc., and co-president, QCT.
Sneha contributed to the report