Qualcomm has announced the upcoming X12 LTE modem that will be part of the new Snapdragon 820 processor. Devices based on the newly announced Snapdragon 820 processor are expected to be part of flagship smartphones shipping in first half of 2016. The company made this and a number of other important announcements at the ongoing Qualcomm 3G / LTE summit here in Hong Kong.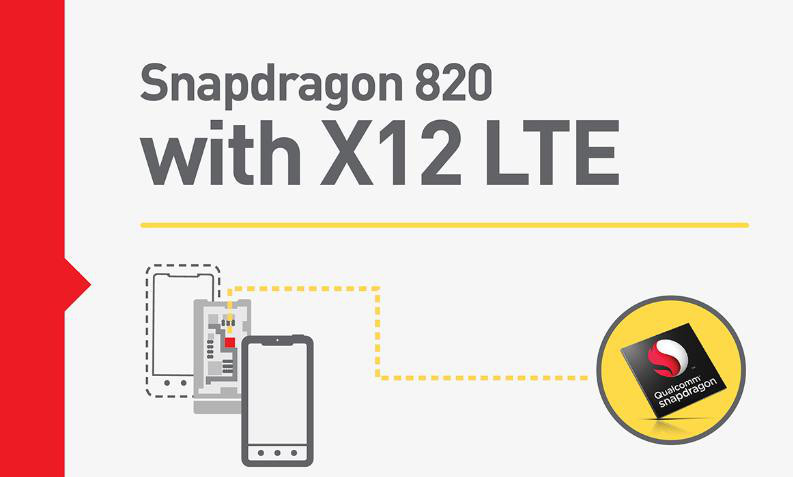 Qualcomm said that Snapdragon 820 SoC will offer 4G LTE and WiFi technologies for premium tier mobile devices. It offers LTE Advanced speeds upto 600Mbps. The company claims that the new processors support LTE Category 12 in the downlink and Category 13 in the uplink, providing up to 33 percent and 200 percent improvement over its predecessor's download and upload speeds, respectively. In addition, it features Uplink Data Compression (UDC), a feature that is currently unique to select Snapdragon LTE modems, and engineered to enhance the user experience in a wide range of applications, including accelerating web page loading times.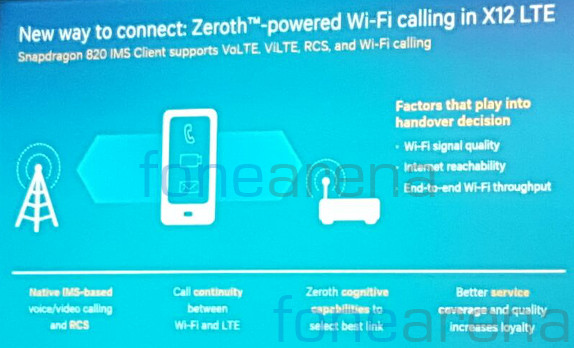 The Snapdragon 820 processor also comes with an Advanced Closed Loop Antenna Tuning when paired with the QFE2550 Antenna Tuner, designed to dynamically optimize RF performance in real network conditions, particularly for challenging metallic industrial designs in premium tier handsets. Advanced Closed Loop Antenna Tuning is designed to reduce dropped calls, improve cell edge throughput and even lower power consumption.

Snapdragon 820 processor's upgraded X12 LTE modem offers:
LTE Advanced speeds

Cat 12 (up to 600 Mbps) in the downlink
Cat 13 (up to 150 Mbps) in the uplink
Up to 4×4 MIMO on one downlink LTE carrier

Breakthrough connectivity support in unlicensed spectrum:

2×2 MU-MIMO (802.11ac)
Multi-gigabit 802.11ad
LTE-U and LTE+Wi-Fi Link Aggregation (LWA)

Comprehensive service across connection types

Next Gen HD Voice and Video calling over LTE and Wi-Fi
Call Continuity across Wi-Fi, LTE, 3G, and 2G

RF front end innovations

Advanced Closed Loop Antenna Tuner
Qualcomm RF360™ front end solution with CA
Wi-Fi/LTE antenna sharing
"The Qualcomm Snapdragon 820 processor with X12 LTE modem is a new industry leader, offering highly differentiated features that put OEMs and carriers on the cutting edge, including the latest advances in LTE and Wi-Fi connectivity. With technologies like 4K video, virtual reality and cognitive computing rapidly evolving, it's important to provide consumers with the speed and bandwidth to create a more compelling mobile experience."

said Alex Katouzian, senior vice president, product management, Qualcomm Technologies, Inc.
Sneha contributed to the report