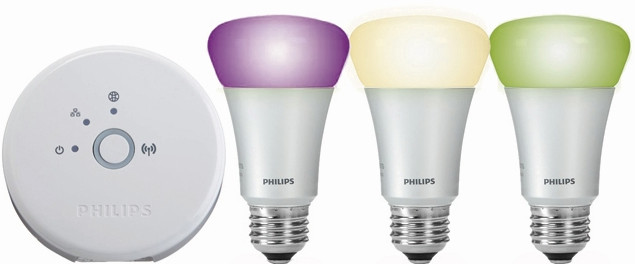 Philips Lighting has finally launched HUE, web-enabled LED home lighting system in India, as expected. Hue allows users to control home lighting using their smartphone or tablet and supports both Android and iOS platforms. The Philips Hue range for India will include, Hue Starter Kit which includes the bridge and three Hue lamps, Hue Go, Hue Beyond – the luminaire family, Friends of Hue – LightStrips and Bloom.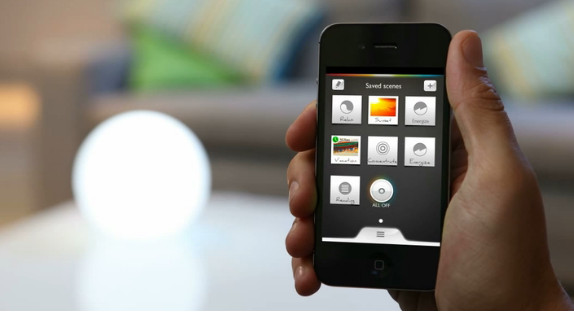 The bridge in the Hue starter kit can be easily plugged into Wi-Fi router and the three Hue lamps go into the existing bulb holders. You can download the Hue app to remotely control home lighting, use custom settings and program timers to help manage daily schedules. Philips hue is upgradeable and future-proof. The 9W Hue lamp offers 360 lm at 2000K, 510 lm at 3000K, 550 lm at 6500K and 600 lm at 4000K.
Highlights of Philips Hue
Connect up to 50 lights and control them on a smart device
Use the timer to set alarms and change your lights over time
Set your lights to a calming, soft tone to help you relax
Set lights to turn on and off when you're away from home
Turn your photos into a palette of color for your lights
Specifically designed light recipes to help you focus
Preset white light temperature to help boost body and mind
Set light to the tuned white for reading
Create an account and access your lights from anywhere
16 million colors from an internet-enabled light bulb
ZigBee technology lets you update your lights wirelessly
The Hue Starter Kit with bridge and three Hue lamps costs Rs. 16,995. The Hue lamps are also available separately for Rs. 3,995 each. It is available through authorized Philips Light Lounges, select retail outlets of Croma  and Reliance Digital across India. It is also available from Snapdeal online. You can also check out the pricing for the complete range at Snapdeal.
Commenting on the launch, Harsh Chitale, CEO, Philips Lighting – South Asia, said:
Philips Hue will change the way people have experienced and interacted with lighting till now. Connected LED lighting redefines the possibilities with lighting taking it beyond illumination and creating value to enhance our lives.
George Yianni, Head of Technology – Connected Lighting, Co-inventor of Philips Hue said:
At Philips, we always strive to push the boundaries of light and technology to deliver meaningful innovations that go on to become industry benchmarks. More than just a personal wireless lighting system, Hue is a platform with an ever-growing selection of third-party apps (more than 300 at present) that deliver exciting outcomes in the Internet of Things environment.