Microsoft has updated Bing app for Android that allows users to access its search and data information inside other apps. The company has taken a cue from Google Now on Tap feature for the latest update.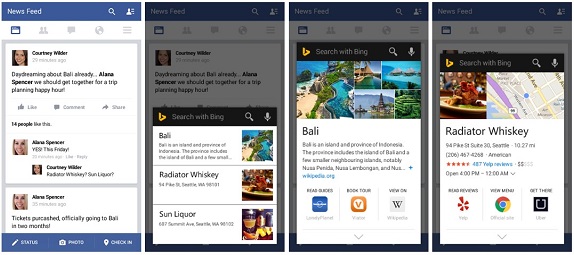 The new Bing feature that is dubbed as Bing Snapshots works by simply long-pressing the home button that generates contextual information without the need to exit or switch the app. Google had announced the Google Now on Tap feature at I/O in May this year and it will be present on Android 6.0 Marshmallow. Bing Snapshots blends with other apps as well display snapshots of information and actions related to the things on the app. For instance, if you are searching for a restaurant, just long press the home button and Bing will detect things on the page that are relevant to your search. Currently, Bing snapshots  is available in the United States in English. And, yes, make sure you're running Android 4.4 KitKat or higher.
Furthermore, Microsoft has also announced a new Bing knowledge and action graph application programming interface (API) that developers can use to integrate Bing's smarts into their apps. The new feature will soon come to Windows 10 on desktop and mobile devices and will also come to iOS soon.
Play Link – Bing Search