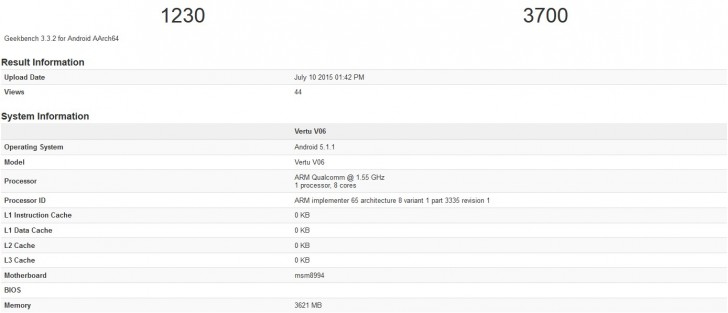 While Vertu is famously known for their design and craftmanship, their handsets often run on outdated hardware and perhaps even software. While they have been trying to change that in the past few years, they still do lag behind a bit. But that is about to change if these new benchmarks have anything to say. The Vertu V06 will apparently be powered by a Snapdragon 810 processor and will also have 4GB of RAM.
The Qualcomm Snapdragon 810 isn't the first chipset that'll come to your mind for performance due to the various issues it has had in handsets in the past such as the LG G Flex 2 and the HTC One M9. However, if Vertu have managed to solve some of the issues such as the over-heating like Xiaomi did with the Mi Note Pro, then perhaps we can have luxury along with uncompromised performance along with 4GB of LPDDR4 RAM.
The handset will have 8 cores clocked in at 1.55GHz and will come with Android Lollipop 5.1.1 or later upon release. Being an ultra-premium handset maker, Vertu is likely to price the handset upwards of US$ 5500 (Euro 5000).