ICICI Bank has upgraded its mobile banking app 'iMobile' with an array of new features and improvements. The app gets features like dual login, Google Now integration and so on.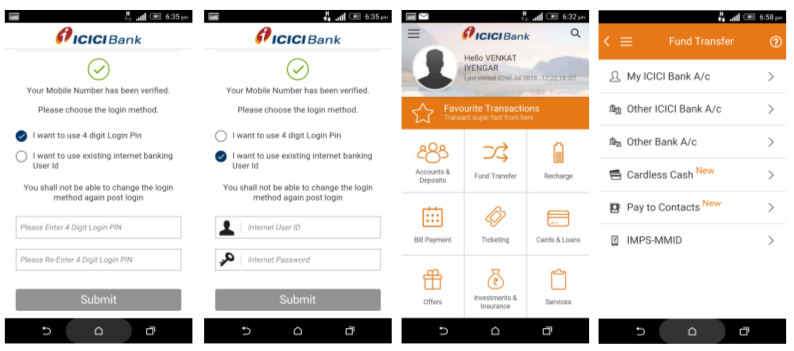 The iMobile app will let you connect with the Bank's call centre from within the app without any further authentication, withdraw cash from an ATM without using a card, tag frequent transactions as favourites, view integrated details of all accounts in the app itself as well as receive alerts from Google Now. Customers can now choose the type of login by either using a PIN based access or their existing internet banking user id and password.
"Today, close to 60% of our transactions are carried out on internet and mobile banking channels. With India at the forefront of mobile phone growth in the world, it has been our strategy to offer a world-class, industry leading and consistently path breaking customer experience to our valued customers. It offers more than 100 services with many industry first features across banking. We expect mobile banking to continue to grow at a rapid pace, giving us a larger scope to promote its usage among both urban and rural customers."

Rajiv Sabharwal, Executive Director, ICICI Bank said in a statement.
Using the iMobile app, customers can create iWish, a flexible and online recurring deposit. iMobile is available on all mobile platforms including Android, iOS, Java, Windows and Blackberry. Moreover customers can also use iMobile to update their passbook, apply for personal loans, auto loans and home loans, access their loan statement, tax certificate, EMI schedule, pay utility bills and instantly blocking a debit or credit card card from the app itself. Transactions like funding a PPF account, checking PPF statements or checking the recent transactions can also be carried out.
The latest upgraded is available for download on Google Play store and Apple app store. Any ICICI Bank savings account customer, who has a mobile number registered with the Bank can download the iMobile application.