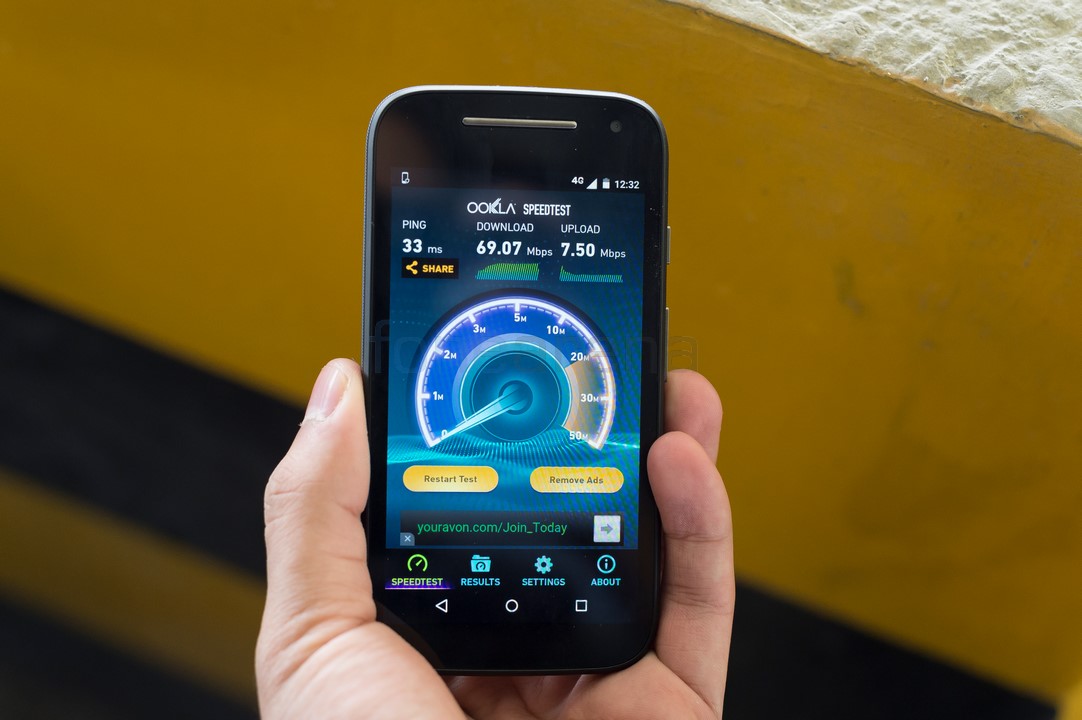 The Moto E (2nd Gen) is one of the cheapest 4G enabled smartphones on the market currently and this article goes through its 4G performance. If you want to read the review of the phone as a whole then you can do so here.
Specifications
The Moto E (2nd Gen) is available in both 3G as well as 4G enabled variants. The 4G variant – model number XT-1521 is available for around Rs1,000 more than the 3G version. It supports 4G on the SIM 1 slot and supports 2G on the other slot. It supports FDD-LTE Bands 1,3,7 and 28 as well as TDD-LTE Band 40. The 4G variant also gets the updated Snapdragon 400 processor compared to the Snapdragon 200 processor on the 3G variant.
Performance and Speedtest
We tested the Moto E on Airtel's 4G network in Karnataka and found that it latched onto the 4G network signals quite fast. Even faster than some of the higher end handsets that support 4G. We did perform a few speedtests and got really good speeds. The download speeds were close to 70 Mbps when we had full coverage and around 7.50 Mbps upload speeds. That is even better than most of Airtel's broadband plans. Of course the network will get a bit slower when the signal drops but still delivered quite good speeds. We were also able to use the phone as a Wi-Fi hotspot and get the 4G speeds on other devices as well.
Battery Life
In developed countries, 4G gives good advantage as it helps improve the battery life. However in India due to the patchy 4G network, the phone's battery life actually decreases a lot as it has to keep searching for a 4G signal. This is true even for Bangalore which is where the 4g network in India started first on Airtel. So if you do get it, you are probably better off switching to 4G networks when you require the extra speed or at least using Wi-Fi whenever possible. However if you spend majority of your day at home or office or any other place where there is a constant strong 4G signal then you shouldn't face too many issues with battery life.
Conclusion
Overall the Moto E (2nd Gen) 4G is quite a great phone for its price particularly if you are looking for a device specifically for the internet speeds. It performs well under 4G connection with quite surprising speedtest results especially for a phone of its price. Add to the fact that it also supports dualSIMs and you have yourself a winner. If you are looking for a cheap 4G smartphone then this is your go to device. To read more about the other aspects of the device, do check out our full review here.
You can watch our 4G speedtest on the Moto E (2nd Gen) 4G in the video below:
httpv://www.youtube.com/watch?v=WVrObJmipbc