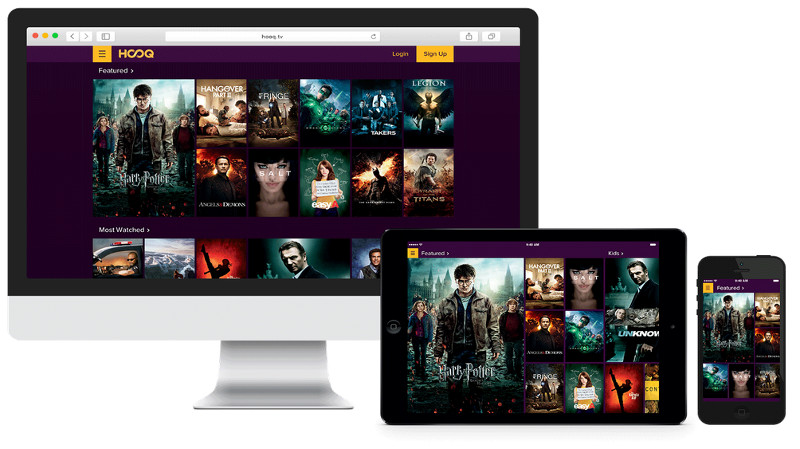 HOOQ, a video-on-demand start-up, which is a joint venture between Singtel, Sony Pictures Television and Warner Bros is coming to India this June. HOOQ has more than 5,000 Hollywood movies and over 10,000 Indian movie and television content, says the company. It costs Rs. 199 for a month for unlimited streaming and also offers offline viewing. You view content on PCs, smartphones, tablets and Android set-top boxes.
HOOQ includes titles from Sony, Warner Bros., Disney, Dreamworks, and Miramax such as Harry Potter, Spider-Man, Iron Man, Pulp Fiction, and TV series such as Nikita, The Shield, Friends, Lost and Grey's Anatomy. For Indian content, the company has partnered with YRF, UTV Disney, Rajshri, Reliance, Shemaroo, Sri Balaji, AP International, Whacked Out Media and over 50 other studios for titles like Chennai Express, Vishwaroopam and more.
The service will roll out next month and it will be accessible to customers in India through hooq.tv. Customers can watch videos, pay for the subscription through multiple e-payment options and also download apps through the website.
Peter Bithos, Chief Executive Officer of HOOQ, said:
We are very excited to bring to Indian consumers the ultimate ad-free video-on-demand service at an amazingly low price. HOOQ will offer India the largest and best catalogue of Hollywood and Indian content of any service available today. Our ambition is to always bring the best experience with no compromises.

We've built our service knowing the constraints and infrastructure issues faced by customers every day. We have designed our service specifically for the challenges of India and other countries like it. HOOQ offers features to ensure you enjoy an uninterrupted viewing experience; including a custom setting for your quality preference, a bandwidth indicator to assess your internet connectivity and adaptive streaming to maximise available bandwidth.
Samba Natarajan, Singtel CEO, Group Digital Life, said:
The growing interconnectivity and rapid adoption of smart devices present a great opportunity to enhance the way people live, work and play in Asia. With HOOQ, we want to revolutionize entertainment for our customers. Our unique telco assets and our partnership with Sony Pictures Television and Warner Bros. will position HOOQ to become the largest over-the-top video service in the region.