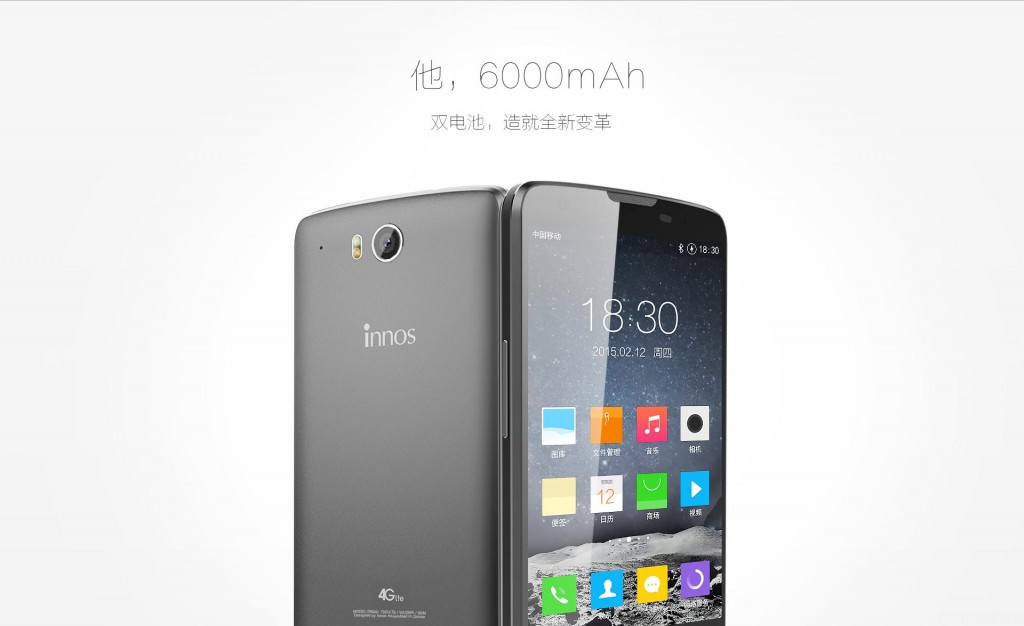 While smartphone these days are powering through with new and innovative features and growing leaps and bounds in terms of performance, the battery life gets ignored. Most manufacturers still haven't really thought of adding bigger and more powerful batteries but Innos isn't one of them. In fact Innos D6000 has two batteries that together provide 6000 mAH of power to the device.
Although the company was present during MWC earlier this year, they didnt really announce the phone until now. The D6000 achieves this high battery capacity by using two a "Double cell structure" which is made up of two batteries – one 2840 mAH battery which is internal and another external 3520 mAH battery.
Not only that but the phone allows you to swap either of the batteries while changing the other one. Innos say that the phone will last you 3-5 days of heavy use and we are inclined to believe their claims to an extent. The phone also has DuoCharging technology that allows both the batteries to be charged simultaneously.
The phone has a 5.2″ 1080p JDI (Japan Display) with Gorilla Glass 3, Snapdragon 615 octa-core processor clocked at 1.8GHz and 3GB of RAM. The phone has 32GB of built in memory, supports Dual SIMs and 4G LTE (On both SIMs) upto 20 bands.
The main camera is an OmniVision 16 Megapixel unit with f2.2 aperture and a 5 Megapixel camera on the front. It also has a USB Type-C 3.1 port.
The device will run Android Lollipop 5.0 out of the box and will cost Yuan 1799 (US$ 290) when it launches in China early in June. There will also be a Mediatek powered version of the device with 2GB of RAM and that is expected to cost less than Yuan 1000 (Around US$ 160).
There is no word yet on international availability but we will keep you updated once if get more information.