Indian smartphone market has shrinked for the first time in Q4, 2014, as per latest report from IDC. Mobile shipment stood at 64.3 million units in Q4 2014, reflecting a quarter-on-quarter drop of 11% over Q3 2014 and an annual drop of 5%.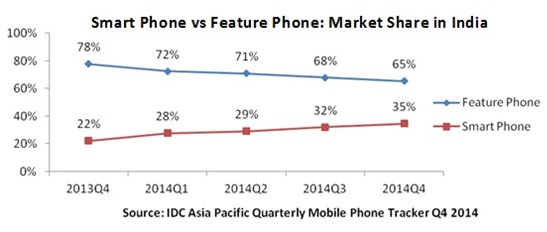 The research firm stated that the main reason for the decline was due to a high channel inventory at the beginning of the quarter among general trade, which in turn was caused by the surge witnessed in online sales during festive season.  Smartphones formed a healthy 35% of the overall mobile business in Q4 2014, which is up by 13% from the same quarter a year ago.
"In the current market scenario there is a drive in demand for products pitched with high specifications at low price points. This trend is likely to continue over the next four to 6 quarters, after which consumers are expected to turn back to the handset vendors who charge premium for quality,"

said Karan Thakkar, Senior Market Analyst, IDC India.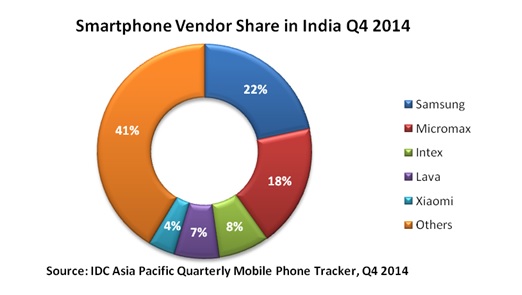 IDC also said Samsung continued to lead the Indian smart phone market with a market share of 22 per cent, followed by Micromax with 18 per cent in Q4. While Intex, Lava (7%) and Xiaomi reported 8%, 7% and 4% respectively. The report touted that Apple posted stiff competition to Samsung during this time. "Online exclusive" brands are hurting the brand in the value for money category. Shipment contributions from vendors like Asus, Microsoft, and HTC have witnessed traction in the recent past.
"Operators are gearing up for the 4G network rollout. For vendors and ecosystem partners, greater emphasis on 4G enabled handsets at competitive price points will be the order of the day. End-users' desire to upgrade and keep abreast with the latest technology will continue to drive strong growth for the smartphone market throughout the course of 2015,"

said Kiran Kumar, Research Manager, Client Devices, IDC India.
The research firm predicted a sluggish Q1 2015 however there might be some reprise as few global vendors which were in the inventory correction phase until now are likely to exhibit big shipment numbers starting in Q1.