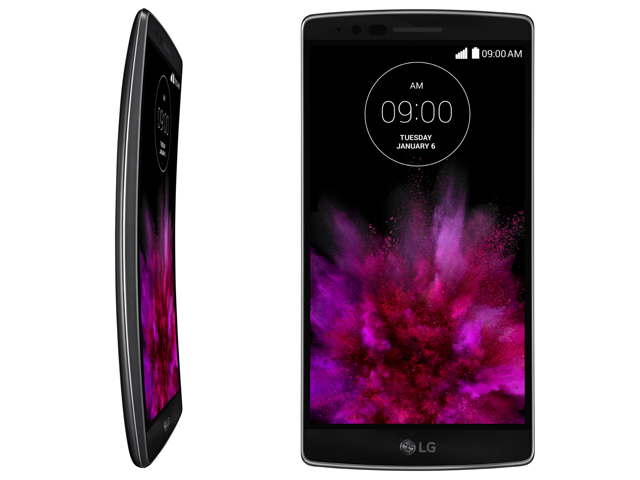 Vodafone have announced they have secured a six-week exclusive on the LG G Flex 2 which was announced at CES 2015 yesterday in Las Vegas. The follow-up to the LG G Flex – which launched in November 2013 – brings improvements to the processor, OS, screen and camera and will go on sale in Korea at the end of this month before launching in the UK next month.
The LG G Flex 2 is powered by the new Qualcomm Snapdragon 810 processor with a 2GHz 64-bit octa-core CPU and runs on the new Android 5.0 Lollipop operating system. It features a smaller 5 inch display – versus six inches on the G Flex – with Full HD 1080p resolution, which is an upgrade to the 720p panel on the G Flex. The G Flex 2 comes with 2GB RAM, 16GB internal storage and a range of connectivity options including LTE Cat 6, Bluetooth 4.1, Wireless n/ac and NFC.
The G Flex 2 also comes with LG's self-healing back cover from the LG G3 last year and takes just ten seconds to heal at room temperature (a large improvement from three minutes on the LG G3). LG said that the G Flex 2 cover glass has been improved and uses a special chemical treatment to be 20 percent more durable than Gorilla Glass 3.
On the back, the LG G Flex 2 features the 13MP rear camera from the G Flex but adds Laser Auto Focus which debuted on the LG G3. This allows the handset to focus on a subject in under 0.3 seconds and LG says this enables it to capture the best photos even in low light whilst the front facing camera is the 2.1MP sensor from the original G Flex. The G Flex 2 has a 3000 mAh battery and LG claim this is the only curved mobile battery in the world that can be charged up to 50 percent in under 40 minutes.
There's no word on pricing or exact launch date yet but we'll let you know when we have more information.