India continues to be the fastest growing smartphone market in the Asia Pacific region, with about 82% growth in the July-September quarter of 2014 over the same period last year, according to a latest report from IDC.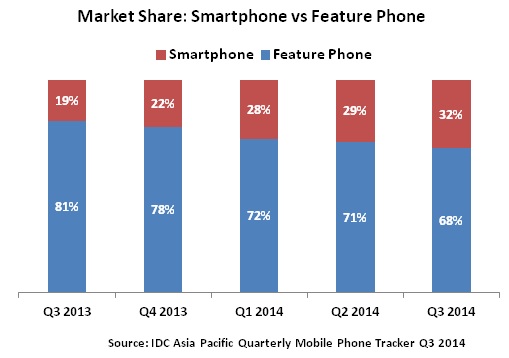 The research firm stated that the Indian smartphone market reported quarter-on-quarter growth of 27% in Q3 2014 (July – September). The growth in sales was mainly due to festive demand which helped the Indian smartphone market outshine other emerging markets in the Asia Pacific region in terms of quarter-over-quarter growth.
"With 6% of the overall smartphone market, Phablets (which IDC defines as smartphones with a screen size of 5.5 inches – 6.99 inches) are observed to be hitting a plateau. Smartphones with screen sizes between 4.5 inches and  5.5 inches are seen as the sweet spot for consumer preference. However, consumers need larger screen sizes to enjoy media content and with the 4G rollout expected in CY2015, we expect the Phablets segment to pick up again,"

said Kiran Kumar, Research Manager, Client Devices IDC India.
Giving insights about vendor sales the report said that Samsung continued to maintain the top spot in the Asia-Pacific region with a 24% market share in the smartphone segment, even though its shipment growth was lower than the industry average, implying a contraction in the market share. Micromax came in second with 20% market share up from 18% in Q2. While Lava and Karbon shared the third spot as both of them recorded a market share of 8% and finally Motorola ended in 5th spot with 5% market share.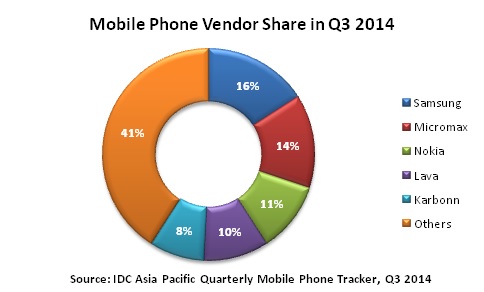 "With positive consumer sentiments and low levels of inflation, consumers will have more money to spend. The majority of the smartphone users change their phones within  12 to 24 months. With 44 million units shipped in CY2013 and the current market scenario hinting at 80 million plus shipments in CY2014, we have a big chunk of end-user market which is awaiting refresh. To add to this, new initiatives on the 4G front are expected to be rolled out by the vendors, which should spark up demand in the smartphone market in CY2015,"

said  Karan Thakkar Senior Market Analyst at IDC India.
Feature phone segment, however, declined 9% year-on-year to 49.2 million units, but was higher by 10% when compared to the April-June 2014 quarter.