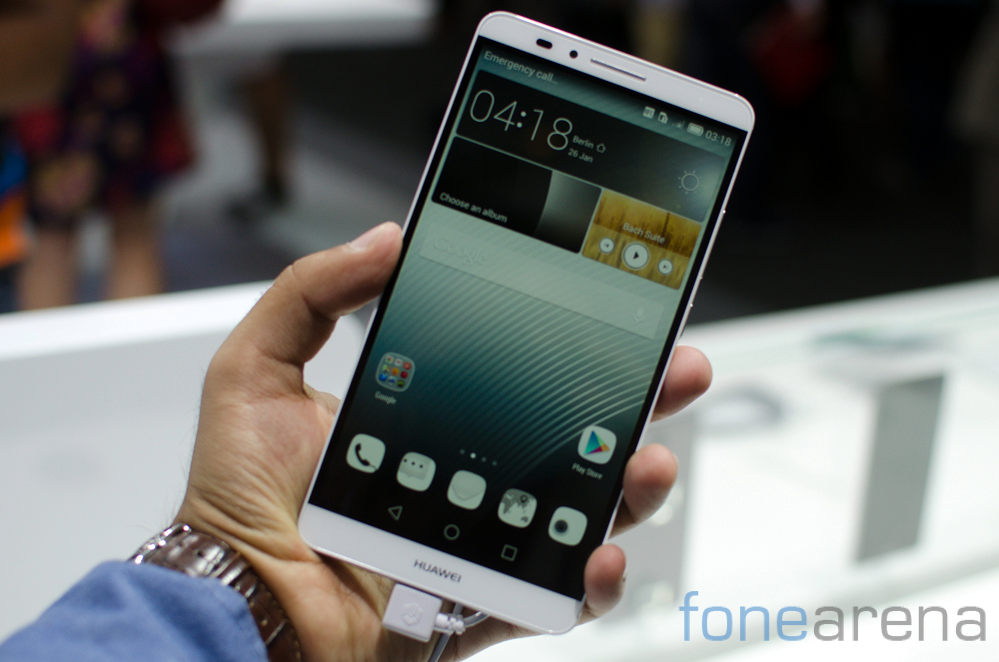 The smartphone industry is on what seems to be a never ending trend where handsets are getting larger and larger and continually blurring the boundaries that separate smartphones from tablets. Samsung were arguably the first to offer a consumer-focused large screen device in the Galaxy Note and the success of this phablet alerted rival manufacturers to the possibilities of a large screen device.
In the case of Chinese manufacturer Huawei, their latest phablet is their third generation handset and the Ascend Mate 7 definitely packs a punch. Not only does it have the highest screen to body ratio of any smartphone but it also has a specs list that can rival most devices, including the latest from Samsung in the form of the Galaxy Note 4.
The Ascend Mate 7 is definitely Huawei's best ever phablet device but does it offer enough to persuade you to choose it over a rival device such as the Note 4 or Apple's phablet, the iPhone 6 Plus?
Hardware
As mentioned above, the Ascend Mate 7 has the highest screen-to-body ratio of any smartphone or phablet and despite the incredibly large 6 inch Full HD display, the handset itself is not that big. The display is half an inch larger than the iPhone 6 Plus but the two devices are actually very similar in size with only a couple of millimetres separating them in width and height.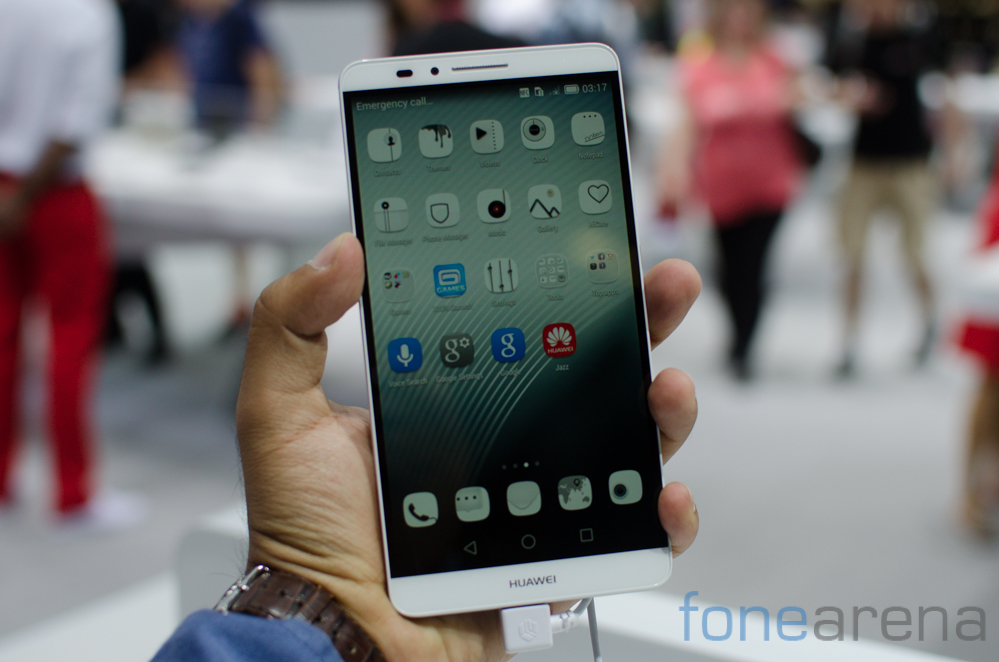 Made from a crafted aluminium sheet, the Ascend Mate 7 is a classy example of how a smartphone should be built – it is packed full of specs but still remains slim and with Huawei opting to make use of the on-screen navigation keys in Android (which can be customised to your taste), there's very little wasted bezel below or above the main display.
Measuring 81mm wide, the Ascend Mate 7 suffers the same issue as many other phablets in that it is difficult to use with one hand.  However, the fact it is slim with slightly rounded corners means that despite being wide, it isn't heavy in the hand and as long as you've got somewhat long fingers, you'll be able to use it with ease. In order to help with one-handed use, Huawei have added a few software customisation tweaks but we'll cover these in more detail below.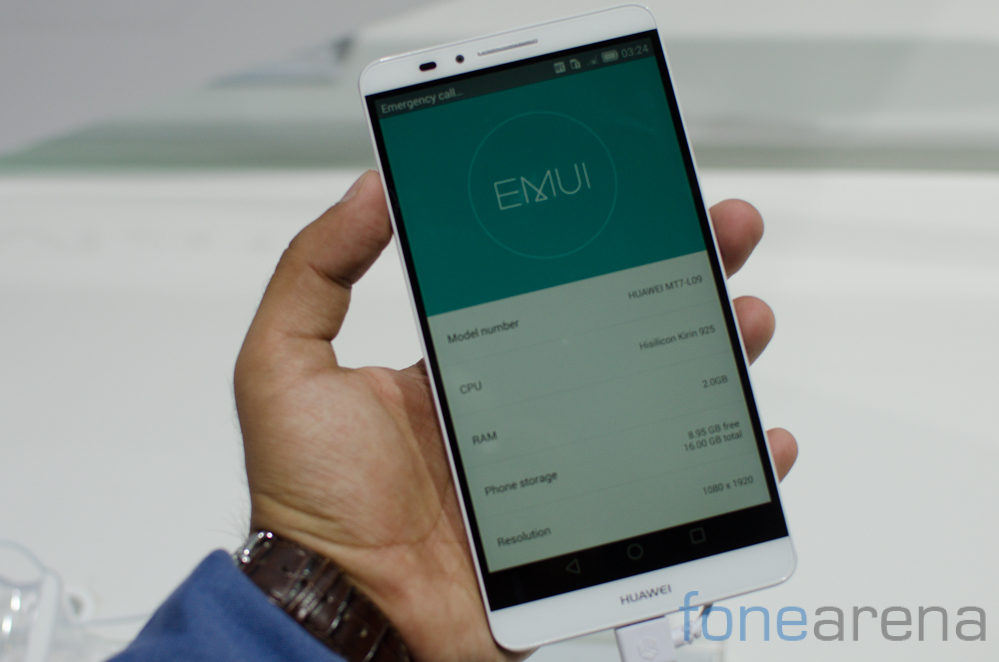 Just like the iPhone 6 Plus and Samsung Galaxy Note 4, the Ascend Mate 7 comes with a fingerprint sensor onboard but the implementation of this is different to its rival devices. Rather than adopt the integrated-with-the-home-button approach of the iPhone 6 Plus and Galaxy Note 4, the fingerprint sensor on the Ascend Mate 7 adopts the approach of HTC (with the HTC One Max) and has the sensor on the rear beneath the camera. This may seem like a cumbersome approach given that you are not able to directly see where the sensor is without looking behind the camera but in actual usage, we've found that the sensor is recessed into the body enough for you to recognise it even when not looking. The video below shows the fingerprint sensor in action:
httpv://www.youtube.com/watch?v=3DaCIDuaiOg
The back of the Ascend Mate 7 also houses the 13MP camera which supports 1080p Full HD video but doesn't support 4K video recording (although the chipset supports it?) and we've found that when using the flash, there's very little flash flare which can ruin the picture; on other handsets, this is a common issue but Huawei have managed to prevent it on the Ascend Mate 7.
Whilst Huawei have only begun using their own brand on devices over the past few years, they have a long pedigree of offering devices as white-label (meaning made by Huawei and sold as a company's own-brand handset). Alongside their history of producing devices, Huawei's key knowledge comes from its network infrastructure business – they're recognised as one of the market leaders in network infrastructure – and this shows in the design of their Ascend Mate 7.
Huawei Ascend Mate 7 vs Samsung Galaxy Note 4 Photo Gallery
Many manufacturers have attempted to produce devices clad in metal but have often struggled with the material which is not conducive towards network signal but the Ascend Mate 7 doesn't have this issue; armed with their knowledge of networks, Huawei built two antenna inside the Ascend Mate 7 (one at the top and one at the bottom) and both dual antenna can be used at the same time ensuring you have excellent signal and clear call quality.
Overall the Ascend Mate 7 has a stylish design with sleek curves and a brushed metal finish that not only looks good but looks unique. Whilst many manufacturers have worked with aluminium in the past, Huawei are one of the first to make a metal handset not only look good but also work well. The design of the dual antenna is a particular area where Huawei's pedigree in network technology really shines through and whilst others may have suffered with antenna-gate issues, the Ascend Mate 7 has very reliable network performance.
Software
As with most manufacturers, Huawei have installed their own custom interface on top of Google's Android 4.4.2 KitKat platform. Looking across the range of Android smartphones, it's clear that interfaces fall into one of three categories – stock (aka no custom skin), a light skin (stock + a few features) and heavily skinned (the interface replaces almost all of Google's stock Android elements) – and like other Huawei devices, the Ascend Mate 7 falls into the latter category.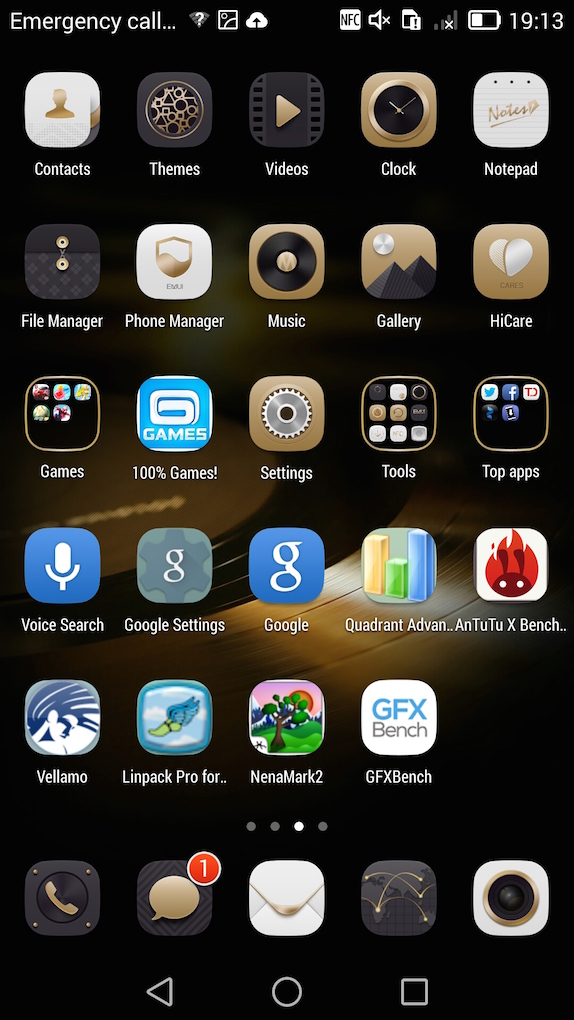 On previous Huawei devices, the software has been one of the main disappointments and the Emotion UI – now known as EMUI – has evolved with newer generations; the Ascend Mate 7 comes with EMUI 3.0 preloaded and there are some significant visual upgrades over previous variants of EMUI. As mentioned, the Ascend Mate 7 runs Android 4.4.2 KitKat but the overall look is definitely miles away from stock Android. EMUI brings some heavy visual customisations and for anyone who's used to using Android, there's nothing to really indicate you're using Android 4.4.2 KitKat; whilst the software doesn't look anything like TouchWiz (Samsung) or Sense (HTC), the evolution of EMUI shows that Huawei have a large investment in their software and whilst it won't suit everyone, they are at least improving it by listening to feedback.
Like previous versions, EMUI 3.0 does away with the App Drawer (taking inspiration from the iPhone) and this is likely to be the biggest adjustment for users of other Android devices. Whilst it's not offensive and isn't likely to put you off the phone, some users may still be reliant on an app drawer so you can always swap out the launcher (although you'll then need to navigate to Settings and set it as default as EMUI 3.0 won't prompt you to use it).
Another feature that's been improved from previous versions of EMUI is the selection of themes which allows you to change the look and feel of your phone; EMUI 3.0 has seen the addition of numerous new themes and Huawei had a competition encouraging users to design themes and as a result, there's a selection of unique themes available to choose from. One slightly annoying thing is that themes result in boxes being drawn around app icons (as they're designed to be all the same size) which makes it somewhat less pleasing on the eye. There's also no way to return to the default Android icon style which is another displeasing aspect of changing themes.
The notifications tray and quick settings menu have both been given a welcome facelift as part of EMUI 3.0. A scroll down from the left side of the notification bar will show your latest notifications whilst pulling down the right side opens up the quick settings; this is a nice touch as it means quick access to either part (unlike other devices where you have to scroll down and then open quick settings). The notifications menu has seen many changes over past versions of EMUI and looked a complete mess on the Ascend P7 so it's good to see to Huawei have made some welcome improvements in that area.
One area where EMUI 3.0 is still lacking is in the performance; whilst the Ascend Mate 7 is undoubtedly a powerhouse and overall software performance is impressive, it's still easy for lag to creep in and the stock weather app almost constantly crashes when trying to refresh data. The issue of lag is also prevalent when closing apps in the notification drawer (the handset has occasionally become completely unresponsive for several seconds when scrolling through notifications) and in third party apps (although this isn't Huawei's fault).
Overall EMUI 3.0 on the Ascend Mate 7 has some welcome improvements and fixes compared to previous versions; compared to the Ascend P7 earlier this year, the latest version of EMUI is much smoother and several of our major complaints have been rectified. There are still some prevalent issues with the software (mainly prompts to close Google services which should NEVER happen on any Android device and need urgent fixing) but overall, the experience is much improved, stylish and functional.
Camera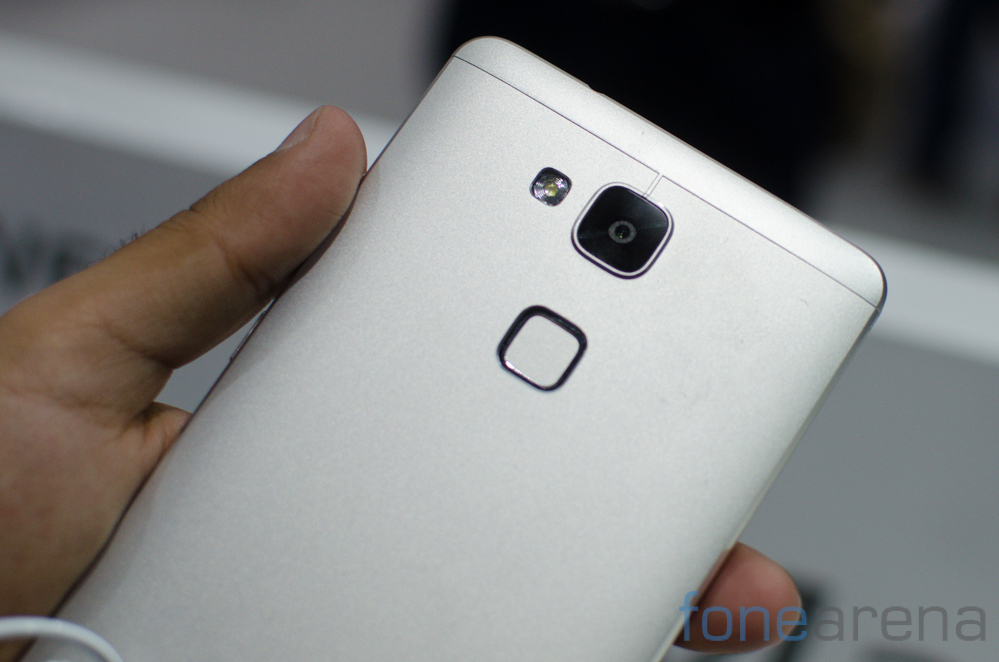 Looking back to the Ascend P7 and the camera was one of the standout features so with the Ascend Mate 7 featuring the same 13MP rear and 5MP front snapper combination, the results are quite impressive. The camera is by no means perfect but whilst the Mate 7 isn't class-leading in any particular area, it is a very good all rounder which will satisfy most users' needs (we're geeks after all so nothing is ever perfect!)
In good light, the photos captured by the Mate 7 are crisp, vibrant and natural looking with very little over saturation. The handset is quick to focus on a subject and take pictures but in low light, the lack of Optical Image Stabilisation (although it does have software-based stabilisation) means that photos are not as impressive and there's a fair amount of noise. HDR mode in good light adds slight noticeable improvements that are welcome and overall the camera performance is impressive and adequate.
The above are 100% crop Ascend Mate 7 samples reduced in size
Whilst the camera is impressive, the video is less so as it has no standout feature and only supports 1080p video recording whilst its rivals offer 720p slow-motion video capture and some offer 4k video recording as well. None of this matters to Huawei though as, especially in the case of 4k, there's likely to be a new Ascend Mate by the time 4k video really catapults into the mainstream.
httpv://youtu.be/fgAcmGXngKU
Like the Ascend P6 and the Ascend P7, the Ascend Mate 7 comes packed with Huawei's beauty filters which – unlike their name suggests – do not make you beautiful but instead smooth out your features (it's like taking a picture before and after applying a touch of makeup on actors and presenters on TV). The front facing 5MP camera also comes in handy for Huawei's oddly named Groufie feature (say what you will about this) which is just a fancy and strange way of saying front facing panorama photo.
httpv://youtu.be/DOJgnJv44o8
The biggest issue about using the Ascend Mate 7 for front facing video calls, selfies or groufies is the size of the handset; more than once it almost slipped out of our large hands and for those who have small hands, you're likely to spend as much time picking up the handset from a drop on the floor as you are preparing to capture your shot. The groufie feature does comes with a 3 second countdown which allows you to stabilise the camera and prepare for the shot which is helpful and like the Ascend P7, there's no evidence of the three pictures being stitched together to make the wide panorama shot.
Overall the Ascend Mate 7 camera is very much like most of the handset; it has some good features (and a few annoyances) and doesn't stand out in any particular way but is a great all rounder that will capture good photos when you need it to.
Performance
On paper at least, there shouldn't be any performance issues with the Ascend Mate 7. The handset is features an octa-core Kirin 925 chipset which is powered by quad-core 1.8GHz Cortex-A15 and quad-core 1.3GHz Cortex-A7 processors with a Mali-T628 graphical chipset. There's two variants; one with either 2GB RAM and 16GB internal storage and the other with 3GB RAM and 32GB internal storage – our variant had the former but as covered in the software section above, there was little lag present so with the better variant, there should be no lag at all.
How does the performance compare to other handsets? We ran some benchmarks to find out: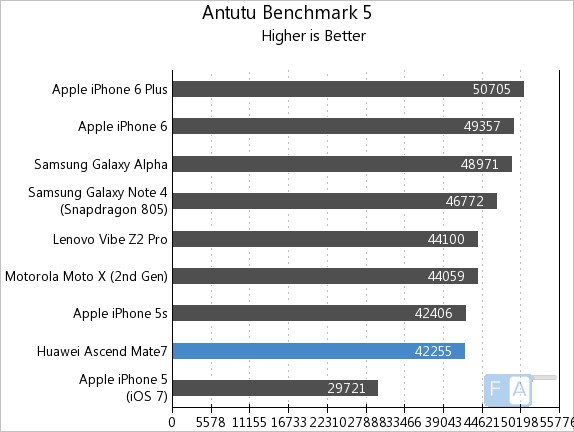 In this test, we can see that despite the impressive specifications, the Ascend Mate 7 does seem to suffer from a lack of optimisation. Whilst it is better than the Apple flagship from two years ago (the iPhone 5), the overall AnTuTu benchmark result isn't as impressive as the iPhone 5S, Motorola Moto X (2nd Generation), Snapdragon Note 4, Samsung Galaxy Alpha and this year's Apple devices, the iPhone 6 and iPhone 6 Plus.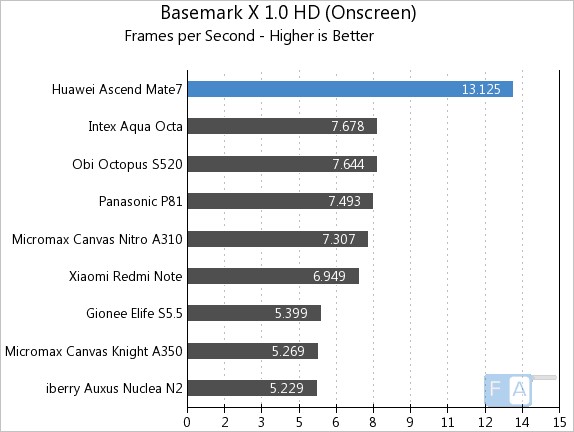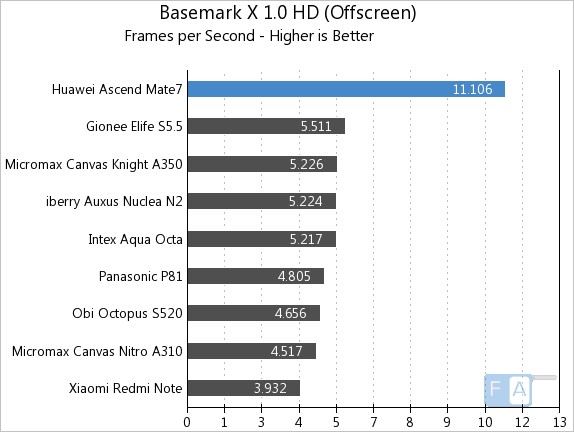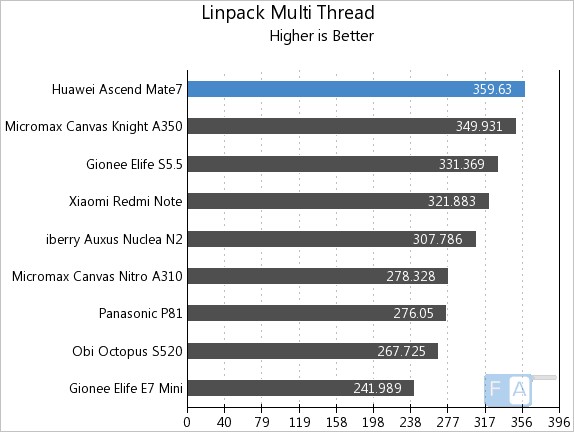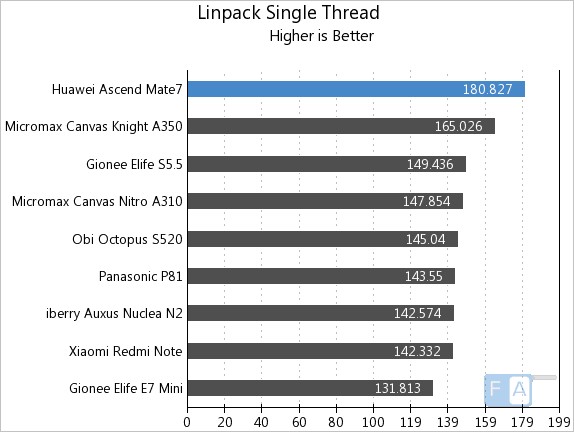 The tests above show that in raw power and performance tests, the Ascend Mate 7 has better results than lesser known rivals such as the Gionee Elife S5.5, Obi Octopous S520 and the new Xiaomi Redmi Note, which is arguably the biggest challenge to the Ascend Mate 7 in the Asian continent (no doubt due to their large-scale marketing activities). However, when testing the graphical performance, we see that the Ascend Mate 7 isn't necessarily better: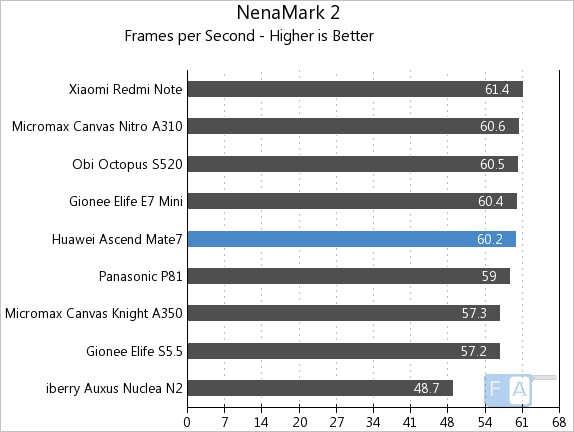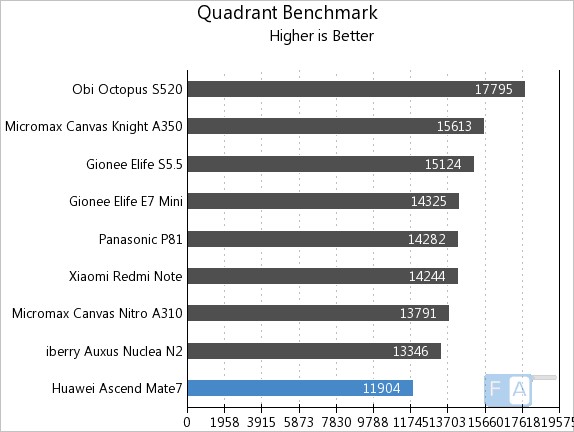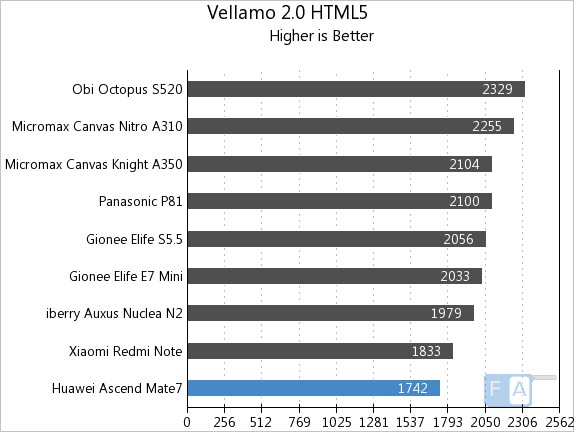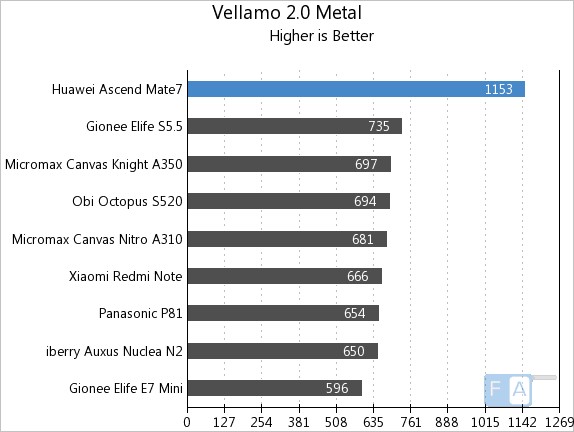 Overall, the Ascend Mate 7 benchmarks reveal some interesting facts; when compared to its main stream rivals using one of the best-known Android benchmarking applications (AnTuTu), the Ascend Mate 7 does in fact perform well but it's in the more specific tests that we find the handset begin to struggle. There's no doubt that the Mate 7 is indeed a powerhouse but the benchmarks suggest that Huawei still need to optimise the graphics performance further and there's the question of whether the Mali-T628 graphics chipset is up to the mark.
Network Performance
If there's one area where every Huawei handset should stand out, it's in the network performance. Huawei has long been one of the leaders in network infrastructure with their infrastructure division helping roll out 4G LTE and next-generation networks across the world.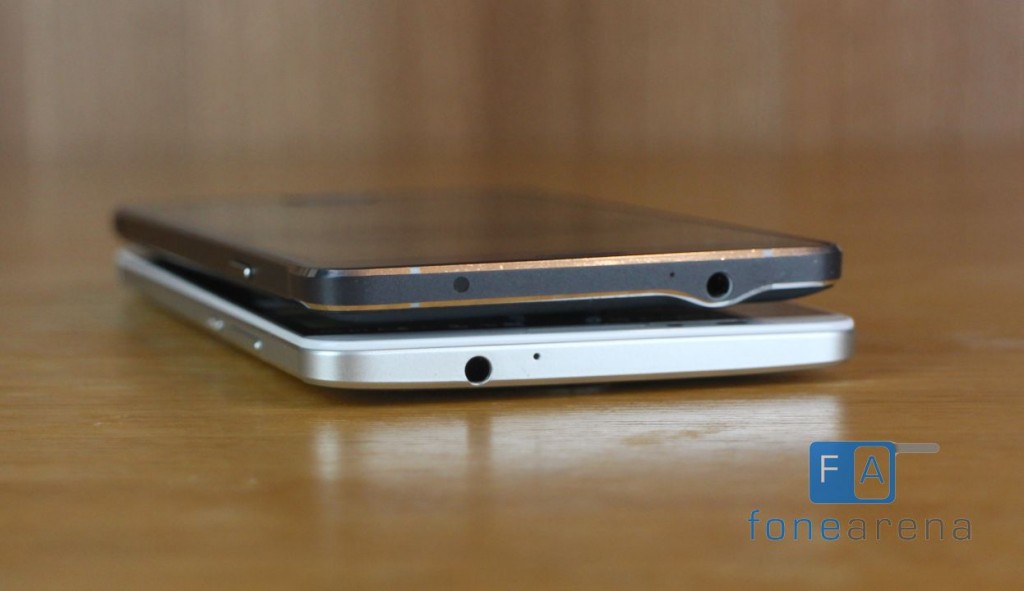 In the Ascend Mate 7, the company's network knowledge really shines through as the double antennae means the handset doesn't suffer from the same issues that other manufacturers adopting a metal build experience. The Dual SIM variant of the Ascend Mate 7 (not ours) also stands out as it is capable of using two SIMs for 2G, 3G and 4G data (unlike other devices that use only one of the SIMs for data) and comes with a SIM management menu on the handset that allows you to control every aspect of the dual SIM arrangement.
Huawei also deserve a mention for adopting LTE Cat 6 in the Ascend Mate 7; the latest network technology which supports up to 300Mbps download speeds over LTE (in real world testing there is maximum of 150Mbps on current LTE Cat 6 networks), the Mate 7 was one of the first handsets to support LTE Cat 6. In our testing, we've found that the Ascend Mate 7 has a really strong antenna and network performance is one of the best on an Android smartphone to date.
Battery Life
The 4100 mAh battery inside the Ascend Mate 7 is a beast. There's no other way to describe it – in a world where smartphone batteries so often fail to live up to a full day's work, the Ascend Mate 7 shows that it can be done. The battery has a larger capacity than the current generation Nexus 7 yet fits into a device that's slimmer. Huawei has definitely delivered an impressive amount of power and performance but how does the battery stack up in real usage?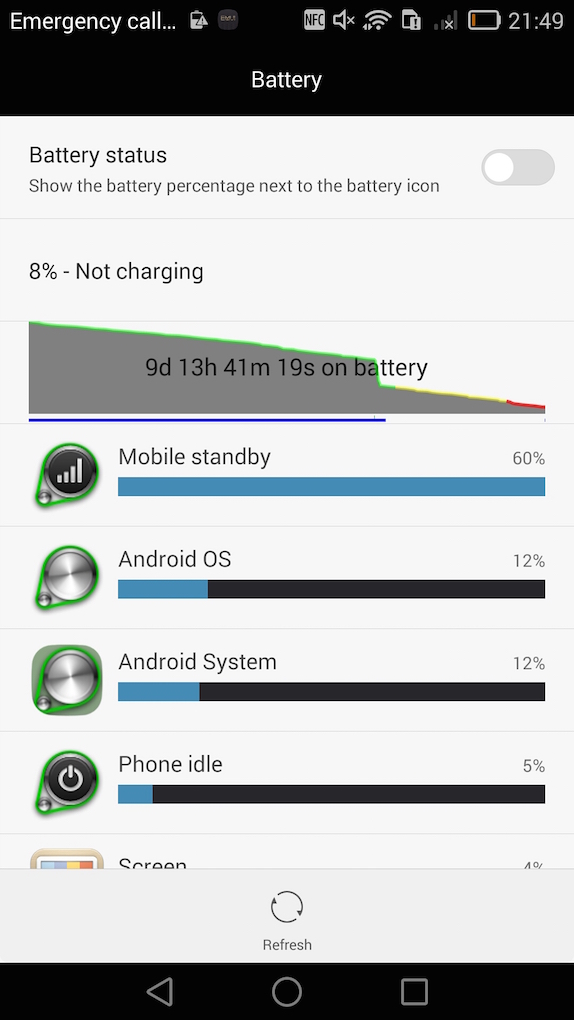 Unlike it's rivals such as the LG G3 and Galaxy Note 4, the Ascend Mate 7 is only 1080p and not 2k which offers an immediate advantage in the battery stakes. Pushing more pixels onto a larger display consumers more battery life and although the 6 inch display on the Mate 7 is certainly large, the lesser pixels requires lesser processing and graphical power.
We've spent two months with the Ascend Mate 7 which has really allowed us to understand the capabilities of the handsets and this shows in the battery life results. Over the course of our time with Huawei's flagship phablet, we regularly achieved two days of actual, real world use before needing to plug in a charger. The longest battery life was 2 days and 07 hours which included 5 and a half hours screen-on time.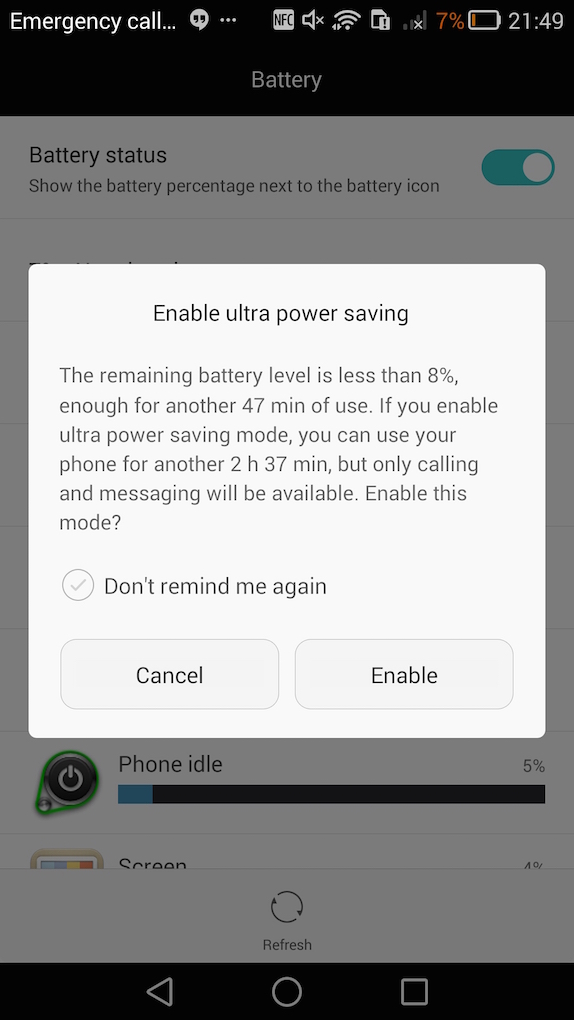 Naturally the battery life does vary according to use and even with heavy usage, we found the battery always got through a day of use (but needed charging the next afternoon). The target is definitely being able to use your handset for two days without needing a charger and the Mate 7 comes oh so close to achieving this on a regular basis. The large battery and slim design do come at a price though as you can't swap the battery but nonetheless, you shouldn't need to as the battery is more than good enough to get you through a full day (and for some people, it's likely to be much much more).
Conclusion
There's little doubt that Huawei has experienced some interesting growth over the past couple of years. With handsets like the Ascend P6, Ascend P7 and the Honor 6 all taking the Huawei name to a larger audience, the Chinese OEM poses a big threat to the dominance of existing manufacturers. With a large budget thanks to their existing networks business, Huawei could be the biggest threat to the current status quo in the market.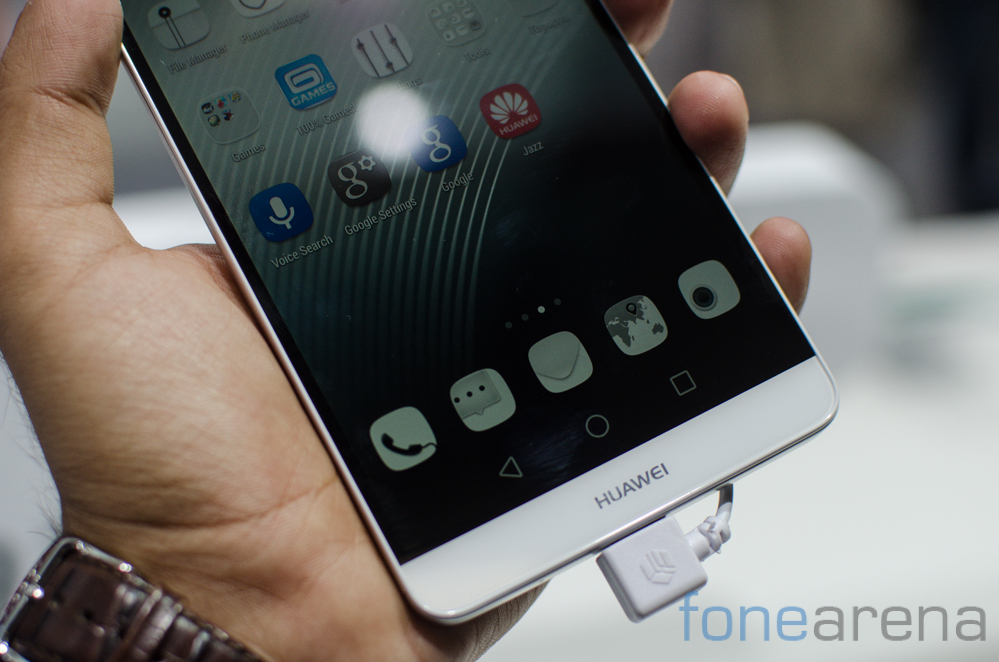 Huawei's CEO and President Richard Yu has been very vocal of the company's plan; this is not a short term venture – after capturing third they have now set their sights on moving up into the top two and eventually becoming the largest smartphone manufacturer on the market. Whilst many people may say it's not possible, cast your mind back five to ten years and Samsung were in a not too dissimilar position with Nokia the incumbent and Apple non-existent yet the market is constantly changing.
The Ascend Mate 7 isn't just a good handset in China; it has the capabilities to be a great handset in any market. Whilst other devices have a single stand out feature, the Ascend Mate 7 is the handset that is arguably the best all rounder as the overall handset has a fantastic display, excellent build and great all round camera (even the software has had some good improvements).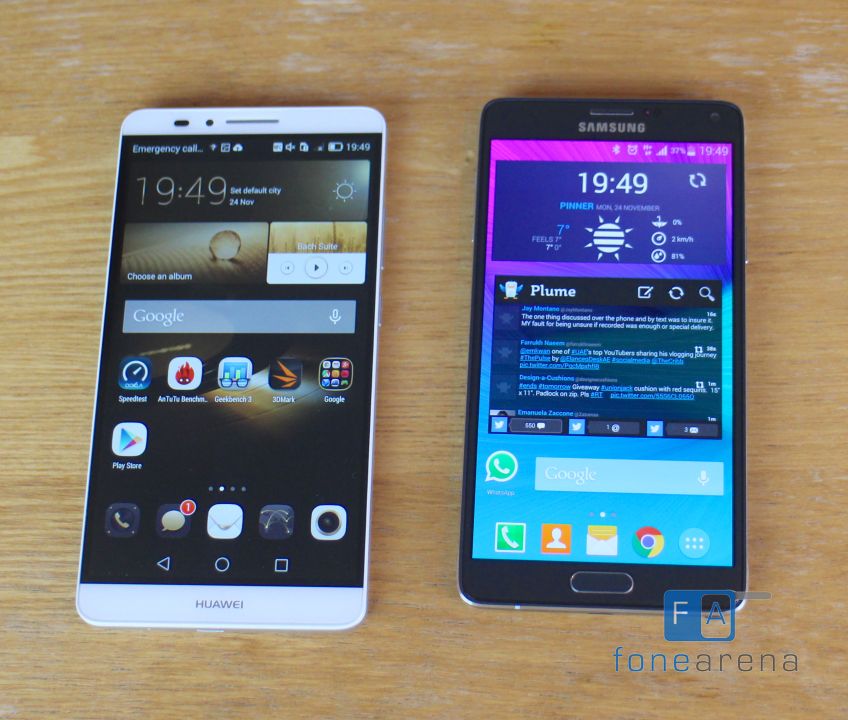 The Ascend Mate 7 is readily available across Europe and Asia but is yet to launch in the United States (and seems unlikely to in the near future). The handset can be had for £400-£450 for the 16GB 4G LTE version but can be imported from Germany for as little as £355 brand new. In comparison, it's rivals retail for £400 (LG G3), £550 (Galaxy Note 4) and over £600 (iPhone 6 Plus).
The Ascend Mate 7 is not only a decent rival to these flagships but also packs a lesser price tag which increases its appeal; whether it's a success or not is still to be seen but one thing's clear – Huawei aren't going anywhere and 2015 could be their greatest year yet.